Bali is known for its amazing hotels, all blending in with this island's lush vegetation and dreamy nature. So, if you're lucky enough to stay in one of them, make the best out of your stay, by experiencing the best the island of the Gods has to offer. See the top 10 best things to do in Bali and start planning your trip now!
Pamper yourself in a traditional spa
Most hotels have their own spa centre, in facilities that you'd love to visit even if you don't like spa. But who doesn't? Especially when they offer Javanese Lulur massage, where Balinese girls massage you and cover you with a local herb mix, before they baptise you in a pool of scented water and flowers!
Stay in a bungalow
You'll feel as if you sleep in nature! The roofs are made of typical balinese straws, the mosquito nets are dreamy, there might even be a shower made of locally curved statuettes outside! Bungalows are also the best way to experience the Balinese interior architecture and natural luxury.
Dive at Menjangan
The best spot to dive or snorkel in Bali and one of the 10 best in the world, the Menjagan island offers a unique experience for amateur and experienced divers alike. You guessed correctly, Menjagan is an exotic island and the coral gardens around it are a definite must if you're in Bali.
Visit the rice paddies
They are around Ubud, they are famous and for good reason: they are gorgeous! Enjoy your coconut water there straight from the coconut and take the most memorable selfies in one of the most beautiful locations on the planet!
Watch gamelan dances
All around Bali, young girls and young women dress up at night, wearing spectacular traditional uniforms and theatrical make-up, ready to dance to the rhythm of Bali. Men play the dreamiest music your ears have ever heard, while the girls dance the gamelan, on a stage full of history and colour. Locals love it and travellers know they experience something unique!
Have seafood at Jimbaran Bay
It's a local sensation. Every night, this quaint little bay bursts with people who enjoy the catch of the day cooked with local, delicious recipes, while watching the sun set into the calm purple sea. A foodie's paradise, for sure, so don't forget to take pictures of everything these magic makers serve you!
Go temple sightseeing
Bali is the island of the Gods and it's the island of beauty, so of course it features some of the most beautiful Buddhist temples in the world. The must-sees are Tanah Lot, wave washed and proud, Uluwatu, magical during sunset, and Ulun Danu Bratan, sitting proud on the lake shore. Don't miss them!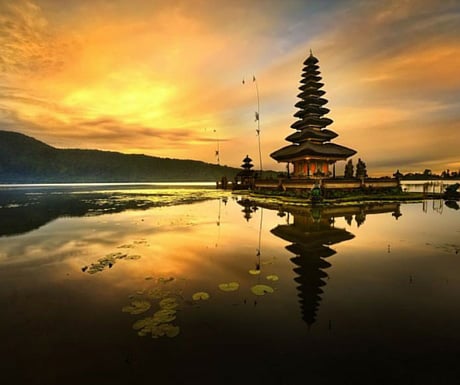 Escape to Java
And since you're temple sight seeing, don't miss the chance to hop to Java, the Indonesian island west of Bali, to get wowed by the beauty and the magnitude of Borobudur!
Visit an organic farm
You'll know it once you're there: this island is lush. Its soil nurtures from corals (underwater), to all the exotic fruits and vegetables you can think of, herbs, spices and other tasty surprises. Visiting an organic farm will tour you around Bali's nature in a few hours, giving you the chance to taste and smell all of its goodies.
Get lost in Ubud's monkey forest
The Monkey Forest is worth a visit. Not so much for the monkeys, as for the jungle forest itself. And for the statues too of course, some of them actually depicting monkeys, and the stream and the fact that you can't even see the sky under these Tarzan trees, and all that Balinese natural and traditional beauty, all in this piece of land in this quaint little town!
What other experiences would you recommend in Bali?