By
Paul Johnson
on Aug 25, 2015 in
Accommodation
,
Featured
,
Food and Drink
,
Going Out
,
Hotels
,
Leisure Travel
,
Middle East
,
Regions
,
Restaurants
,
Speciality Travel
,
Travel Miscellany
,
United Arab Emirates
JA Palm Tree Court forms part of the five star JA Jebel Ali Golf Resort complex – the 'mother' hotel to the JA Hotels & Resorts brand, and is tucked away in beautifully landscaped gardens. Unlike many Dubai hotels, this one has a relatively low-key feel (by Dubai standards, at least!) with low-rise buildings but no shortage of fun activities.
The welcome
Although we arrived late at night, it was still close to 40 degrees Celsius so to have the luxury of a transfer from the airport, a swift check-in and a buggy ride to our air-conditioned accommodation (room 676) was very much welcome.
The room
Our room was reasonably spacious and, since I was travelling with family, the sofa in the room had been made up as twin beds for us.
The next morning we discovered that our ground floor room led out to a lush grassy area with sunbeds and a seating area. Just a short stroll beyond this is a beautiful 800m stretch of beach.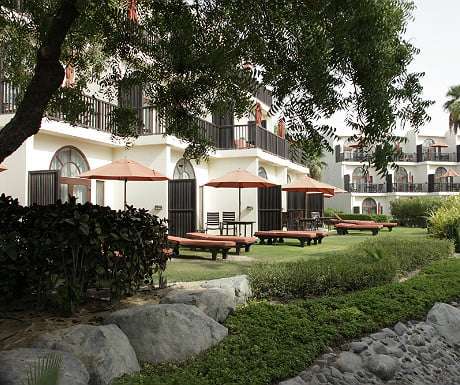 The view from the accommodation had us slightly baffled at first, with the beach in the foreground, what looked to be a lake or the sea, and then some regularly spaced edifices that seemed rather curious. It was only on speaking to someone later that we disocvered that these were supports for a highway that had been put 'on hold' due to the financial crisis and that, once complete, the water in the foreground will be allowed to re-join the sea beyond.
The bathroom
Our bathrom had everything we needed – twin basins, bath and separate shower…
…as well as a generous supply of Elemis toiletries.
There were also robes provided, although we rarely use these, particularly if we're only there for a short stay.
The facilities
There are many different places to dine at the hotel, as well as a number of bars. We tried most and found the food to be consistently good. Breakfast in La Fontana was a buffet set-up with a huge amount of choice, from fresh fruits and pastries to a variety of cooked options.
At lunchtime, La Fontana again offers a buffet arrangement. Travelling with children, this suits us well, enabling our children to try small amounts of items that they might not usually choose, without having to order the entire dish.
We also enjoyed lunch at the Sports Cafe. A very relaxed, informal atmosphere, next to the golf course, it offers a British a la carte menu and is open from 6.30am through to 11pm.
I can highly recommend the salmon and fries!
White Orchid Restaurant and Lounge (see 'the best bit' below) is also highly recommended.
In addition to the numerous dining options, there's also lots to do at the hotel, for both adults and children alike. At the beach, our children – who have long since left me behind when it comes to sailing (not difficult, to be fair!) –  had a sailing lesson with Watercooled, under the supervision of David. He went through some theory initially…
…before then going out on the water in an RS Vision (back home, they sail the smaller RS Tera so this was a step up for them but they were accompanied). We took this opportunity to try out the hotel's excellent spa facilties where I enjoyed a very relaxing massage.
Also on the beach is a 'Wibit waterpark' – a selection of inflatables that you can clamber on, slide down, jump off, etc. – all great fun, but very exhausting in the heat also!
At the sister hotel, we managed to fit in a golf lesson with PGA professional Stuart Fee who manages the highly successful Golf Academy. As he recommends with all his first lessons, the focus for us was very much on getting our posture right. He conceded it could be a bit boring at first, but emphasised how important it was to get it right because everything you're to learn subsequently hinges on this.
Stuart was great company and very patient with us, considering we're generally non-golfers.
Other nice touches
A bottle of wine, some chocolates and a lovely bowl of fresh fruit greeted us on our arrival.
Cost
Rooms start from approximately 650 AED per night.
The best bit
Dinner at the Teppanyaki Table at White Orchid was one of the highlights of our stay. It is an intimate dining experience with seating available for only about 8 people at any one time. We all loved the dazzling spectacle as our food was cooked before us by a chef with theatrical skills that would rival any cocktail barman, spinning his utensils and the salt and pepper mills as he worked. It wasn't all just show, though… the food was declicious, too!
The final verdict
So much to see, but too little time! We were only in Dubai for three nights, one of which was the night we arrived and another the night we left. The fact that we managed to pack so much in during our short time in the city – in addition to attending an iftar – is testament to the extensive opportunities and facilties that are available at the hotel. Sadly, we were only able to cover a fraction of them, but then again that gives us a good excuse to return.
Disclosure: The above formed part of a luxury trip to Dubai and the Maldives sponsored by Hayes & Jarvis, specialists in personalised, luxury holiday itineraries for discerning travellers to over 55 destinations worldwide.