The River Nile is the longest river in the world and with its impressive length (a total of 4,160 miles) comes a diverse landscape. One minute, you could be passing through a humble fishing village watching the world the go by, the next you could be surrounded by a congregation of alligators in the water, and the next you could be sailing up to Luxor's Egyptian ruins in the sunset. It's all rather unpredictable. But what we do know is that the river creates a fertile valley across the dessert and brings life to surrounding land. The river is not only exciting and beautiful; it's essential to all life in Egypt. If you're setting off on a luxury Nile Cruise, here are 6 stunning sites not to be missed…
1. Luxor and Karnak Temples
The ancient ruins of Luxor are a must for anyone cruising the Nile. The actual town of Luxor itself is pretty modern and is home to six great temples; Goornah Temple, Deir-el-Bahri Temple, The Ramesseum, The Medinet Habu Temple, The Temple of Luxor and The Temple of Karnak.
2. The Valley of the Kings
The Valley of the Kings is a truly remarkable site, one which has a great significance in Egyptian history. For a period of over 500 years, this valley was the burial place for royalty. Between the 16th and 11th Century BC, this unique location became home to tombs of Pharaohs and powerful nobles of the New Kingdom. For centuries, archaeologists and treasure hunters have been unearthing the valley's secrets and it makes an inspiring daytrip for Nile cruisers.
3. Aswan
This is the perfect place to relax and unwind; cited as Egypt's prettiest town, Aswan makes the perfect Nile cruise stopover. Don't miss Aga Khan's mausoleum, the Monastery of San Simeon, the Abu Simbel Temple, and Elephantine Island.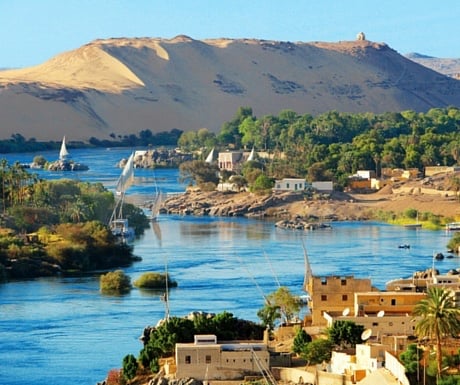 4. Philae Island
Philae is an island off Aswan and it is home to one of the most spectacular sites of the Nile – the Temple of Philae. Enjoy a slow and easy boat ride to the island and take a leisurely tour of this lesser known and less crowded tourist site (which looks incredible during sunset).
5. Edfu
Edfu is a city on the West Bank of the Nile River, located conveniently between Aswan and Esna, and the glorious city is home to some of the river's finest ancient sites. If you visit this city, be sure to see the Temple of Horus, the Tell Edfu monument, the Edfu Pyramid Ruins (found in the North of the city), and the Kanais Ruins. Catch the Temple of Horus at night and you may have the opportunity to witness the amazing sound and light show (one of the most famous light shows in Egypt).
6. Gebel Silsila
40 miles North of Aswan is Gebel Silsila, a rocky gorge which attracts a large number of visitors each year. Here, you will be able to witness both natural and historical beauty in one site; the Ramses II and Merenptah temples are cut directly into the sandstone rocks and it's definitely a bucket list destination not to be missed. Explore the various shrines and temples including the Temple of Horemheb, the Chapel of Panehesy, and the Chapel of Paser.
Christos Hajipapas is Head of Business Development & Strategy at Cyplon Holidays.
If you would like to be a guest blogger on A Luxury Travel Blog in order to raise your profile, please contact us.