By
James Jayasundera
on Sep 15, 2015 in
Accommodation
,
Asia
,
Cambodia
,
Hotels
,
India
,
Indonesia
,
Laos
,
Regions
,
Resorts
,
Sri Lanka
,
Thailand
Asia is a fantastic place to enjoy luxury and is also home to some of the best eco retreats in the world. If you're looking for a dream break that lets you rest your weary body in a sustainable way then we've put together ten of the very best places to sit back, relax and prepare to be pampered…
Song Saa Private Island Resort, Song Saa Private Island, Cambodia
Located amongst the scattered Cambodian Islands, in the secluded cerulean waters of the Gulf of Thailand, Song Saa Private Island Resort is nestled between unspoilt rainforests, tropical reefs and golden sand beaches. This ground-breaking luxury resort is as environmentally friendly as they come, and has revolutionised sustainable luxury in Cambodia. Supporting and protecting the environment, conservation and community development is integral to their ethos.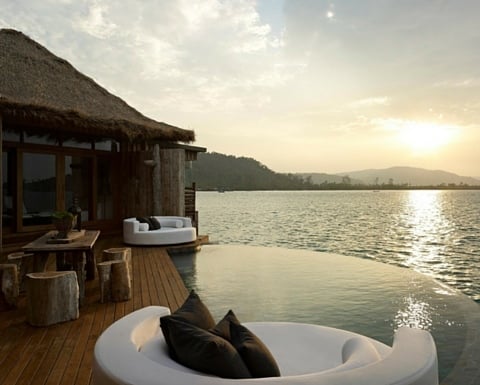 Dedicated to improving the wellbeing and health of the ecosystem, local villages and the economy, the resort has taken steps to ensure that the water is vigilantly treated and recycled. Indigenous vegetation has been re-introduced to the island and driftwood has been incorporated into the hotel's furniture and design. Possibly one of the most exclusive and intimate private island resorts in Southeast Asia, it is the ideal place for you to lose yourself in the natural world without any intrusions.
4 Rivers Floating Eco Lodge, Tatai, Cambodia
If eco-tourism conjures up visions of uncomfortable beds and leaky tents, then this is not the place for you. Crouching low on the Tatai River and surrounded by some of the most pristine forest left in Southeast Asia, each villa is cocooned in comfort with large private balconies and unsurpassed views of the Cambodian jungle.
This unique floating eco lodge offers luxury of the highest calibre, which sits in line with the environment; the structure is built from eco-friendly materials, and where possible the use of local wood is limited and thus protects the surrounding forests. There is a sophisticated water treatment system that helps eliminate water wastage. The hotel also employs local people to help with the operation and running of the hotel. Tucked out of the way from stresses and pressures of everyday life, this is the perfect hideaway for those looking to unwind in peace and tranquillity.
The Mudhouse, Anamaduwa, Sri Lanka
Far from the beaten tourist track, tucked away in sixty acres of ancient forests, lies The Mudhouse. As the name indicates, this charming lodge comprises of a series of uniquely designed rustic huts made of wattle and daub with traditional thatched roofing. Environmental sustainability is at the core of this initiative, and it continually strives to positively co-exist alongside the natural surroundings and local community. Here, you can truly get back to nature, with liberating outdoor bathrooms and lazy swinging hammocks, which are just metres away from the surrounding lakes, natural beauty and abundant wildlife. There is also no mains electricity, and lighting is provided by candles, lanterns and solar powered lamps – you will genuinely feel as though you have stepped back in time! Laid-back, entertaining and family-friendly, this experience will give you an exceptional insight into rural Sri Lankan life.
Ulagalla Resort, Anuradhapura, Sri Lanka
Ancient reservoirs, cultivated paddy fields, an ancestral estate and breathtaking beauty; this is the setting for our fourth luxurious eco retreat. In the midst of secluded wilderness, Ulagalla Resort comprises of a 150-year-old mansion at its centre, and twenty ecological luxury villas spread across nearly sixty acres of fertile woodland. This beautiful boutique hotel is LEED certified, and it best practices sustainability by the use of organic farming, recycled water management and solar farms which contribute largely to the energy requirements and operation of the hotel. This serene haven, tucked away in an exotically beautiful corner of Sri Lanka's Cultural Triangle, is ideal for those who seek a luxury experience whilst keeping their carbon footprint to a minimum.
Galapita Eco Lodge, Buttala, Sri Lanka
Have you ever dreamed of sleeping under the stars in style? In central Sri Lanka, four large open-sided mud huts with traditional straw roofing are perched on the rocks alongside the Menik Ganga, or Gem River. The unusual Galapita Eco Lodge was initially set up as an escape for friends and family of the founders, but it quickly expanded and became the ultimate retreat for eco-savvy travellers. Each hut is set apart from one another to provide visual privacy, but the open-sides will not block out the sounds of the jungle (or fellow travellers; snorers and noisy lovers beware!) giving you a truly unique experience. The lodge does not have refrigerators and is powered by solar energy systems. You can expect locally sourced organic vegetables, herbs, rice and fresh fish from the surrounding rivers and east coast. Open to the elements, this small eco retreat is a paradise for families looking for adventure.
Samode Safari Lodge, Bandhavgarh National Park, North India
Experience the wildest depths of the Indian jungle, in complete sustainable luxury at the glorious Samode Safari Lodge, on the fringes of Bandhavgarh National Park. This wonderful property has pioneered in luxury wilderness tourism in India: the palatial private villas which create opulence in the most sustainable manner, the unique open-air bath court and the private verandas with breathtaking views of the surrounding wilds. Totally committed to eco-tourism, the lodge has been constructed with the lightest possible carbon footprint by only using locally sourced natural materials. The inspiration for the architectural design originates from the neighbouring local villages of Mardari and Gohori, where the walls have been constructed with traditional handmade bricks, the building materials have been locally acquired and regional artworks have been used for decoration. The lodge is also powered using solar energy and it harvests rainwater. But the reason why people travel to this remote part of India is, above all, for the rich wildlife in the nearby Bandhavgarh National Park, which include sloth bears, leopards, panthers, tigers and a staggering array of birds.
Muang La Resort, Muang La, Laos
On the verdant banks of the Nam Phak River, tucked away from civilisation in the serene mountainscapes of northern Laos, lies the Muang La Resort. This delightful and intimate retreat is surrounded by picturesque gardens, lush forests, rural villages, verdant paddy fields and ancient hot springs, and is the ideal base from which to explore the many rich treasures of the region. The resort blends seamlessly into the landscape and was built by local craftsmen, using locally sourced materials. It also works closely with the village community, teaching them how to respect the environment and to ensure responsible tourism for the rich diversity of ethnic groups and hill tribes which are peppered throughout the surrounding area. A hotel which is rightly described as off-the-beaten-track, walkers, photographers and nature enthusiasts will revel in Muang La, but it is also an ideal haven for anyone who is looking to unwind and recharge in complete secluded beauty.
Kingfisher Eco Lodge, Xe Pian National Park, Laos
Simple yet comfortable; the wonderful ethos of the family-run Kingfisher Eco Lodge rings true as soon as you arrive. Located in the southern province of Champasak, the rustic lodge aims to connect with the natural environment, working closely with the locals to encourage eco tourism in the area, and supporting community involvement in the running of the property. The lodge practices sustainable and responsible tourism principles, and has set up a number of notable initiatives, including the support of a local school by donating 5% of excursions and activities costs. Placed in the wetlands of the stunning Xi Pian National Park, the area is a haven for rare flora and fauna, fantastic for those who love the outdoors and the perfect place to explore some of the lesser visited areas of Laos.
Misool Eco Resort, Raja Ampat Island, Indonesia
The stunning Misool Eco Resort is situated on a remote private island in the scuba diving paradise of Raja Ampat, known to be the best in the world. Owned and operated by a passionate groups of divers, conservationists and eco-enthusiasts, the resort is nestled deep in an archipelago of uninhabited islands and fringed by powder white beaches. Protected by turquoise gin-clear lagoons and richly abundant reefs, this exclusive resort is in the heart of marine biodiversity. Dedicated to diving and marine conservation, the island and its scuba diving sites are surrounded by 465 square miles of Marine Protected Area, which includes a Raja Ampat shark and manta ray sanctuary, an initiative created by the hotel. The hotel itself was entirely built from reclaimed hard woods, and energy consumption and water wastage is kept to a minimum. The resort is also deeply committed to supporting the local community and educating their local staff on the importance of conservation to their environment. A stay at this chic eco resort directly supports their numerous conservation initiatives, so you can be safe in the knowledge that your contribution to sustainable tourism is invaluable.
Soneva Kiri, Koh Kood, Thailand
Last on our list, and certainly not least, the stunning Soneva Kiri is a vanguard for sustainable travel. This opulent beach front resort comprises of forty-two zero emissions eco villas, tucked into a jungle clearing and each with a natural swimming pool and luscious gardens and a back to nature vibe. Indulgence is not meagre at this hotel, each villa is serviced by a personal butler who will remain with you throughout your stay. The hotel uses its own organic produce, is operated through solar power and run by local staff who were involved in the building of the resort. Whilst you stay here you can explore the surrounding jungle on guided treks or partake in water activities such as waterskiing, wakeboarding, snorkelling and catamaran excursions. Located just off the eastern shores of the Bay of Thailand, the Cambodian boarder is also just a stone's throw away, which you can get to by helicopter, ideal for a temple-hunting day trip to the ancient kingdom of Angkor. Both honeymooners and relaxation seekers alike will find sanctuary in this eco palace.
James Jayasundera is Founder and Managing Director of Ampersand Travel.
If you would like to be a guest blogger on A Luxury Travel Blog in order to raise your profile, please contact us.