One thing everyone notices right away as they land in Africa is the vibrant colors. It is not the textbook sky-blue and pink sunsets just like little Simba saw them. It is the amazing palette of women's clothing, both in urban and rural areas, that capture one's glance. Long cascading dresses, artfully tangled headbands, elegant bracelets and layered necklaces—African fashion is just waiting to be discovered.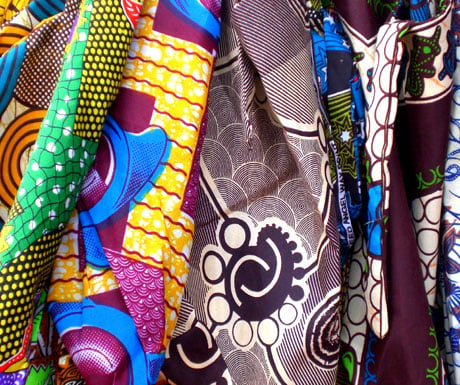 Upcycling
Africa is known to be one of major centers of 'upcycling' when it comes to fashion and design, and large cities like Nairobi and Kampala have fully embraced the idea that one man's discarded item can be another man's treasure and a work of art. Several projects around East Africa are known for their savvy usage of donated clothes that arrive in mass from the western world: here, old shirts and second-hand skirts can be sold at the market or better – upcycled into haute couture. If the fabric is good and durable, old jeans may become part of a fashionable dress, and glass waste can be melted into beads for jewelry.
In a way, increasing popularity of upcycling is gradually slowing down the original fabric production in East Africa. But such places as Kampala still remain a real treasure trove for the lovers of traditional African patterns. Here you can also have your dress or suit made at the tailors at a very affordable price and within a very reasonable time frame.
One of the most beloved places for locals and expats to buy fabrics is Owino Market, by the Old Taxi Park. Although you must be wary of cheap Asian imports, it is still possible to find good quality African textiles at Owino and get a recommendation for a tailor right there. All standard tips for visiting urban markets apply here: mind your pockets, bargain your deal (as a mzungu, you will be inevitably charged extra) and try not to get lost between all those clothes, gardening tools, flip flops and enormous pumpkins.
National Theatre Craft market and Buganda Road Women's craft market offer a variety of handmade crafts. By buying here you also support the artists and their community, and because the scale of these markets is smaller than Owino, it is easier to make friends with the vendors and get a good recommendation and a fair deal on your fabrics.
Finally, Garden City is a newly-built castle-shaped mall for upscale shopping. If you feel that roaming the market streets is not really your cup of tea, Garden City offers a choice of boutiques with tailor-cut clothes, colorful fabrics and custom-made shoes for ladies and gentlemen.
Many local fashionistas have their favorite tailors in mind and in their phone book, so if you happen to meet someone who looks like they know what they are wearing, do not be shy and ask for advice.
Javier Luque is a Co-Founder and Director of Your African Safari.
If you would like to be a guest blogger on A Luxury Travel Blog in order to raise your profile, please contact us.