By
Anna Paparizou
on Sep 19, 2015 in
Africa
,
Asia
,
Central America
,
Costa Rica
,
Eastern Europe
,
Europe
,
Fiji
,
France
,
Greece
,
Hawaii
,
Hungary
,
Iceland
,
India
,
Indonesia
,
Mexico
,
Middle East
,
Morocco
,
North America
,
Oceania
,
Pacific Islands
,
Regions
,
Spas & Pampering
,
Speciality Travel
,
Thailand
,
Turkey
,
United Kingdom
,
USA
,
Western Europe
When traveling, make your days even more beautiful by experiencing beauty treatments based on ingredients and rituals native to the country you're visiting. From Tahiti to Tulum and from Bali to Morocco, here are the 16 of the best beauty experiences you're likely to find anywhere in the world!
1. Evian-les-Bains – hydrotherapy
You know Evian water, but do you know where it comes from? From the area Evian-les-Bains, located between France and Switzerland in the elegant French Alps! Evian-les-Bains features hydrotherapy treatments based on the world famous water with the same name, a water well-known for its healing powers. The local spa of course lures visitors from around the world, to benefit from the therapeutic power of Evian in luxury and savor the beauty of the area any time of the year!
2. Bali – Javanese lulur massage
Spas in Bali are a magical experience on their own. Add to that the Javanese lulur massage with flower petals in marble bath tubs and you'll think you're dreaming with your eyes open! Not only is it soothing and healing, Lulur massage is also plenty aromatic and a really majestic experience. After all, it will all take place in one of those amazing spas, usually located outside, with great views to the Indian ocean or a lush garden surrounded with tropical flowers!
3. Istanbul – steam baths
Dating back to the Ottoman era, a time of opulence and spoilt royalty, "hammams" are your chance to experience the authentic Turkish massage, along with steam baths full of aromas and the taste of sweet Turkish tea. it's a good idea to enter a Hammam while sightseeing in this old and beautiful city, to rest for a while and leave the hustle and bustle far behind. You will be transferred to a different time and another, peaceful reality!
4. Greece – olive oil spa
When in Greece, olive trees rule the scenery. It was about time their essence, olive oil, be used in cosmetics and, of course, in spa treatments that are simple and beautiful, just like the country that offers them. Find them in hotels and spas everywhere and anytime of the year and enjoy an experience therapeutic and soothing at the same time!
5. Iceland – Blue Lagoon
Geysers, hot thermal waters, therapeutic elements… this is what Iceland is about – together of course with its breathtaking scenery. The amazing Blue Lagoon with its turquoise waters is just one of 800 hot springs in the country, yet the most stunning one. Its steaming beauty and therapeutic waters, together with its proximity to Reykjavik, make it an experience not to be missed! Especially, when it's cold outside…
6. Yucatan – palapa rooms
Mayan ruins, amazing beaches, the mesoamerican food, delicious food… as if we need another reason to visit the Yucatan! Add to that some ritual massage therapies and mystical treatments with a history as long as the mayan civilization and you have an unforgettable travel experience. Did we mention that the mayan spa treatments take place in dreamy, exotic, amazing Tulum, in palapa rooms with a view to the Caribbean blue?
7. Pamukkale – mineral springs
Maybe the dreamiest destination in this part of the world, Pamukkale is famous for its white cliffs that form small, natural infinity pools. Of course there's a spa and teahouse there, with a pool of calcium-rich mineral springs amid a gorgeous garden, to enjoy this unique experience and benefit from everything the soil and water have to offer to your body and soul, under the sun!
8. Thailand – Thai massage
Stretching and deep tissue massage, this is what Thai massage is all about and you've probably tried it already in your country. But experiencing it in its country of birth, by exotic Thai women on a tropical beach? That's really something! And definitely better than everything you've tried, since in Thailand the history behind the massage makes the whole difference.
9. Hawaii – traditional therapies
Seashell massages, volcanic ash facials, hot lava stones, the waters of Watsu (a water-based shiatsu), scrubs with local, exotic fruits… and many more treatments you'll find with very Hawaiian names and enjoy in lush garden settings amidst tropical flowers and beautiful aromas. As if the breathtaking views, the unforgettable beaches and the amazing food is not enough!
10. Morocco – bath houses
Ancient traditions, beautiful architecture and comfortable rooms allure the guest right from the courtyard. The Bath Houses of Marrakech combine the old with the new, offering an experience that is worth every penny. And it's not just the surrounding beauty that will wow you; it is the treatments themselves, full of history and craftsmanship, all blend together to create a beauty treatment like never before!
11. Fiji – relaxation massages
Traditional Bobo massage, a healing blend of fijian massage with local nut oils; Duavata four-handed massage; Thalgo therapy mud and algae wraps… These are just some of the treatment options one can experience in Fiji – as if being there isn't soothing enough! Of course, all these dreamy treatments take place in awesome settings, by the beach, in tropical gardens and in all the quietness you need.
12. Budapest – natural springs
Sparkling baths, old spas, turkish pools… water abounds in the Hungarian capital, offering an experience that beautifully blends the old, the traditional, the opulent and the ottoman past, with the modern amenities of a real metropolis. Travellers always find themselves in one of the thermal spas in outside areas or inside beautiful buildings, as the Natural Springs of Budapest are definitely an experience not to be missed!
13. India – Ayurveda
The southern state of Kerala in India hosts health resorts that feature treatments based on the millennia-old natural medicine of Ayurveda. What better place to experience the authentic ayurvedic healing with aromatherapy, massage, essential oils and yoga? Especially if you enjoy Ayurveda's benefits in your own country, you wouldn't want to miss out on trying the real thing in India itself!
14. Costa Rica – hot springs
It's a wonderful world we live in, and Costa Rica is no exception. This rich land features mineral pools, magma-heated lagoons, steaming water and hot springs from the volcano, all offering unique experiences for travellers. Combine them with shaman rituals and Mesoamerican sweat lodges and you'll have a holistic approach to spa, one full of history and stories to be told!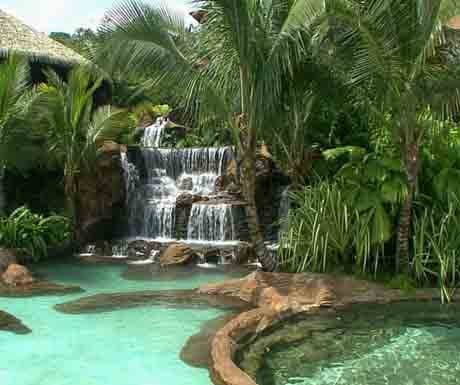 15. French Polynesia – Tahitian massage with monoi
The famous polynesian flower monoi is used in many cosmetics and spas all over the world. In French Polynesia, it builds an exotic experience out of this world, blending its aromas with the surrounding tropical beauty in a dreamy aura. Enjoy it in a spa on a beach or in the privacy of your room and find yourself immersing in the beauty of this amazing country again and again!
16. Bath – thermal waters
Once luring Celts and Romans, the Roman city of Bath in the heart of England features thermal springs, attracting visitors who indulge in this unique experience, in elegant restorative buildings that will stay in your mind forever! After all, what better way to travel back in time, than by taking a therapeutic bath in a Roman building? Close your eyes, and you're there!