When it comes to visiting Italy by ship, most people think of cruising the Mediterranean. Not many people associate Venice with river cruising, but Uniworld Boutique River Cruise Collection has been operating in the Venetian Lagoon and along the Po River for the past 3 years, offering adventurous travelers the opportunity to really get to know Venice and to visit the northern Italian cities of Verona, Padua, Bologna and Ferrara.
Uniworld's Italian river cruise itineraries are action-packed. Once you experience Italy onboard the beautiful River Countess, my guess is you wouldn't have it any other way. Here are 5 great reasons to travel Italy by river:
1. You'll have time to truly appreciate Venice
Venice has six extraordinary districts, each with its own unique charm. However, due to time constraints, most visitors only have a chance to experience one or two of them. Some ocean cruise ships will overnight in Venice, but the River Countess spent 4 nights of my recent 8-day cruise in this most sublime of cities, giving us an opportunity to experience Venice during the day as well as at dusk and night time. Most cruise ships and day-trippers leave Venice by dinner-time, so at night we felt like we had the city all to ourselves. 3 full days allowed us to see and explore much more of Venice than simply St. Mark's Square.
Venice is one of the world's most unique cities, but you must experience it personally to believe it. To get lost in Venice is of one of life's unexpected pleasures. In this amazing city, there seems to be something surprising around every corner. Beautiful churches, lavish palaces and unique shops are all connected by narrow, meandering alleys and open squares. Sample a Venetian favourite, the famous Aperol Spritz, in one of the city's many restaurants and bars, or accompany the ship's executive chef as he shops for fresh seafood at the colorful Rialto market. Whatever you choose to do in this romantic city, Venice will not fail to delight.
2. Explore the great cities of the Italian Renaissance – without packing and unpacking
Although Venice was the highlight of my river cruise to Italy, you will have the opportunity to visit Padua, Ferrara, Bologna, and Verona. All just a short drive away, the daytrips on Uniworld's amazing itinerary will allow you to experience these beautiful historic gems of northern Italy. The entire city center of Verona is a UNESCO world heritage site and contains more roman antiquities than any other Italian city outside of Rome. Verona is also a city of romance; Shakespeare set three of his plays there, including the famous tragedy of Romeo and Juliette. Thousands of visitors make the pilgrimage to the famous Juliette balcony each and every day during the peak summer months. Our visit to Padua included a stroll through the Prato Della Valle, the largest public square in Europe, as well as a visit to the shrine of St. Anthony. In Bologna we strolled along the colonnades and visited the oldest university in Europe. These incredible historic cities were a joy to explore – we saw beautiful art and architecture at every turn, and the best part? We didn't have to pack and unpack.
3. The cuisine in Italy's gastronomic center
The food onboard the River Countess was simply outstanding, with Chef Daniel delighting guests with his unique and flavorful creations. But my culinary appreciation extended shore-side as well. On day 3 of our cruise, we sailed up the quiet Po River as far as Polesella. From here it was a short one-hour drive to Bologna, where we had the chance to visit the gastronomic center of Italy, visiting its famous markets and food stalls stalked with local products such as parma ham, rare balsamic vinegars, authentic Parmigiano-Reggiano cheese and the famous Mortadella sausage. After exploring the city markets we made our way to lunch and a pasta-making workshop where ladies made a variety of pasta from scratch and paired each one with delightful homemade sauces. In Bologna the traditional meat sauce is called Ragu, not Bolognese, and is paired with Tagliatelle. This was undoubtedly the best homemade pasta I have ever had.
4. The hidden treasures of the Venetian lagoon
There is more to the Venetian Lagoon than simply Venice. Murano and Burano are small, lovely islands located just north of the city and are well worth a visit. Just a short ferry ride away, Murano is famous for its colourful hand-blown glass, while Burano is known for its Venetian lace. Located at the southern end of the Venetian lagoon, Chioggia is a fishing port is home to the largest seafood market in the Adriatic. This quaint fishing town doesn't have the lavish palaces and grand cathedrals of Venice, but what it lacks in opulence, it more than makes up for in charm. While it's bustling on market day (Thursdays), Chioggia is a wonderful place to retreat from the crowds of Venice, and enjoy fresh seafood in one of the city's many affordable restaurants. For those wanting to spend some time on the shore, the more well-known beaches of the Lido are located nearby.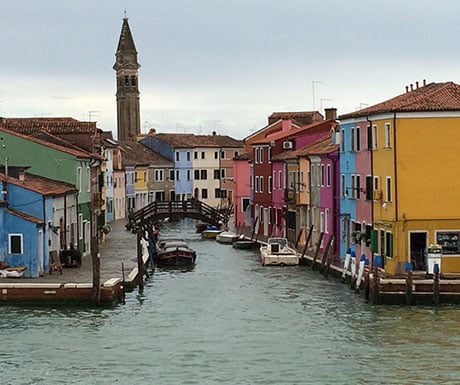 5. Experience the unforgettable
Every great vacation needs to have its special moment. Without a doubt, the special moment for all onboard the River Countess was our private tour of Saint Mark's Basilica, where an expert art historian walked us through the glorious mosaics, telling us about Venice's thousand-year history. What made this experience such a highlight was the intimacy of the surroundings. During the day, there are usually over 1,000 people in Saint Mark's Basilica at any given time. Our private tour was exclusively for the 88 guests of the River Countess, and allowed us to experience Saint Mark's under ideal conditions. We all gazed in awe at the splendid golden mosaics while we listened to the guide narrate the story behind each masterpiece. At the end of the tour we had free time to explore, and were even offered the rare opportunity to visit the crypt. Words cannot fully describe what an incredibly special experience this was for all the guests. It was simply magical.
Aida Vincelli is Senior Vice President at Tully Luxury Travel.
If you would like to be a guest blogger on A Luxury Travel Blog in order to raise your profile, please contact us.