We've showed you how a gentleman can pack a bag, and now it's time to focus on a lady's guide to packing only a carry-on. While much of the advice for packing remains the same for a woman as it does for a man, there are a few key differences. We still recommend rolling versus folding your clothes, and lightweight, layered fabrics. The differences for a woman comes what to layer and in the form of her accessories.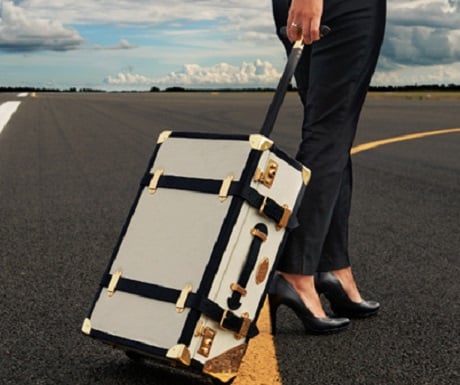 Layering
Just like our advice for the men, women should plan for layering and mix and match outfits. A soft silky top can be worn casually with a skirt and flats or dressed up with a necklace or scarf and heels. However, we still recommend keeping shoes neutral so you're not packing your entire closet!
Sweaters and pashminas are great for layering, and are easy to wear and carry with you on the plane. Also, think dresses for stylish all-in-one outfits that take up less space.
Accessories
Don't forget to pick out your accessories to match or even change up your outfits. Pick one or two go-with-everything necklaces and earrings and one statement piece. Additionally, you may want to pack only costume jewelry and leave the diamonds and pearls at home. Place your items in a jewelry roll, a small roll up bag made especially for jewelry, to fit snuggly between your clothes.
The small rolls up bags are great for makeup as well. Keep everything fresh and neutral to go with everything. Don't forget liquids have to be 1oz or less. Your hotels will have necessary bath products and it may be worth it to purchase what you need when either at the hotel or before you leave the airport.
Checklist
3 short or 2 long sleeve tops for layering depending on climate
2-3 thin silk tanks for layering
3 dresses
2 shorts (sub 1 pair of lightweight cargo pants if cooler climate)
2 long pants
1 pair dress heels, 1 pair flats to wear through airport security
1 pair athletic shoes or sandals depending on your activities
Silk pajamas
7 pair socks or hosiery rolled into shoes (or none if the climate calls for it)
7 underwear
1 swimsuit (or rain jacket depending on climate)
1 belt (be sure to match your shoes)
1-2 scarves or pashmina
Accessories bag
Toiletry bag
What are your must-have items in your carry-on?
Michael Wilkens is Founder of Wilkens.
If you would like to be a guest blogger on A Luxury Travel Blog in order to raise your profile, please contact us.