There was a time, not so long ago, when air travel was really fun. Not the pretend fun that you see in airline ads, but a legit, party-in-the-sky kind of fun. For those too young to remember, airplanes once had living room-sized lounges onboard for economy class travelers. The lounges served drinks and food to patrons who were gathered around a piano, singing along at 30,000 feet. The best part? Lounge admission was included in the price of your ticket.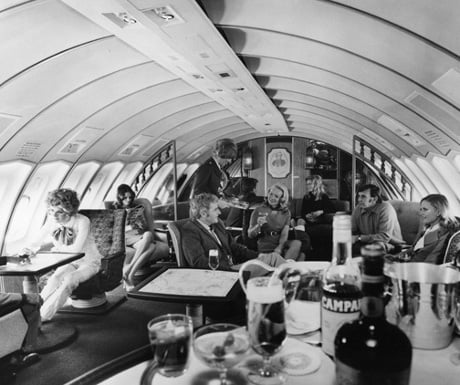 Today, you are lucky to get an extra bag of peanuts with the price of your ticket.
As airlines have reduced supply and jets have become increasingly crowded, many customers feel like they're being nickel-and-dimed at every turn. But let's forget about that for a minute and think back to a happier time – the golden days of air travel in the 1970s.
Picture dapper men and stylish women hanging out in comfy swivel chairs, sipping martinis in the sky. The upper decks of Boeing 747s were full-scale cocktail lounges and restaurants for first class flyers. On the lower deck, there were also coach or economy lounges, typically directly behind first class seating. Continental Airlines had a pub. American Airlines had the infamous piano bar. The piano bar was located at the rear of the 747-100 cabin, complete with an electric Wurlitzer organ.
Need to see it to believe it? Take a look at the photo above from Messy Nessy Chic that will leave you yearning for the '70s.
In the August 15th edition of American Way, Tom Horton's column included a fascinating look at how these lounges, debuted by American Airline's 747 coach lounges, came to exist.
The economy lounges were actually built as a creative solution to empty seats. In 1966, American Airlines ordered a slew of Boeing 747 Astroliners. These were the biggest commercial airplanes in the sky at the time. In 1966, placing a big order for these large jets made sense because air travel was growing like mad. But American didn't get their new Astroliners until 1970, just in time for the economy to hit a recession. The airline industry then had too much capacity on its hands, and the 303-seat jumbo jets weren't filling up.
So American got radically creative. They pulled 50 seats off each 747 and created a luxurious passenger lounge for the economy class in the free space. American then installed a Wurlitzer piano in each lounge. To promote the new lounges, Frank Sinatra, Jr., performed on a packed red-eye flight from Los Angeles to New York.
In a time of depressed air-travel demand, the new gimmick worked. The Skylounges, which typically featured well-known singers whose only compensation was free travel, helped fill airplane seats. Other airlines quickly borrowed the economy lounge idea, and the most entertaining time for airline passengers was born.
The piano-lounge-in-the-sky era didn't last long. After the economy rebounded, just a few months after the lounges debuted, American did not need any help luring passengers. When demand for air travel returned, American put the 50 seats back in each cabin.
So the next time you're squished in the middle seat on a full plane, spring for a martini, play some Sinatra through your ear buds, and drink to happier air travel times. May the economy lounge one day return to the skies.
Lars Condor is the Managing Director of Passport Premiere.
If you would like to be a guest blogger on A Luxury Travel Blog in order to raise your profile, please contact us.