By
Natasha Al-Atassi
on Oct 03, 2015 in
Adventure Travel
,
Africa
,
Asia
,
Belize
,
Brunei Darussalam
,
Central America
,
Cruises & Boat Travel
,
Indonesia
,
Malaysia
,
Mauritius
,
Regions
,
Speciality Travel
,
Tanzania
Going travelling allows you to enjoy many eye-opening experiences, from immersing yourself in another culture to seeing some of the world's most spectacular landscapes. One thing that many people enjoy doing on their travels is getting close to nature, and undoubtedly, going on a boat trip is among the best ways to do this. That's why I've put together the top boat excursions I've done in the past, so you too can experience nature in its full glory.
A catamaran trip in Mauritius
The beautiful island of Mauritius, situated in the heart of the Indian Ocean, boasts some of the most exotic marine life you'll ever come across. The isle is only 45 km wide and 65 km long, but has an impressive coastline of 330 km. Therefore, you'll be blessed with breathtaking views of the turquoise waters anywhere around the island's perimeter. However, if you want to experience its sea life up close, it's definitely worth taking a boat trip out on to the ocean.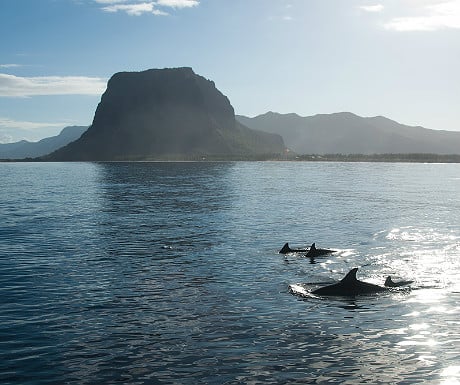 Here, you'll find a huge array of fish and mammals, including moray eels, lionfish, barracuda, swordfish, and turtles. The crystal-clear waters surrounding Mauritius are also home to its brightly-coloured coral reefs where its tropical marine life live. Whether you slip into the warm waters for a snorkel or dive, or stay comfortably on your luxury catamaran, the sea here is so clear you'll be able to spot a huge variety of sea life right from the deck.
You can also venture out into the water on Mauritius' west coast where you'll see bottle-nose and spinner dolphins in abundance. Follow in my footsteps and embrace the chance to swim with the beautiful creatures, melodically singing as they glide effortlessly through the water.
Dhow boat in Zanzibar
Anyone who has been to Zanzibar will recognise its fantastic authentic dhow boats. These traditional wooden boats were once used to trade items across the Middle East, Africa and South Asia, with the Tanzanian archipelago being the centre of trade routes for centuries. Nowadays though, they are commonly used as fishing boats or to charter tourist excursions into the Indian Ocean that surrounds the islands.
Going on a trip on one of these boats is certainly a luxury, not only for the experience, but for the absolutely mind-blowing views of the powdery-blue waters and the abundance of sea creatures that live beneath the soft surfaces of its waves.
Among the marine life you can expect to see are cuttlefish, sea cucumbers, jellyfish, octopi and spiky sea urchins – these are definitely ones to watch out for when walking on the seabed! Indeed, the shores are awash with brightly-coloured fish and coral, making paddling a little challenging. That's why it's best to take a trip further out into the ocean and snorkel with the creatures in deeper water.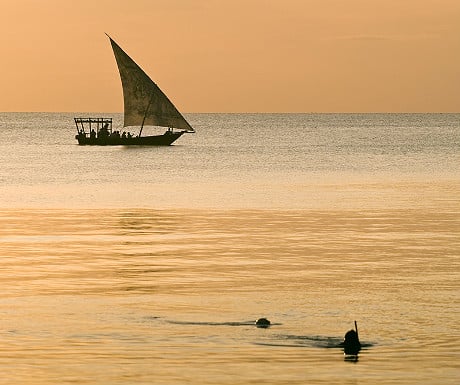 To the southwest of the isle, you can see wild bottle-nose and humpback dolphins, and you jump into the water and swim next to the majestic – if not incredibly fast – mammals.
Sailing boat in Belize
Belize has long been popular among scuba divers as it is home to the largest barrier reef in the northern hemisphere. The UNESCO World Heritage Site shouldn't be missed if you're heading to the Central American country, as it is here you'll see more than 450 mangrove cayes, 500 types of fish, 65 species of coral and nearly 250 variations of marine flora.
To really enjoy the views of the reef, as well as get close to its animals, take a relaxing sailing boat tour from one of the country's islands. Ambergris Caye, in particular, is incredibly popular for its luxury resorts, tropical waters and laidback atmosphere.
Sailing on the beautiful Caribbean Sea with the sunshine on your face, a light breeze in your hair, Bob Marley's soothing tones on the radio, and helpings of rum punch and fresh prawn ceviche being served will, I promise, feel like paradise. And that's before you see the marine life!
Here, you can come across nurse, reef, lemon-tip and hammerhead sharks, rays, barracuda, groupers, parrotfish, angelfish, clown fish and butterfly fish, all of which you can swim next to if you pop your snorkels on and slip into the water.
If you come between March and June, you could also swim with whale sharks, which can grow up to 60ft long!
Of course, for divers, no visit to Belize is complete without heading to the Great Blue Hole – an underwater cave in the middle of the sea. Here, the seabed drops by 125 m and the circular hole is 300 m in diameter, making it the largest sea-based chasm in the world. As the locals would say, "It's un-belizeable!"
Cruise on the Kinabatangan River
Not all of the world's best boat trips take place in the sea, and Borneo's Kinabatangan River proves you can enjoy a close encounter with nature on a boat trip without getting into the water yourself.
The reason the 560 km long river is so popular among tourists is due to the wild orang-utans that live in the forests surrounding the winding waterway. As part of the Sukau-Kinabatangan Wildlife Sanctuary, the creatures living here are protected, allowing holidaymakers the unique opportunity to see them in their natural habitat.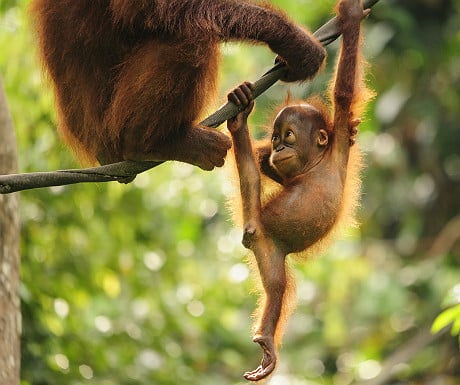 As well as flame-red apes, who swing high in the trees next to the water's edge, the area is home to crocodiles, snakes, elephants, lizards, insects and a variety of birds. You'll also find the proboscis monkey here – a strange primate measuring up to 70 cm long and weighing 23 kg. The most distinctive part of the monkey though is its bulbous, sagging nose. As these monkeys are indigenous to Borneo, you'll only see them in the mangrove jungles, river forests and swamps of this Malaysian island.
A wildlife adventure in Malaysia
Speaking of Malaysia, no trip to the Southeast Asian country would be complete without visiting its spectacular seaside. Not only does it boast silky-soft sandy beaches and aquamarine waters, it offers some of the best opportunities to come face-to-face with marine life.
Head to the east coast's Perhentian islands for true, authentic beauty, with the isles here being far less populated by tourists than Malaysia's northwest. A stay on the luxury island of Perhentian Besar will allow you to enjoy tranquil surroundings, quality accommodation and breathtaking views.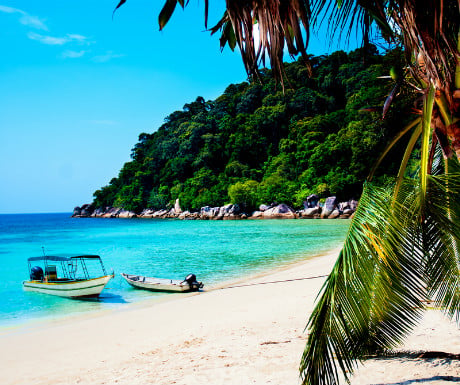 The tropical green waters are home to a huge variety of sea life, which is definitely worth taking a look at, from whales and dolphins to turtles. The underwater jungle also has colourful reefs, barracuda, tuna, groupers, snappers, reef and bamboo sharks, and rays. The huge bumphead parrotfish – measuring 1.3 m – can also be seen here, which certainly makes for a shocking surprise when snorkelling around the shallow waters, trust me!
However, not quite as surprising as a whale shark would be, with these colossal fish known to travel around the islands from time to time.
The world is full of such exciting, fantastic creatures that it'd be a shame to visit a country and not see some of them if you could. So, whenever you go abroad, don't limit your activities to the land. Who knows what you might find on an adventurous trip out on the water?
Images: Shutterstock