Whistler was recently rated the number one ski resort in North America in SKI Magazine's yearly reader poll for 2015. To give such a distinguished vote of appreciation and confidence in a highly competitive industry, the voters must have very good reason to vote for Whistler year after year!
Whistler has everything; lots of consistent snow, steep slopes, exhilarating adventure activities, excellent beginner terrain, unique non-skiing activities, vibrant après ski and nightlife, good restaurants, a lively vibe and a friendly atmosphere. The Canadian Dollar is also at its weakest point in over 10 years, so there has never been a better time to give Whistler a try!
Here are 10 reasons why skiers and non-skiers keep returning year after year after year.
Consistent snow
Whistler enjoys a very long ski season, from mid-November to glacier skiing in late July. It has some of the most consistent snow in the world, making it a skier and snow boarder heaven. The average snowfall is 11m or 36 feet. Simply put – it snows a lot in Whistler!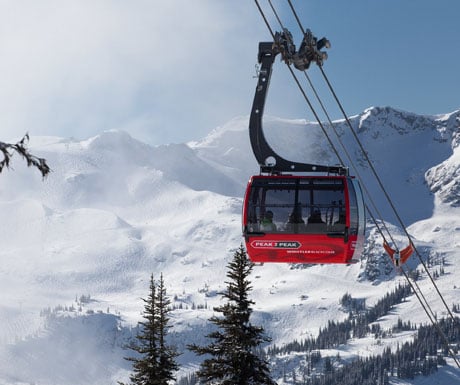 Largest ski terrain in North America
Whistler is the largest ski resort in North America and has more than 8000 acres of skiable area, catering for all levels of skiing ability.The sheer size of terrain to investigate and enjoy is hard to apprehend. Drifting through trees in deep powder, dropping into open bowls, or cruising on wide open, uncrowded perfectly groomed runs, you soon realise there is not enough time to experience everything and the idea of staying on these mountains all winter becomes very attractive. The network of high-speed lifts is very efficient – the new Peak 2 Peak gondola spans from Whistler Mountain to Blackcomb. It has the longest unsupported lift span in the world at three kilometres and it also has the highest lift in the world at 435 metres.
Top quality accommodation
From top brand name hotels to full service and world-class chalets, Whistler has a wide range of luxury accommodation. Here it is not only about ski in ski out, but heliski-in/heliski-out! There are contemporary chalets that feature panoramic and unobstructed views as well as a helipad right outside the front door. A private butler can also be arranged to cater for your every need!
Best ski school in the world
Whistler's ski school is consistently voted as the best in the world. The instructors are experienced, enthusiastic and fun. Kids love Whistler and often the ski school becomes one of the fondest memories a life-long skier may have.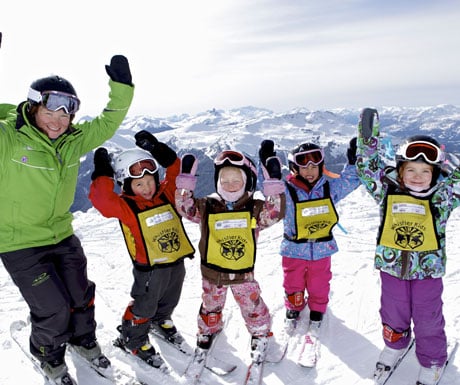 Family friendly heliskiing
Distinguishing differences between Whistler and other heliski resorts, are the unique possibilities to heliski right from the door and to combine heliskiing with a very family friendly and non-skier friendly resort. Many heliskiers have the issue that when they go heliskiing they are stuck in a cabin in the middle of nowhere and can't bring their children or non-skiing spouses. In Whistler everyone is welcome and a typical day is an enjoyable breakfast with the family, then the heliskiers head off in the helicopter while the children and non-skiers enjoy the main resort. Afterwards, everyone is back together again for a dip in the hot tub followed by dinner in the village.
Best backcountry adventures
The sheer volume of activities available is breath taking. You can go ski touring through pristine landscapes, ice climbing on a glacier, snow shoeing to a hidden waterfall, mountaineering in the wild wilderness, heliskiing to a remote lodge for cross country skiing, enjoy a gourmet backcountry picnic in the snow outside an ice cave. All this enables you to enjoy themarvels of Whistler's amazing backcountry. Friendly and professional tour guides take you through the backcountry areas, along hidden, snow-covered pathways on a snow mobile.
Finest in-the-village adventures
The Olympic Plaza in the village transforms into an outdoor ice rink when winter blows in. It has wonderful views of the mountain and the Olympic rings, and at night thousands of colourful lights create a joyous mood. Leave the skates and fly over the ice at record speeds at The Whistler Sliding Centre. Host of the bobsleigh, skeleton and luge competitions during the Vancouver 2010 Olympics, the fastest bobsleigh track in the world is open to adrenalin junkies – we are talking speeds reaching up to 75 miles per hour! If this is not enough, you can tee off for a cool round of glacier golf.
Amazing après ski
The resort has a legendary après and nightlife scene. Fireside lounges, piano bars, friendly pubs buzzing with live music and clubs with famous DJ's create ideal meeting places to recount the day's adventures between like-minded visitors from all around the world. You will be up dancing in your ski boots even after a full day on the slopes!
World class service
Whistler is known for providing top quality, friendly service. Private ski butlers and concierge services provide an excellent hassle free experience and the local staff offer unique advice: they live, love and breathe Whistler!
Fabulous facilities
Even if your idea of fun time does not include a single minute in ski boots, you will love Whistler because of its alpine atmosphere and friendly vibe. There is a wide range of top quality accommodation, a quaint pedestrian village full of shops and galleries, non-skiing activitieslike dogsledding, zip lines and snowmobiling, 85 great restaurants that range from informal to fashionable, and top of the range spas.
A luxurious experience in Whistler is all about heliskiing, unique backcountry adventures and then enjoying the amenities of Whistler Village, in a family friendly environment. The resort is definitely not just about skiing; it has something for absolutely everyone!
Celine Renaud is Head of Sales for Leo Trippi.
If you would like to be a guest blogger on A Luxury Travel Blog in order to raise your profile, please contact us.