5 extraordinary places in Australia you have to view from above
Australia
is one of the most popular places for travel and tourism. A lot of towns and cities in Australia run completely on tourism. It is one of the most beautiful places in the world and has a lot to offer with The Great Barrier Reef being the biggest tourism attraction. Being able to visit places and actually walk on the beaches and through the rainforests is a thrill of its own but when you are down on the ground, you don't always get to see how magnificent a place really is. You don't get to see its beauty in its entirety from the ground. Taking in a view from above can change your perspective on how spectacular a place really is. Below I have listed 5 extraordinary places you need to see from above. Whether you take a helicopter tour or take a tour in a small plane, you have to check these places out from above.
1. Purnululu National Park in Kimberley, Australia
In the Purnululu National Park there lies the famous Bungle Bungle Range. This magnificent range is made of sandstone. It has the resemblance of a beehive. Driving through this range is amazing enough but taking a helicopter tour of the Bungle Bungle Range will give you a unique view of the features these domes have to offer.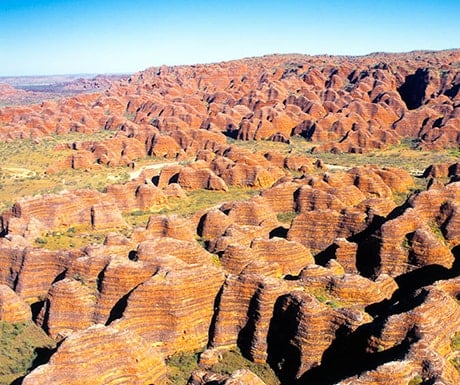 2. The Twelve Apostles on The Great Ocean Road in Victoria, Australia
The Twelve Apostles is a collection of limestone stacks off the shore of Port Campbell National Park. At the moment, there are only 8 apostles left from collapsing from the waves. Despite, them slowly collapsing over the years, they are still an extremely popular sight to see. Taking an aerial tour of The Twelve Apostles will leave you speechless. With the beautiful blue ocean around it and the clifftops in the background, it will make you really appreciate what mother nature has made.
3. Heart Reef in Airlie Beach (Whitsunday), Australia
Heart reef is one of the most popular sights to see on The Great Barrier Reef. Taking a scenic flight to heart reef will keep you mesmerized for the rest of your life. On your way to heart reef, you will get to see the miraculous Whitehaven beach and the hill inlet with astonishing blue waters surrounding it. Taking this seaplane tour will leave you with a feeling that is indescribable. You will finally get to see one of the most famous landmarks in the world, The Great Barrier Reef.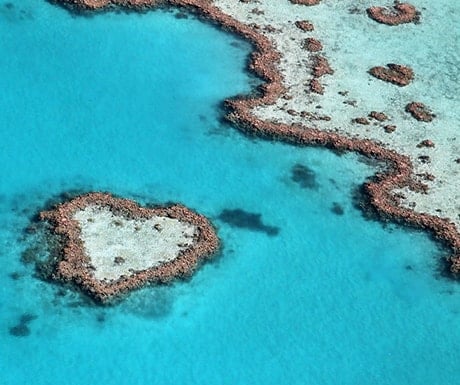 4. Ayers Rock in Northern Territory, Australia
Uluru, also known as Ayers Rock, is Australia's national landmark. It is a massive sandstone rock that is surrounded by flat lowlands. A very spectacular thing to see is when Uluru changes color. It changes color at different times of the day. The best time to view this amazing landmark is at dawn or sunset when it's glowing red. Taking in an aerial view of this landmark will help you understand how big it is and how magnificent it is to be surrounded by all of the flat lowlands.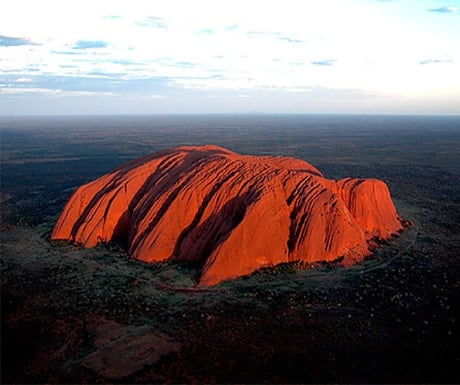 5. Cape Raoul in Tasmania
Cape Raoul is one of the most spectacular clifftops in Australia. It is located in the Tasman National Park. You can stand on the edge of the cliff looking out at the resounding coastline. This breathtaking view is one of a kind. You will never experience a view quite like this one. Being able to walk this clifftop is an incredible feat in itself but being able to take in this magnificent clifftop from above will leave you speechless at how distinct it really is.
Viewing things from ground level is always an experience but being able to see things from above can give you a completely different perspective of what you are looking at. Take in one of these striking destinations from above and tell us how it made you feel!
Did you enjoy this article?
Receive similar content direct to your inbox.