Situated close to Covent Garden in the Holborn area of the West End, and just a few minutes' walk from Holborn Underground station on the Central and Piccadilly lines, the Rosewood London occupies a restored Edwardian mansion, complete with Belle Époque charm, the entrance to which can be found via a carriageway and central courtyard. I arrived on a Sunday afternoon when there was also an organic market just winding up outside.
The welcome
I received a warm welcome and was introduced to my butler, Alex, who showed me to my room on the 7th floor, pointing out the grand Pavonazzo marble staircase on the way. He gave me a tour of the room, asked if I wanted an unpacking service, offered a complimentary newspaper and wake-up call, and explained that he was on call should I need anything at any time.
The room
I stayed in a signature suite called Garden House – there are 9 suites, each with a different theme. This one has its own garden terrace, hence the name. The accommodation consists of a living room, den, library, WC and pantry to the left, and to the right, a bathroom (with bath, shower and twin basins), bedroom and closet.
The bedroom itself isn't vast but nor do you need it to be when you have so much room elsewhere in the suite…
…including the separate closet and dressing table.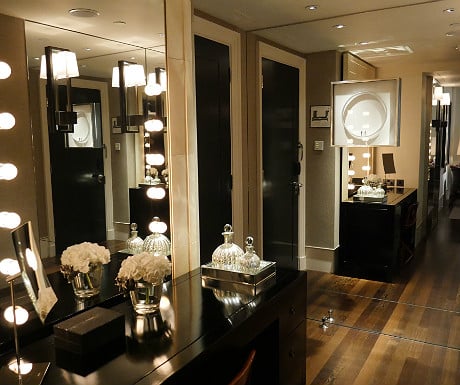 The living room is tastefully furnished with a large mirrored wall and enough seating for 7 people.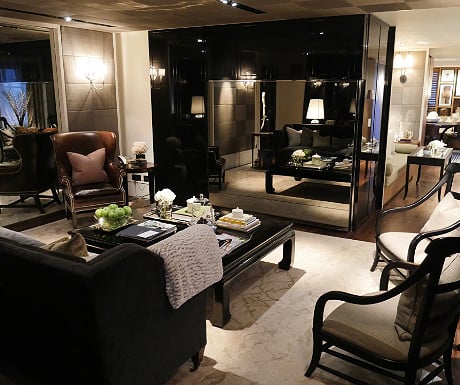 It turned out that this mirrored wall was also the TV.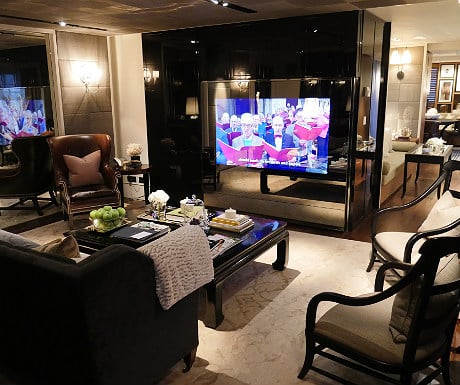 Within this room was a selection of magazines (CN Traveller, Harper's Bazaar, The Rake) and books (gardening publications and a selection of PG Wodehouse titles).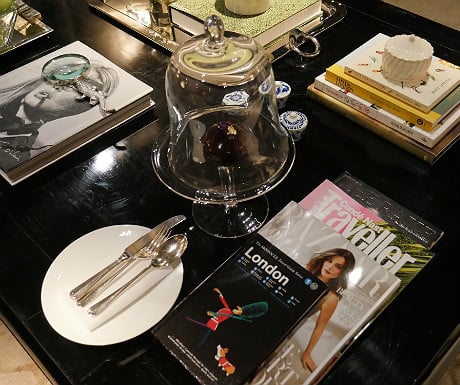 Moving along, the den consists of a sofa and table, along with books on bartending and fixing drinks
Also to be found here was complimentary whiskey, cognac, gin, sloe gin, Bacardi, Bombay Sapphire and a selection of chocolates.
In the library are more books with a gardening theme (National Trust guides to bee-keeping, wild food and growing home veg and fruit), plus seating for about half a dozen people, and a large round table that was a good height from which to work, as well as a TV.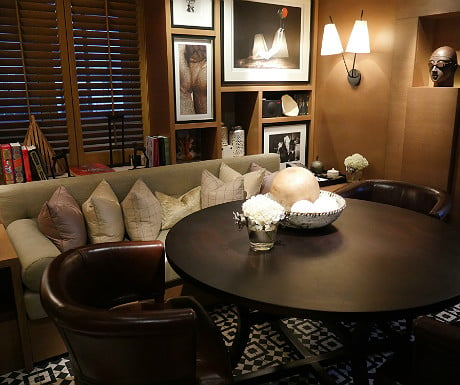 Beyond the library is a pantry, complete with Nespresso machine, oven and sink, and even a ffresh lemon and lime on a cutting board so you can fix your own drinks.
An outdoor terrace looking over the hotel courtyard and to the city beyond is also accessible from the library.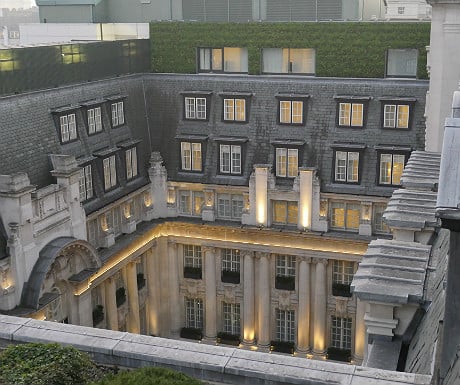 There is more than one point of access to the suite – useful if you ordered room service but didn't wish to be disturbed.
The bathroom
The bathroom came with twin basins, a separate bath and shower, and a choice of gowns (fluffy or linen).
Czech & Speake toiletries were provided.
The facilities
I was on business so sadly didn't really get to use the hotel facilities. I did get to visit the Holborn Dining Room for breakfast, though – and that is a beautiful setting to start the day.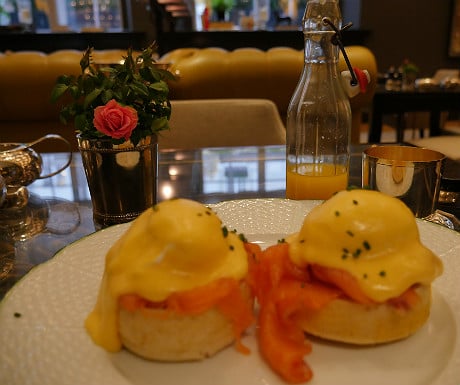 Other nice touches
It was as though everything had been thought of – heated toilet seats, adaptors and ethernet cable, board games, umbrella, lime and lemon in the pantry… even a back scratcher in the bathroom.
Cost
Rooms start from £380 per night including breakfast; for a Grand Premier Suite, rates start from around £1,400 per night.
The best bit
For London, this is a very generous amount of space – probably the biggest hotel room in the capital I have stayed in – and the secluded outdoor space is an extra treat… in total, it covers 173 square metres, including the outside terrace.
The final verdict
The hotel enjoys a very central location, occupies a beautiful building and, despite being quite large with 262 rooms and 44 suites, offers exceptional attention to detail.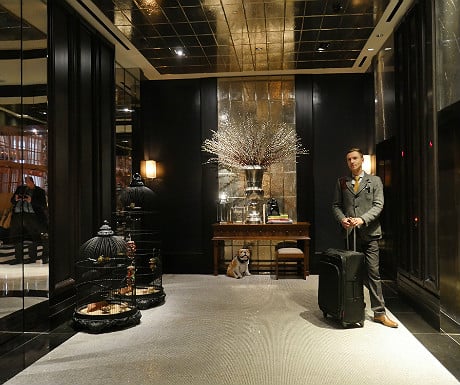 Disclosure: My stay was courtesy of the Rosewood London.