By
Jackie de Burca
on Dec 20, 2015 in
Attractions
,
Europe
,
Food and Drink
,
Going Out
,
Leisure Travel
,
Regions
,
Restaurants
,
Spain
,
Speciality Travel
,
Travel Miscellany
,
Western Europe
Explore chic boutiques, gastrobars and galleries, some of which can be found in delightful Art Nouveau buildings and even in Medieval palaces, in the gorgeous city of Girona. A city of fascinating contrasts, Girona enjoyed wealth during the Medieval period, which means that visitors can see fine Gothic and Romanesque architecture: buildings which still remain despite numerous sieges and attacks.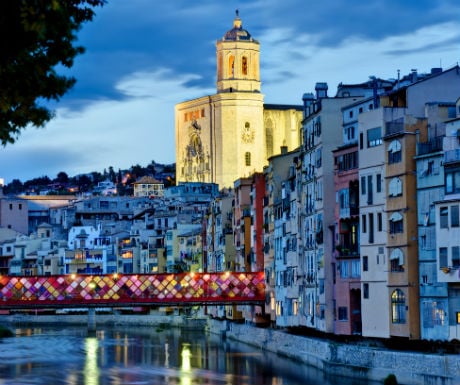 A colourful ancient walled city
Barri Vell, its ancient walled city, sits by the striking collection of colourfully painted buildings, which seem to huddle around the Cathedral, on the River Onyar's right bank. The Cathedral, which was built between the 11th to 18th centuries, provides the perfect landmark reference when exploring the city's treasures.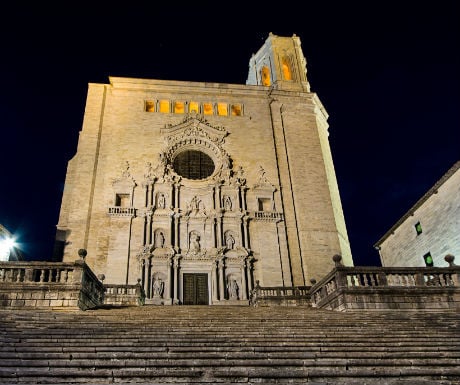 A Mecca of Medieval architecture
Also known as the City of Four Rivers, Girona is a Mecca of Medieval architecture, with its Medieval Quarter being one of its two fortified enclosures. Wander around magical, winding streets which are filled with Medieval mansions, churches, courtyards and gardens. Of course it's impossible to miss it's magnificent Cathedral which crowns all of this.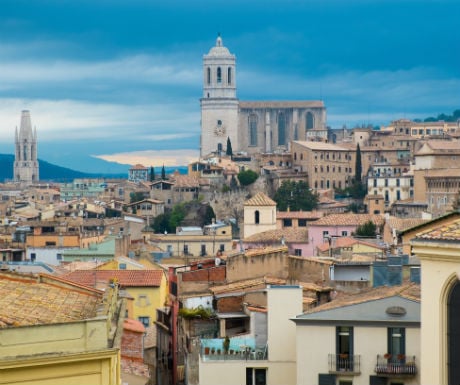 A city of contrasts
The other fortified enclosure is the Força Vella, which dates to between the 1st century BC and the 10th century A.D., going back to its Roman foundations. Over its history Girona has been called home by the Moors, Greeks, Visigoths and Franks, as well as the Romans. This along with its 21st contemporary lifestyle and culture, makes it a city of contrasts. Amongst its highlights are the city's Arabic Baths, and the Jewish quarter – El Call, which is considered to be the best preserved in Europe.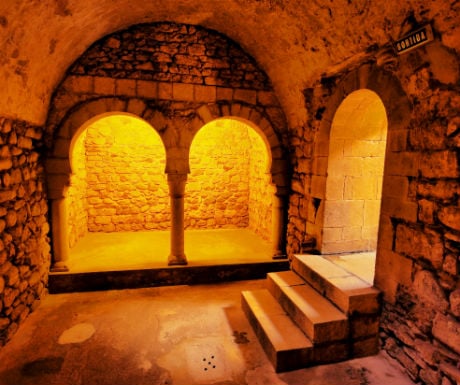 The world's best restaurant
Girona is home to El Celler de Can Roca, which in 2015 reclaimed the honour of being the world's best restaurant, along with numerous other accolades, TripAdvisor also named it the Best Place To Eat On the Planet! As you can imagine, thousands of people fly specially to Girona each year to enjoy the world's and planet's best food, along with its extremely special hospitality and unpretentiousness.
Gastronomic Girona
Girona city and province, as well as the rest of Catalonia, are rated high in the world's top centres of culinary creation. Feel this culinary vitality, and sample locally sourced ingredients from the nearby sea and mountains, used in traditional, International and avant-garde cuisine. Also hitting the city's busy festival schedule is the Girona Gastronomy week, in March, and the Gastronomy Forum, every second year.
Cultural events
For a small city, Girona has a whole lot of cultural events happening. It plays host each year to a large number of festivals, across an interesting range of disciplines, such as classical guitar, international theatre, street art, jazz, black music, Catalan rumba, cinema and art.
Fabulous flower festival
Out of the numerous events and festivals that happen in Girona, the most photographed is the fabulous flower festival, which is called – Girona, Temps de Flors, which means Time of the Flowers. For ten days in May, the buildings, gardens and courtyards of the old quarter are decked out with beautiful floral displays and art installations. There's also a program of fine dining, cultural events and some commercial activities. 2016 is the 61st edition of the festival.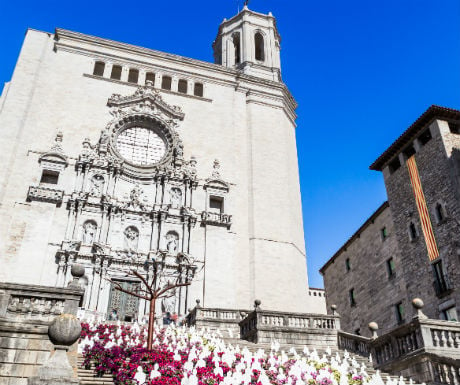 Museums & galleries
There are over ten art galleries dotted around the city, as well as seven museums. These include the Museum of Jewish History, the Museum of Cinema, the Art Museum and the Archaeology Museum of Catalonia.
Chic boutiques in streets full of character
Girona is a great city for shopping also, with a fabulous range of offerings for any type of shopper, and plenty of chic boutiques in streets that are full of character. Choose from traditional shops, crafts and antiques, avant-garde decoration, designer boutiques, top International brands and Catalan delicatessen produce. During the months of April, May and June, the shopkeepers extend their offerings onto the streets, so that street markets are formed in these main shopping areas.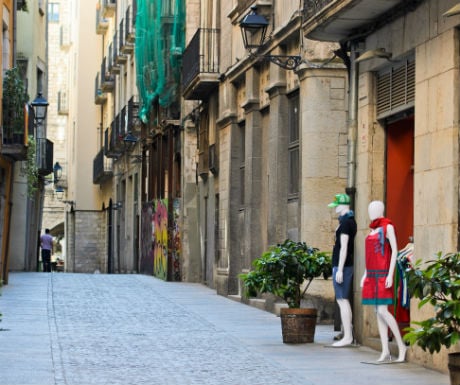 Close to the beach
Within half an hour's drive from Girona, you can reach the coast of the Costa Brava (Wild Coast), which is scattered with plenty of beautiful beaches and intimate coves. The closest coastal towns are Platja d'Aro, Palamos and Lloret de Mar. However this wonderful coast has many more stunning seaside sights to explore, including Empuries which is a 40 minute drive, where you can see Roman ruins by the sea.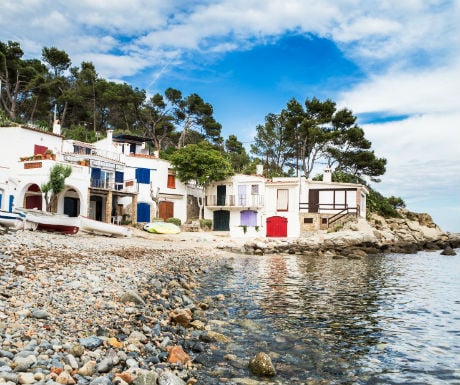 Dalí fans
The three locations that make up the Dalí Triangle are within a 25 minute to 1-hour drive from Girona. These are Pubol (Gala Dalí Castle House), Cadaques (Dalí's Home Workshop) and Figueres (Dalí Theatre Museum).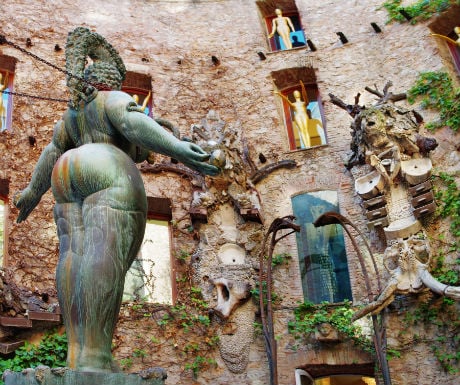 Quick facts
Situated in the north-east of Catalonia, the province of Girona meets up with the French border.
Girona-Costa Brava Airport is located 29 km (18 miles) from the city centre and is also regarded as the gateway to the Costa Brava.
Girona is 116 km (72 miles) north, and slightly inland from Barcelona.
The city has one 5-star hotel and eight 4-star hotels.
There are 13 restaurants with Michelin stars in the Province of Girona.
Jackie de Burca is Co-owner of Catalonia Valencia.
If you would like to be a guest blogger on A Luxury Travel Blog in order to raise your profile, please contact us.