5 tips for taking kids on safari
We traveled to Tanzania this past August with our three boys ages, 14, 12 and 8. A close family, we have never gone on vacation without the boys, so it was natural that we would take them with us on our safari and trip to Zanzibar. As we planned the big trip, we often thought about what we would encounter along the way that would be negatives for the kids. We found that the reality wasn't always what we anticipated. Here are five things to consider when taking kids on safari.
Dealing with long flights
The most daunting part of the trip we thought would be the flight. Tanzania is a very long way from the East Coast of the United States. The flight would take us from Boston to Istanbul (10 hours), then Istanbul to Arusha (8 hours). Add to that the travel time to and from airports, as well as the layover times and we would end up traveling for over 23 hours.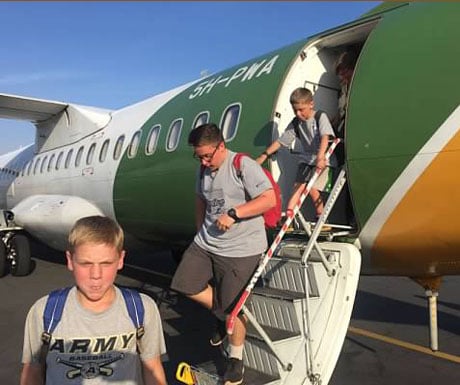 Our perceived negative turned out to be not all that bad. Turkish Airlines was really great. Not only did they have nice little gifts for the kids to play with but with each seat having its own entertainment system and each child had dozens of shows to watch between naps. Turkish Airlines is known for its outstanding cuisine and their food service every few hours really broke up the monotony of the flight. Despite the uneventful, albeit long flights, our heads on a pillow in an actual bed at our lodge was very welcomed.
Managing long days in the safari vehicle
Knowing that we were not allowed to exit the vehicles in the National Parks, our next concern was the long days out on game drives. As they say, "boys will be boys" and boys typically like to move around. We found that the safari vehicle was big enough to allow for moving about inside and allowing for legs to get stretched as needed. As for the occasion "comfort break", our guide was experienced with this concern. While one is not allowed out of the vehicle to roam around, it is an accepted practice to get out and "check the tires" periodically. As we found out, the roads are bad and getting out to check to ensure the tires were in proper working order is a necessity. The boys were often eager to assist our guide in checking for flats and taking care of business while they were there.
Along the same vein, we found that while the boys are accustomed to lots of moving about, we also found that they are very adaptable and can easily fall asleep anywhere. During some of the long drives between destinations, we were pleasantly surprised to find, like the ebbs and flows of the ocean on a boat, the slow going and ups and downs of the vehicle on the rough roads were perfect to lull the boys to sleep when the scenery was not very interesting.
Appreciating a child's sense of wonder
One of the best parts of traveling with the boys was their unending sense of wonder. Everything was new and interesting to them. While every "first" was a thrill, the 49th giraffe was just as interesting and special as the first. Looking for and spotting animals never got old. As we had weight restrictions for our luggage, we didn't bring the usual extras such as puzzle books or electronics that would keep the boys occupied should they get bored. Instead my husband came up with challenges that the boys enjoyed. The first to spot a warthog or perhaps a buffalo would receive 500 Tanzanian shillings. The challenge would increase as the day went on and the child could risk his money or double it based on the sightings. This was a thrill for the kids at each dinner time when they would received their daily winnings. It didn't matter to them that the money was basically the equivalent of a US quarter. They enjoyed the competition and later used their winnings to haggle with locals at the market in Karatu to get a little trinket as a souvenir.
Enjoying life at camp
We thought we would have problems keeping the boys occupied and entertained at the camps. We found that this concern was unfounded. At the Lemala Mara Tented Camp the staff was outstanding. Our tent attendant, Bruno, was fantastic with the kids. He immediately took them off to play soccer, showed them how to shoot a bow and arrow, and gave them a Lemala backpack filled with bedtime stories and coloring books. The lounge tent had playing cards and games, and even a movie on a laptop for them to watch. There is something pretty special about watching The Lion King in the heart of the Serengeti!
Another concern with being in tents at camp was that they boys wouldn't stay in at night. While we would be in the tent next door, there was a concern that their curiosity would have them wandering off to explore. We found that the boys took the safety talk at each lodge quite seriously. They were told they couldn't leave without an escort and they stuck to it. As our time at camp was typically spent all together in the lounge tent or the dining tent, the amount of time in the evening spent in their tent was usually limited to sleeping only. Since our days were long and filled with adventure, once their heads hit the pillow they were out for the night and our fears were put to bed with them.
Making it a family adventure
The best part of our trip to Tanzania was that we experienced this all as a family. We now have a great experience that we can discuss and share for the rest of our lives. Placing a carved zebra mask on the Christmas tree as an ornament this year had much greater meaning to them since they got to see zebras up close rather than just in pictures upon our return. We didn't leave the kids behind and worry what they would be doing at home without us. We had them with us the entire time. We got to have one of the best vacations of our lifetime and we shared it all as a family.
We have traveled quite a bit with our boys and each trip has its ups and downs. With each trip, we gain more insight into how to have a positive experience to ensure we have great memories as a family. Onward to our next adventure!
Javier Luque is a Co-Founder and Director of Your African Safari.
If you would like to be a guest blogger on A Luxury Travel Blog in order to raise your profile, please contact us.
Did you enjoy this article?
Receive similar content direct to your inbox.