By
Olivier Templar-James
on Jan 13, 2016 in
Accommodation
,
Attractions
,
Europe
,
Food and Drink
,
Going Out
,
Hotels
,
Portugal
,
Regions
,
Travel Miscellany
,
Western Europe
The city of Lisbon, Portugal, has always been somewhat of an underdog. Even though this European capital is undeniably charming, it managed to fall under the mainstream radar for quite some time, failing to attract big tourist crowds. This was in direct contrast to more popular destinations such as Paris or Barcelona. The capital of Portugal is a bursting, vibrant and charming city with lots of history, culture, great food and incredible surrounding nature. Lisbon is quickly becoming one of the most popular and relevant touristic hotspots, definitely worth a visit even when compared to other mainstream European capitals. This article features a list of 6 things to do that will make your stay in Lisbon absolutely unforgettable…so go ahead and don't miss out on these wonderful attractions!
1. Stay at the marvellous boutique hotel Santiago De Alfama
"Santiago De Alfama" is an elegant and comfortable hotel located in the old central district of the city, one of the most advantageous locations and a great starting point for your daily excursions into Lisbon! This classy boutique accommodation offers a very exclusive and personalized vibe, with only 19 rooms available! Small size combined with big quality for an establishment that managed to capture the vibes of the capital of Portugal in a beautiful and unique way. Find out more about this hotel and make your booking via their official website: http://www.santiagodealfama.com
2. Take a tour of the city by tram and don't miss the number 28!
Travelling through Lisbon by tram is definitely one of the most iconic ways of experiencing the city. Undeniably, the tram is one of the most popular means of transportation, as both tourists and visitors use it extensively to get through the city. The route also includes districts as popular as Baixa, Alfama and Estrela, just to mention a few. One of the most famous lines in the city is definitely tramway n28, which cuts through some of Lisbon's most interesting neighbourhoods, offering a stunning spectacle to travellers and commuters, while connecting them to some of the best areas of the city in a very effortless way. A tram ride around the city is a perfect way to get a low cost tour around Lisbon, and you can enjoy people-watching in the process! However, the route is not the only interesting and charming part: these trams date back to the 1930s and they are still fully functioning, instead of collecting dust somewhere in a museum, as would happen in pretty much any other developed capital city in the world! The number 28 is a true experience that is one of the closest things to jumping right into a time machine in the heart of Lisbon.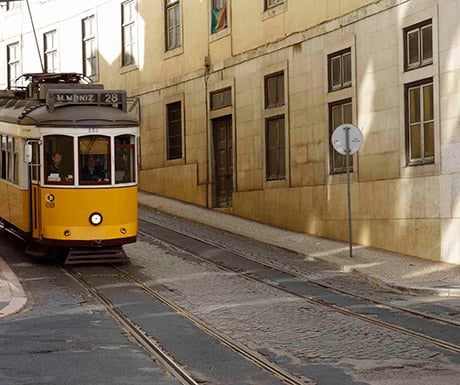 3. Visit the Foundation Museum Calouste Gulbenkian
The Calouste Gulbenkian is definitely one of the most important museums in Portugal, and perhaps, the whole of Europe. It features artworks ranging from ancient times to the 20th century, including a stunning collection of Ottoman and Persian art, the Lalique collection. Here you can also admire vintage French furniture (Riessner, Boule…) as well as from English painters such as Turners. The foundation is arguably dedicated to Calouste Gulbenkian, an art lover who was alive at the turn of last century, as well as an incredibly avid collector of artworks who managed to amass an impressive private stock of masterpieces that embody the history and evolution of European fine art but also of the Ottoman empire and Antics. These masterpieces range from famous Dutch greats to French innovators, including names such as Renoir, Rembrandt, Van Dyck and even Turner just to mention a few illustrious names that are represented within this world class art collection. The Lalique masterpiece section is of of the world finest one you can see.
If you enjoy art and its history, you are definitely in for a treat.
4. Eat at the Mercado Campo de Ourique
The Mercado Campo de Ourique is a colourful, buzzing and lively market where you will be able to find some of the best food in the city. Similar in style and feel to the famous "La Boqueria" in Barcelona (Spain), this market offers everything from great local produce to rare exotic imports. More importantly, this is a great place to get some food, whether you are looking for a quick lunch on the go or you are looking to sample some great local delicacies.
5. Visit Belem, discover its World Heritage architecture and eat the famous original Pastel De Belem
Belem is one of the world's most notable architectural sites, boasting a unique style that became popular in Portugal and Spain due to the influences of the Arabic world, which occupied the region in the past, as well as because of the cultural pull of the relatively close North African countries that had an impact on Portuguese culture. Belem is not just a marvellous architectural hotspot: this is a place where you can taste some amazing pastry, including the original "Pastel De Belem", known to connoisseurs all over the world as a local culinary delicacy.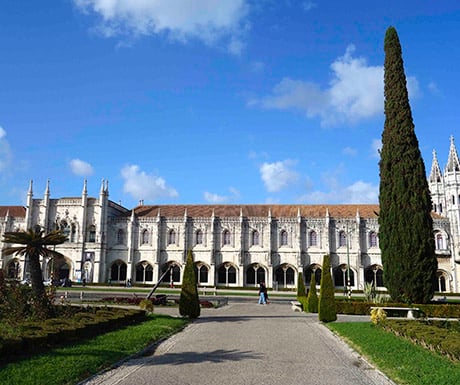 6. Discover the world of Portuguese pastries and find out where to get the absolute best pastel de nata
If there is one thing that Portuguese people couldn't live without, it is probably their love for coffee and pastries. If you want to dive into this tasty bit of local culture and try the best "pastel" available in Lisbon, you should definitely check out "Pastelaria Aloma" at Campo De Ourique, one of the most acclaimed pastry makers in the whole cities. If you are looking for something a little different and more focused on tradition, you can visit a more traditional "pasteleria" and drink coffee just like a local! Some of the best spots in the town, in our opinion, include Pastelaria Suica and Confeitaria Nacional, just to mention a couple!
Olivier Templar-James is Chief Editor at Luxury Travelers Guide.
If you would like to be a guest blogger on A Luxury Travel Blog in order to raise your profile, please contact us.