Our love of luxury travel and our search for the best vegan food in the world recently took us to Hong Kong, where the skyscrapers dominate the skyline and hustle and bustle oozes from every corner of the city. The opportunity to find a world class luxury hotel is Hong Kong is everywhere with all of the industry's biggest brands holding a firm position in either Kowloon or Hong Kong Island. But we aren't pleased easily and so when we travel, we don't just want amazing places to sleep in; we want amazing experiences, world class service and the finest (vegan) food we can find.
Being a vegan means that we choose not to eat any animals or their by-products or use any animal products in all areas of our life, it doesn't mean, contrary to popular belief, that we live a meagre, joyless life. Neither does it mean we survive by only eating salad. In fact, there are a growing number of vegans (like us) that enjoy the finer things in life; we love good food, good wine and a fair bit of luxury, but we just want to minimise the impact we have on ourselves, the planet and those we share it with.
Here's our pick of 5 hotels for vegan luxury and Michelin-starred dining in Hong Kong, places you can go to where there is standout luxury and top-end dining all under one roof. You didn't think Michelin-starred restaurants could cater for vegans? Well, it turns out they can and they all offer a lot more than plain old boring salad. What's more, each of these restaurants, despite being located in some of the best luxury hotels in the city and having 11 coveted Michelin stars between them, didn't serve over-complicated, fancy food that leaves you feeling hungry. They all stuck to their roots, creating traditional Cantonese dishes in plant-based form.
Island Shangri-La is located on Hong Kong island and is somewhat of an urban sanctuary; a luxurious and opulent escape from the city outside. Chandeliers, plush carpets, classical Chinese design and art work surround you during your stay and a sizeable outdoor pool surrounded by city skyscrapers makes the perfect place to relax when needed.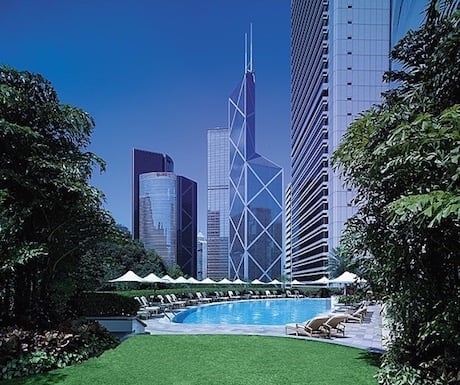 From breakfast to evening canapés in the Horizon Club, we were able to indulge in vegan food from a range of cuisines including traditional Hong Kong fare like vegetable filled beancurd skin rolls as well as richly spiced Indian curries and light Vietnamese handrolls. Staff were helpful in arranging special dishes and checking for non-vegan ingredients meaning that there was never a shortage of vegan food to be found.
Their 2 Michelin starred restaurant, Summer Palace, already has a regular vegetarian menu with a range of vegan options making ordering easy with little effort needed to organise vegan food. Dishes were fresh and light with the focus being on quality ingredients as opposed to fancy presentation. The Shangri-La's 'Rooted in Nature' initiative produced several options made from locally and ethically sourced ingredients, which is a definite plus for environmentally conscious diners. Our top pick was the 'Sweet and sour fried gluten', perhaps not the most appetising menu description to all but food lovers will appreciate the exceptional taste. The sauce was glossy and rich with flavour with levels of sweetness and sourness as expected but a far superior quality than is usually found elsewhere. The gluten pieces were crispy on the outside, soft on the inside, with a mix of fresh peppers, pineapple and onions to finish it off.
The Four Seasons Hong Kong is the absolute definition of a modern, sophisticated luxury hotel. Rooms are chic, with sleek design in either a Chinese or Western theme (your choice) and stunning views of the famous Victoria Harbour are captivating; the service is smooth, efficient and personalised and there's an air of pure class about this property. The rooftop pool area overlooks Victoria Harbour, music plays underneath the water in the lap pool and the adjoining spa area is not only huge but heads and shoulders above what you'd normally expect to find in a city hotel.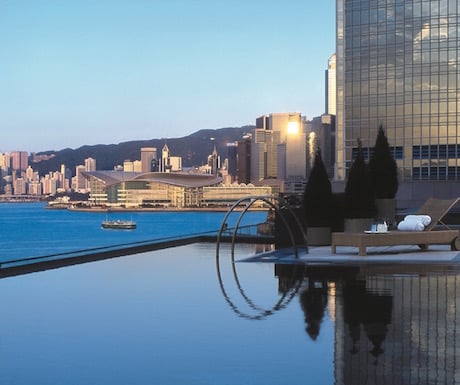 When you're done relaxing, head down to Lung King Heen, the Four Seasons Hong Kong's 3 Michelin-starred restaurant. It was the first Chinese restaurant in the world to be awarded the much coveted 3 Michelin stars, the rating for 'providing exceptional cuisine that's worth making a journey for'. There was one dish on the vegan menu that stood out as being really special, 'Crispy Tofu Sheet with Sesame'. Beancurd skin had been layered together before being fried in a light sesame seed batter then served with a deliciously zesty lemon sauce. It was soft, tender and juicy with an amazing texture and the sweet, sour and lemon packed sticky sauce was moreishly delicious. In addition to that, their X.O. sauce was pretty heavenly. It might seem strange raving about a condiment but this sauce has a firm place in the heart and history of Hong Kong and the fact that they not only do a vegan version of this usually meat and fish based sauce, but that it was really spectacular and should surely be something to rave about.
Food elsewhere  was just as impressive with their exquisite vegan afternoon tea selection being an indulgent vegan treat to write home about. Miniature cakes, biscuits and desserts served on an elegant cake stand won our hearts and were the perfect vegan afternoon pick-me-up. Sometimes in a city as busy as Hong Kong it's essential to stop for a while and enjoy a selection of fine teas and a few sweet delights before taking on another evening in this energetic city.
Head over the water, perhaps on the iconic Star Ferry and land in the Kowloon area of Hong Kong where you'll find long standing hotels like the InterContinental Hong Kong. This famed hotel is built over Victoria Harbour giving unprecedented waterfront views, almost at water level making you feel like you are part of river life. There's a great feel to this hotel which was designed in consultation with a Feng Sui Master, incorporating Hong Kong legends into the design. Expect exceptional service and a spacious executive lounge serving breakfast, afternoon tea and a light buffet in the evening to accompany cocktails. The hotel also boasts Hong Kong's largest outdoor pool and a 5 bedroom Presidential Suite, (also Hong Kong's largest) with outdoor space rarely seen in city centre hotels.
At breakfast we were presented with a platter of healthy vegan food abundant with fresh vegetables and fruit to start the day. There were healthy 'shots' of superfood packed juice, dishes of our choice made to order and an amazing harbourside view to remind us that we were right in the heart of one of the world's most famous cities.
Yan Toh Heen, the InterContinental's fine-dining Cantonese restaurant and the recipient of 2 Michelin stars, serves refined tasting food and exquisite teas (complete with guidance from the in-house tea sommelier). The 'Chefs Dim Sum Selection' included 3 different varieties of delicate little dim sum. Our traditional Chinese bite-sized offerings consisted of a steamed vegetable dumpling filled with assorted matsutake mushrooms with yellow fungus, a crispy tofu sheet roll stuffed with mushrooms and vegetables and a steamed mushroom and pumpkin dumpling. Served with a variety of dipping sauces these little mouthfuls were a blissful starter of contrasting tastes and textures.
Also in the centre Kowloon is the Shangri-La's second Hong Kong property Kowloon Shangri-La, it's a busy hotel right in the heart of this vibrant Hong Kong district, offering above-and-beyond service to all who stay there. From a huge vegan banquet at breakfast time to canapés in the dual level Horizon Club during the evening, the service at this huge, well established hotel, is really rather special meaning that vegan luxury seemed to be everywhere we went.
Breakfast in the Horizon Club was a calm and well delivered experience; the best way to enjoy a western style vegan breakfast with fresh juice and coffee on the side. Everything was made fresh to order and the chef had already thought about a variety of choices to offer us. Service like this is exactly what every vegan traveller is looking for.
Amazing vegan food continued at Shang Palace, the Shangri-La's Cantonese restaurant that has been awarded 2 Michelin stars. It's hard to pick just one dish to recommend from the vegan choices at this popular restaurant. The double boiled soup was divine and a perfect way to discover the wonders of Chinese mushrooms. There was another mushroom dish that we were totally smitten with, 'Pan-fried wild mushroom with crispy rice in supreme soy sauce' (the marinated mushroom had the texture of butter but the flavour of rich, sweet, spicy, soy) but even the simple spinach, water lily bulbs and cordyceps flower served in a light golden broth was impressive. All so good and each dish executed with perfection.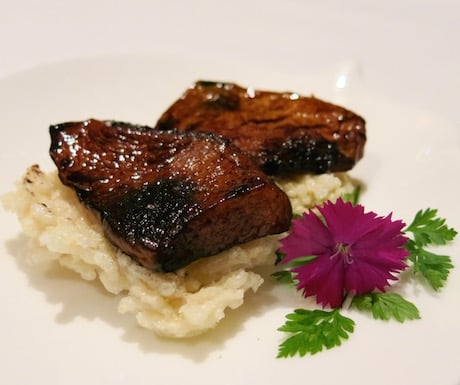 Finally, no vegan luxury tour of Hong Kong would be complete without a trip to The Ritz Carlton, Hong Kong, who are also based in Kowloon and who hold the prestigious title of the world's highest hotel. They also have the world's highest bar, the world's highest spa and of course, some of the best views to be found in Hong Kong (they really are spectacular). On a clear day you can see for miles and staring at the city and surrounding islands below will become a hypnotic pastime. It's classy, luxurious, and oozes quality; service is smooth and attentive and as you relax poolside, underneath a giant LED screened wall and ceiling, you might just have to pinch yourself as you experience yet another 'wow' moment. This is one impressive luxury hotel for sure.
The Club Lounge has no less than 6 daily food presentations, all of which can be adjusted for vegans. Choose from a fresh salad bar or order off a separate vegetarian menu to enjoy dishes like vegetable curry and flat bread or tofu sesame noodles. Vegan champagne flows, the service is charming and those jaw-dropping, hypnotic, sky-high views are everywhere.
Tin Lung Heen is their 2 Michelin stared Cantonese restaurant where again there were several contenders for our standout dish to choose from. 'Stewed assorted mushrooms with Italian balsamic vinegar' made for an interesting dish where these fusion ingredients worked perfectly together to produce a masterpiece of taste that reeled us in after the first mouthful. Its amazing how a serving of sweet and vinegary sour glazed, juicy mushrooms can be quite so good.
The other contender for best dish was definitely the 'stir-fried termite mushroom with beancurd and bean sprout'. Succulent aged tofu sticks which have a soft inside, a chewy outer skin and a meaty, umami rich, peppery flavour running through each bite, small slithers of dried mushroom and a delicious smoky aroma to the dish, all which combine to make a heavenly plate of food.
But the final wow moment definitely went to the tea which literally blossomed in front of us in the glass walled pot providing a little touch of magic and theatre to our already memorable meal.
A good quality, luxury hotel or restaurant should always be able to adjust their service and offer guests the option to have a plant-based version of their product. So far from being a life void of pleasure and luxury, the only problem vegans will have is trying not to over indulge, although our 5 hotels for vegan luxury and Michelin-starred dining in Hong Kong might make this a little difficult.
Paul Eyers is Founder of Vegan Food Quest.
If you would like to be a guest blogger on A Luxury Travel Blog in order to raise your profile, please contact us.