The chance to take a trip to London is, for many children, a dream come true. By day, blustery rides on red open-top buses, the chance to see guards stood like tin soldiers outside Buckingham Palace and hearing Big Ben chime are all part of the mythical appeal of the city. But unknown to most, by night there are some incredible experiences that are truly once-in-a-lifetime.
Best for animal lovers: The 'BedBUGS' Sleepover at London Zoo
Ideal for animal lovers aged 7-11, this creepy-crawly overnight event lets children and their guardians stay over in the BUG house at the capital's most loved zoo. With London's myriad attractions a stone's throw away, your party can enjoy a whole day of fun in the city before arriving and setting up camp in the insect house in the evening. After a welcome talk and live creature show, an exclusive tour of the zoo by torchlight allows guests to see how the animals behave in the dark; many are most active at night time so this is sure to be an experience you won't forget. Make sure to bring your camera to capture the magical memories! After the tour, it is back to the BUGS house to settle down for the night, surrounded by the resident creepy-crawlies (don't worry, they are all safely behind glass!)
In the morning your party can enjoy a hearty breakfast and a morning tour of the zoo before it opens to the public. A full day's entry is also included in the price, so you can continue your animal adventures for as long as you wish!
Price: £75 per person; £67.50 for ZSL members
Best for budding actors: The 'Living History Family Overnight' Experience on the Golden Hinde
Perfect for those who love getting stuck into role play, the overnight experience on the replica ship of Sir Francis Drake is not to be missed. Guests aged 6 and over are welcomed on board before being assigned sailor roles and getting dressed up in traditional 16th century costumes. Activities include a beginner's lesson into navigating the high seas; learning the art of gunning and finding out all about gruesome historical medical techniques. A Tudor-style dinner is served on traditional pewter plates and spoons and accompanied by rustic warm bread, baked freshly by the ship's excellent actors. A series of fun games completes the evening before guests bed down on the gunning deck amongst the heavy artillery. A fresh continental breakfast the next morning provides the perfect end to a perfect stay!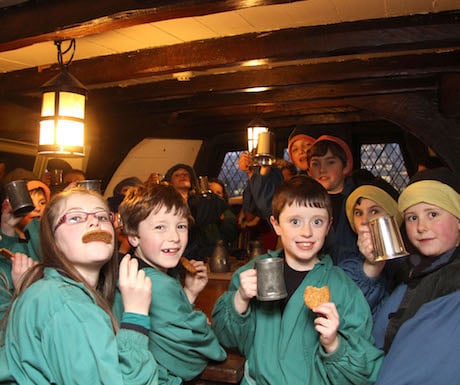 Price: £69 per person 
Best for science buffs: The 'Science Night' Experience at the Science Museum
Ideal for budding scientists, the popular Science Nights are hosted monthly at London's one and only Science Museum. This special event for 7-11 year olds includes activities such as hands-on science experiments; science workshops; games and competitions with prizes; watching a 3D film in the colossal IMAX theatre and finally getting to bed down amongst rockets, skeletons and countless other exhibits. Refresh yourselves with breakfast and a visit to the souvenir shop the next morning before spending a full day exploring the rest of the Museum, included in the price.
Price: £55 per person
Best for history lovers and dinosaur fans: The 'Dino Snores' Sleepover at The Natural History Museum
Any child who has seen the comedy classic 'Night at the Museum' will love to replicate the experience in London's own history centre. Guests arrive at 18.45 and get down to a program of fun-filled activities, including a spooky torch-lit tour of the exhibits after dark; a dinosaur t-shirt making workshop and a fascinating educational science show with a Natural History Museum scientist. After bunking down among some of the most iconic exhibits in the world including the gigantic Blue Whale and archaic fossils, breakfast is served and guests are treated to a live animal show before the museum opens to the public.
Price: £60 per person
Best for absolute luxury: The 'Dream Sleepover' at Hamleys Toy Store
When money is not an option, there is only one option: the ultimate fantasy of children everywhere. Guests of the Dream Sleepover have exclusive hire of the whole of Hamleys, including specially trained entertainers and a personal chef who will whip up a midnight feast to remember! After arriving in style on a red carpet young VIPs will enjoy a store tour and treasure hunt; birthday banquet with personalised themed birthday cake; trip to the sweet shop; a special visit from either Hamley or Hattie bear; fun games and activities and a luxury gift bag to take home. To top it all off, a professional photographer is included to capture every magical moment so you can take your memories home with you!
Price:  £4,500 for 10 children
A visit to London with the family is always a cultural and sensory delight. Highlights include visits to royal palaces; magical themed afternoon teas for children and some of the best museums and parks in the World. These incredible sleepovers are the perfect way to ensure that memories continue to be made when the Sun goes down!