Where is this place you may ask? And not an easy question to answer! On the map we are in Italy but to the locals we are in Tyrol which is an Austrian region. The official language is German but a dialect is the most spoken. So, we are international? Or maybe lost in this vortex on the Austro-Italian border. Of one thing we can be certain and that is that we are perched in the midst of the magnificent Dolomites, surrounded by emerald green valleys and silver peaks in summer and shiny white snow in Winter. These beautiful mountains are a Unesco World Heritage Site and are part of the world's highest coral reef formed 250 million years ago.
Nature
The area is spotted by magnificent mountain lakes, and like the rest of this virtually unknown valley, the Braies Lake is quite breathtaking. Peaks, Pinnacles and towers rise out of the earth, the most famous of which are the Three Peaks of Lavaredo. Soft green meadows in Summer and expanses of white snow in Winter, not to underestimate Autumn with its golden colours or Spring with its carpets of flowers.
Sport
In Winter the ski slopes are perfectly maintained and offer possibilities for all levels of skin or snowboarding. It is Italy's number one destination for cross-country skiing with over 200km of tracks with spectacular views of the Dolomites.
In Summer the many valleys and peaks offer a variety of activities, from walking and trekking paths for every level, as well as mountain bike, horseback riding and rock climbing options. Every step you take leaves you spellbound by the majestic beauty that surrounds you.
Shopping
Fashionable boutiques with all the best Italy has to offer are found in all the towns. Antique markets make the rounds all summer and offer a variety of antique and vintage objects. The valley is known for its local arts and crafts ranging from wood carving, leather work or the most famous hat maker in Italy. Surprisingly, both red and white wines of the highest quality are produced right here.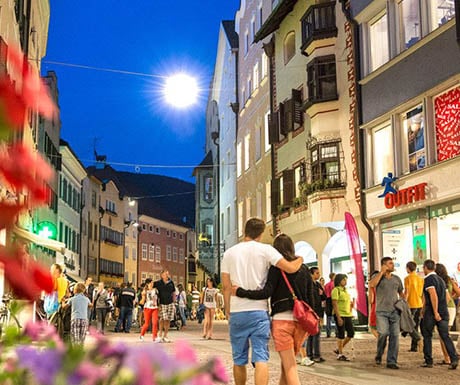 Culinary delights
The South Tyrol is the region in Italy with the most Michelin-starred restaurants so the best dining is always on hand. But for local food the mountain huts are not to be missed, offering good food and great mountain hospitality.
A must when visiting our mountains is a cup of hot chocolate with whipped cream or a slice of homemade apple strudel.
Wellness
Named the "Green Valley" for it's many meadows and woods, nature and wellness become one for both body and spirit. The natural resources like pure fresh air, fresh water and wild herbs and flowers combine perfectly to bestow wellbeing and peace. The high alpine climate produces positive effects on the whole body. Aromatic herbs and flowers are used to produce luxurious essential oils.
In this true jewel in the heart of the Dolomites, where nature reigns in every season, it is possible to live a new adventure everyday, be it summer or winter. And the best part: it is still a secret to the international traveller!
Anna Moggia is Owner of Boutique Hotel Zenana.
If you would like to be a guest blogger on A Luxury Travel Blog in order to raise your profile, please contact us.