The 10 best day trips from Rome
There's so much to see in Rome that you could easily spend a week or two just wandering the streets and visiting countless churches, museums and ruins. But if you feel like getting out of the city – and if you're there in the height of the summer, you will – you don't need to go too far for a change of scene. Why not explore the towns of Lazio, Umbria and Campania on a day trip from Rome?
1. Ostia Antica
Every tourist in Rome should have Ostia Antica on their to-do list, but the ruins of this Roman port town are overlooked by most visitors. This means that if you do decide to take a day trip (or a half-day trip) to Ostia Antica, you'll probably have the town practically to yourself, especially if you go in winter. Apart from Pompeii, it's the most spectacular Roman town in Italy, with an amphitheatre, temples, and countless villas to explore. The site is huge, so to make the most of the experience, go on a private walking tour. A guide will help you to locate some interesting sites which are harder to find, such as the mithrae (pagan temples) and synagogue, which is the oldest in Europe. Getting there: It's half an hour on the train from Porta San Paolo (the station next to Piramide).
2. Tivoli
The scenic hilltop town of Tivoli boasts waterfalls, stunning views, and the famous fountains in the gardens of Villa d'Este. For anyone interested in Roman history, Tivoli is unmissable, as it was once home to the emperor Hadrian. You could spend a whole day just exploring the vast ruins of Hadrian's villa, so although Tivoli can be done as a day trip, it's also a good place to stay the night. Getting there: It's about 40 minutes on the train from Tiburtina, while the bus from Ponte Mammolo takes a bit longer.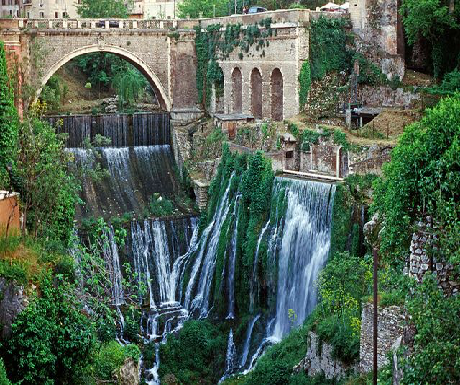 3. Sperlonga
Rome is close to the sea, and there are lots of beaches easily accessible from the city. Ostia is the closest, and Santa Marinella is also a short train journey away. The most beautiful, however, is Sperlonga. This pretty medieval town is perched on top of a cliff, and there are two sandy beaches. It's the perfect place to escape the heat of Rome, but if you're there out of season, when it's too cold to swim, check out the Villa of Tiberius and its famous grotto. Getting there: Taking the car is the easiest way to get there. There's also a train from Termini, which takes just over an hour, but you'll have to get a bus or a taxi from the train station to the beach.
4. Orvieto
This beautiful town in the neighbouring region of Umbria, located on a hill of volcanic rock, is famous for the dazzling facade of its cathedral. Once you've explored the atmospheric alleyways and the underground labyrinth of tunnels beneath the town, enjoy some
umbrichelli al tartufo
(a typical local pasta with truffle)  and a glass of local white wine. Getting there: It's just over an hour on the train from Termini.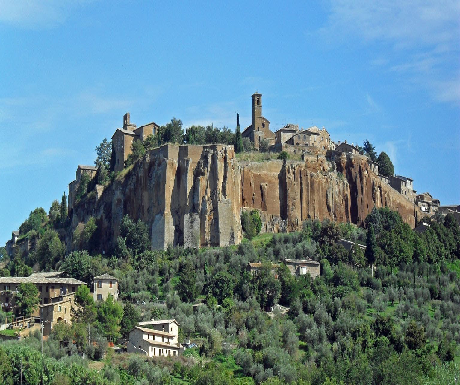 5. Civita di Bagnoregio
The medieval village of Bagnoregio sits on top of a hill, and can only be entered by footbridge. It's a sleepy little place with only 100 residents, and there's not much going on, but that's not the point of Bagnoregio. Forget about sightseeing – just find a place to sit in the piazza and enjoy the tranquil atmosphere. Getting there: Bagnoregio is about 100 km from Rome and there are no direct transport links, so drive if you can. Alternatively, take a train from Termini to Orvieto (1 hour), and then a Cotral bus (1 hour) to Bagnoregio.
6. Viterbo
Viterbo is the perfect size for a day trip, as although there's plenty to see and do, the town is fairly small. After visiting the Papal Palace and the Cathedral of San Lorenzo, check out the archaeological collection of the Museo Civico, which includes Etruscan and Roman findings, as well as a small art gallery. Once you've done a bit of sightseeing, relax in the nearby thermal baths, which are renowned for their healing powers. The most famous are the luxurious Terme dei Papi, which also include a spa. Getting there: Take a train from Trastevere or Ostiense (1 hour 45 minutes).
7. Todi
This picturesque hilltop town in Umbria has some beautiful medieval churches, but you can also find older influences in the walls, which date back to Roman and even Etruscan times. Wander through the backstreets, enjoy the views of the Umbrian countryside, and if you're feeling adventurous, try
palomba alla ghiotta
(slowly cooked pigeon), which is a local specialty. Getting there: Take a train from Termini, changing at Terni (1 hour 40 minutes), or a bus from Tiburtina.
8. Castelli Romani
The Castelli Romani are the towns in the hills to the south east of Rome. You could easily see a few in a day, as they're close together. Visit Frascati for wine and beautiful villas, Nemi for wild strawberries and a lake in a volcanic crater, and Ariccia for
porchetta
and Baroque architecture. The Pope has his summer residence at Castel Gandolfo, which overlooks Lake Albano. Enjoying the breeze by the lake, you'll understand why popes chose to escape the heat of the city in the Castelli Romani. Getting there: Frascati is half an hour on the train from Termini, but it's best to explore this area by car, so you can hop from one town to the next.
9. Bracciano
There's not much in terms of sightseeing in Bracciano, but the majority of visitors come to enjoy the large volcanic lake. The water's clean, and it's a popular spot for sailing and swimming. The fifteenth century Castello Orsini-Odescalchi overlooks the lake, and has hosted the weddings of the rich and famous, including Tom Cruise and Katie Holmes. Getting there: It's an hour on the train from Ostiense.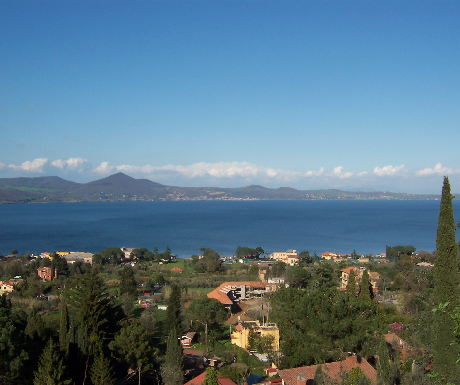 10. Pompeii
It may not be an obvious choice for a day trip, but it can be done quite comfortably. A private tour of Pompeii enables you to see the main sights and learn about the history of this fascinating ancient city. As you stroll through the streets and explore the amphitheatre, temples, bars and brothels of Pompeii, you'll be able to imagine what the city must have been like in ancient times. Although the buildings are now ruins, when you see the ancient frescoes and graffiti, and hear the moving story of the eruption and its aftermath, you'll feel as though you've stepped back in time. Getting there: Take a high speed train from Rome to Naples (1 hour 10 minutes), and then a regional train to Pompeii (45 minutes). You could also drive, or hire a driver as part of a private tour, for a more luxurious experience.
Rosario Gorgone is Co-Founder of Through Eternity Tours.
If you would like to be a guest blogger on A Luxury Travel Blog in order to raise your profile, please contact us.
Did you enjoy this article?
Receive similar content direct to your inbox.