Salvador Dalí soaked up heaps of inspiration, light and colour in the charming, dreamy seaside town of Cadaques, in Catalonia. He spent many a delightful summer there, in his younger days, and later worked and lived in his home workshop in Port Lligat. Cadaques' crystal bay is located where the Pyrenees mountains come down to meet the sea, just on the edge of the Cap de Creus Peninsula. The sultry seaside town has played muse to many artists, including not only the flamboyant Dalí, but also Pablo Picasso.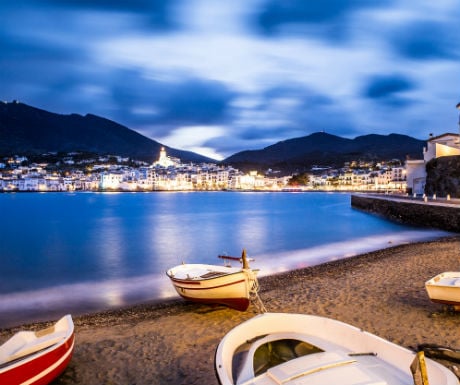 Once a fishing village that was only accessible by sea
Located around 105 miles (170 km) up the road from the buzzing city of Barcelona, Cadaques was once only accessible by sea. The former fishing village is wonderful for those who enjoy beauty, culture, fine wines and good food, all embraced by beautiful nature and utterly charming surroundings.
The epitome of picturesque
Cadaques with its striking rugged surroundings, its crystalline waters, that lap up against typical Catalan fishing boats, and its inspirational light and surroundings is the epitome of picturesque.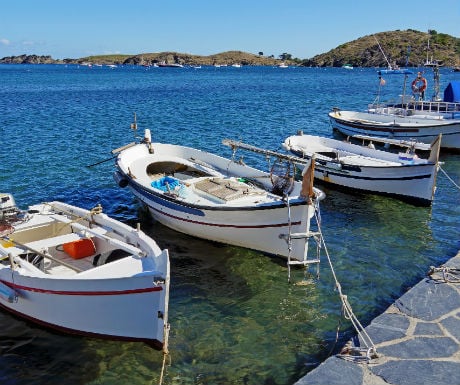 A food-loving town
Cadaques has played host to a number of famous people over the years, including Kirk Douglas and writer Josep Pla, who have delighted in the gastronomy produced by the local food-loving people.
Fresh, delicious ingredients are sourced from the sea and the land, handled wisely but often with a degree of simplicity, that borders on sophistication. Catalan writer Josep Pla, said of the food in Cadaques, that there are four gastronomic delights. Come in spring to enjoy the mussels or in summertime to sample the lobster and shellfish. In autumn it's time to focus on the vine and the wines of the DO Empordá region, and as the winter draws in, so does the season of the sea urchin.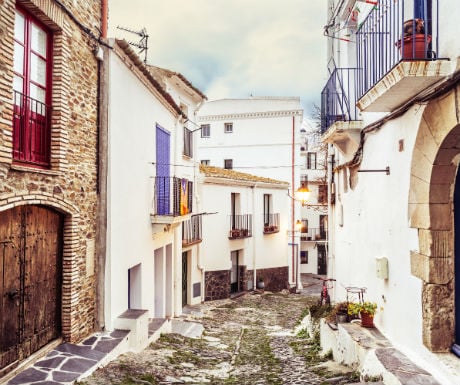 A huddle of whitewashed buildings and cobbled streets
Even though it does get busy during the summer season, Cadaques has somehow managed to retain its charm. Take a boat trip and look back over at the cute huddle of whitewashed buildings and later take a stroll down the cobbled streets and lanes. The balconies that overlook you seem to brim over with brightly coloured geraniums and bougainvillea.
Bubbling over with a chic lifestyle
The bohemian seaside town is bubbling over with a buzzy, chic lifestyle. The old town is watched over by the Church of Santa Maria, and is filled with cute cafés, romantic restaurants, charming shops and art studios and galleries.
Nature at its best
At the same time, a short wander on the Cap de Creus coastline will bring you away easily from the activity and show you nature at its best. This part of the Costa Brava (the Wild Coast) is spectacular.
Cadaques has its fair share of fiestas
Cadaques certainly has its fair share of fiestas….In fact if you want somewhere special to welcome in the New Year, consider the Cadaques Sunrise Gathering. In the lead up to Lent, of course you have the colourful carnival, and other highlights include the Indianos Fair in early June, the Cadaques International Music Festival in early August, and the main summer festival in September.
Don't dilly-dally and miss out on Dalí
It's ever so easy to get very relaxed and lose the idea of any agenda in Cadaques, but it would be a shame to miss out on Dalí. The Dalí House Museum is located in Port Lligat, which is a 15 minutes stroll from the town centre of Cadaques. You need to book this fascinating experience in advance, and arrive at least half an hour before your visit. Groups of 8 are allowed in every ten minutes.
If you are a big Dalí fan, then consider visiting the other two places that make up the Dalí Triangle, which are Figueres and Pubol.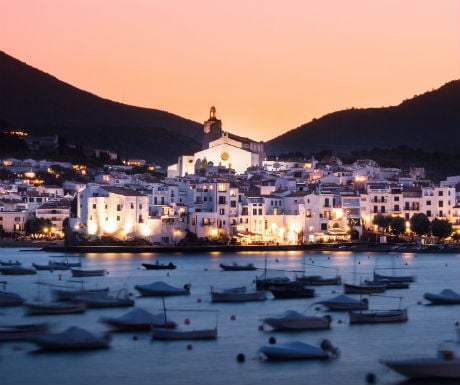 Getting to Cadaques
The road that leads to Cadaques is an interesting, windy one, and not one that you'll want to try to break any speed limits on! The closest airport is Girona, which is 50 miles (82 km) away, or alternatively you can fly into Barcelona El Prat, which is a journey of 114 miles (183 km).
Jackie de Burca is Co-owner of Catalonia Valencia.
If you would like to be a guest blogger on A Luxury Travel Blog in order to raise your profile, please contact us.