By
Paul Eyers
on Apr 15, 2016 in
Accommodation
,
Asia
,
Food and Drink
,
Going Out
,
Hotels
,
Malaysia
,
Regions
,
Resorts
,
Restaurants
,
Travel Miscellany
Ah beautiful, tropical, culturally rich Malaysia; how we love what you have to offer those who want to explore in style. Malaysia has got it all; beautiful beaches, abundant nature, culture, history and a lot of delicious food. It also happens to be an excellent destination for vegan travellers (who are people that love to see the world but don't eat or use any animal products along the way).  As Malaysia has a vast amount of plant-based food available and the local population is friendly with a helpful nature, vegans won't have to make too may special arrangements to enjoy Malaysia as much as everyone else does.
Our 3 Malaysian Hotspots for Vegans include some of the most visited destinations in the country; the tropical paradise island of Langkawi, the UNESCO World Heritage Site of Georgetown and the famous beach resort of Batu Ferringhi. Here's the lowdown on how to get the most out of your visit to these great luxury destinations if you are a vegan.
1. Langkawi
Langkawi is Malaysia's biggest island. People visit here to enjoy the picture postcard beaches, the pristine jungle teeming with wildlife and the endless sunshine. There are parts of the island which are busy with tourists now, as with many popular beach destinations, and this is definitely one of those places where you benefit from booking somewhere in the upscale luxury category. Not only will you get world class service but you'll escape the crowds and get your own private slice of paradise. Sounds perfect doesn't it?
Our top pick for vegan travellers is The Danna Langkawi, a West Coast gem where the service is outstanding. Right on the beach with a backdrop of surrounding jungle, you'll also have access to Langkawi's biggest swimming pool. It's a great place to clock up the beach or pool hours in between taking daily excursions to explore the best bits of the island.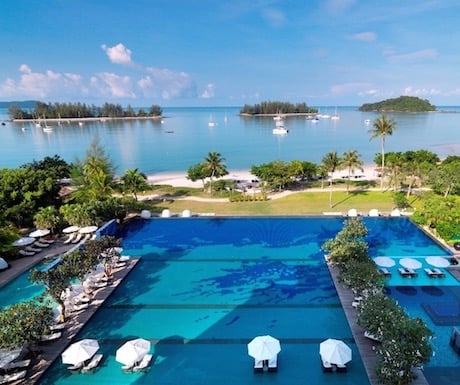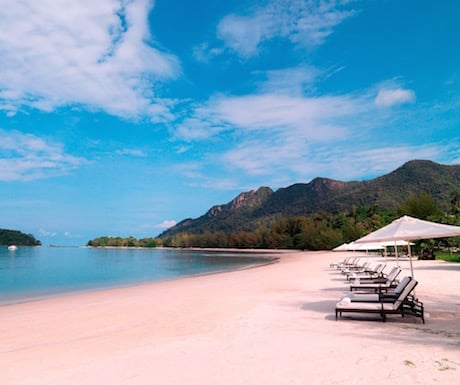 When it comes to dining, The Danna Langkawi excels at dealing with dietary requirements and when we visited they were great at pointing out items on the menu that were already vegan, adjusting other dishes and even creating several bespoke choices for us. From local flavours to healthy favourites, the vegan food matched the high quality of the surroundings.
For these reasons it is our top pick for vegan travellers who enjoy the finer things in life.
2. Georgetown
Next up is Georgetown which was granted UNESCO World Heritage Status in 2008 in recognition of the rich cultural and historical importance of this favourite Malaysian destination. Visitors here can spend days wandering the streets in the Heritage Zone, soaking up the melting pot of different cultures in Little India, Chinatown and Armenian Street set against modern Malay daily life, as well as getting to visit one of the many vegan food stalls and restaurants serving traditional food that is also plant based and delicious!
There are huge numbers of places to stay meaning that travellers are spoilt for choice, we stayed just outside the Heritage Zone at Hotel Penaga, a collection of restored heritage buildings that have been given a new lease of life with a modern, art infused twist. Particular attention has been paid to making the boutique hotel more eco-friendly with solar panels, use of recycled materials and traditional renovation techniques.
The design at Hotel Penaga gives you the feeling of living in a 'time gone by' but with all the modern touches that turn it into a great luxury choice and the spa offers a wide range of massages, a treatment with one of the highly experienced therapists is not to be missed! As a vegan, if you choose to eat breakfast in the hotel then you can look forward to a small selection of western breakfast items, local fruits and freshly prepared noodles to start your day.
3. Batu Ferringhi
Our final Malaysian hot spot is Batu Ferringhi which has been a popular tourist destination for some time and this busy beach resort on Penang island (just a short trip from Georgetown) is the place to go if you like water sports like parasailing or zipping around on a jet-ski. However, if you like a more leisurely pace of life, miles of sandy beach await you, a busy night market is there to explore and there are a number of hotels and resorts where you can sit back and just do nothing.
The PARKROYAL Penang Resort offers the best of both worlds, being located right on the beach (great news for beach loving, water sport enthusiasts) as well as having 2 huge swimming pools set in lush tropical gardens for those who prefer this kind of relaxation. It's a family friendly, laid back resort in the heart of the popular Batu Ferringhi beach.
Vegan guests (who can manage to drag themselves away from the pool or beach) will be well catered for at the PARKROYAL Penang Resort, during our visit the chef seemed happy to create plant-based dishes for us at breakfast, lunch and dinner, even though they weren't part of the usual offering.
It's always great to see somewhere adapting their service for people who choose an alternative lifestyle and all good luxury hotels should be able to do this, so never be shy to ask. We ate vegan versions of a Malay favourite snack, 'nasi goreng' which literally means fried rice, which contained vegetables and tofu wok fried in soy and garlic. Other options included rich spicy vegetable curries and DIY salads from the well stocked salad bar.
So there you have our quick guide to 3 Malaysian hotspots for vegans meaning that everyone can enjoy this wonderful luxury destination, no matter their dietary or lifestyle choice. Now you have another culture, food and beach filled trip to look forward to, which is always great news for luxury travel loving vegans!
Paul Eyers is Founder of Vegan Food Quest.
If you would like to be a guest blogger on A Luxury Travel Blog in order to raise your profile, please contact us.