By
Kathryn Munro
on Apr 15, 2016 in
Attractions
,
Canada
,
Events
,
Going Out
,
Leisure Travel
,
North America
,
Regions
,
Speciality Travel
,
Travel Miscellany
,
USA
Canada has a lot to offer. Beautiful wildlife, exciting cities and numerous possibilities for active holidays – it never fails to surprise and amaze. Regardless of whether you are new to the country's treasures or you are a regular visitor, there are plenty of places that you should definitely visit this spring season. So, what are you waiting for? Here are 4 reasons why its eastern coast is a great destination for the spring (fun guaranteed!).
1. Niagara's White Water Walk
It's a walk like no other! Thousands of tourists visit the waterfall every year, but a walk along the edge of one of the world's wildest white-water is definitely something you'll never forget. This is precisely where the wild water shows all its might and beauty, which will give you a chance to experience the natural power of one of the world's most famous spots. Open April to mid-November, this attraction stretches out into a walk of around 4 km north of the falls. Springtime is one of the best times of the year for it as well!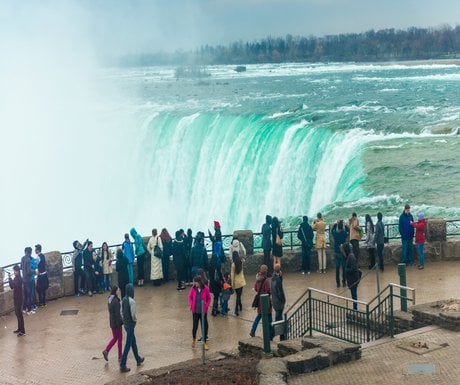 2. Toronto's High Park
Toronto is one of the most popular city destinations within Canada. This dynamic metropolis has a lot to offer to busy tourists, but it also has its not-so-hidden gems for those willing to slow down and take a break in the middle of the big city. The High Park is the best place for that! The hiking trails, various sports facilities, stunning lakefront, picnic areas and greenhouses are just a few of the many things worth doing there. Toronto even has its own zoo! If you are planning on visiting the city, High Park is a must.
3. Canadian Tulip Festival
This breath-taking city-wide festival takes place in the heart of Ottawa, Canada's capital, every year in May. Ranked the world's largest festival of this kind – displaying more than 1 million tulips and welcoming around 600,000 visitors every year – it's definitely a place to be during the Canadian springtime. Dating back to 1953, the festival offers an amazing variety of flowers throughout the city. What are you waiting for? Grab your walking shoes and explore!
4. Cape Enrage, Bay of Fundy
The Bay of Fundy in New Brunswick is one of the most scenic marine spots in the world, with its tides rising up as much as 16m every 12 hours from the North Atlantic Ocean. Cape Enrage not only offers one of the most spectacular views of this phenomenon, but it also has a lot to offer for those seeking a thrill. Its outdoor activity centre has something for everyone – rappelling, zip-lining, rock climbing or obstacle courses – you name it. Whichever activity you choose, you're in for an adventure of a lifetime.
Kathryn Munro is Managing Director at Canadian Affair.
If you would like to be a guest blogger on A Luxury Travel Blog in order to raise your profile, please contact us.