By
Spencer Groves
on Apr 15, 2016 in
Accommodation
,
Attractions
,
Family Travel
,
Going Out
,
Hotels
,
Leisure Travel
,
Middle East
,
Regions
,
Speciality Travel
,
United Arab Emirates
Dubai is renowned for over-the-top luxury, and as a tourist thinking of things to do in Dubai, it's usually the high cost experiences that first come to mind. Helicopter tours, waterpark tickets, designer boutiques, private desert safaris and afternoon tea at expensive hotels… all very glitz and glam, but definitely budget-blowing. Well, there's another side to this luxury destination and the great news is, some of the most culturally enlightening experiences are free. Here are 25 ways to see past Dubai's flashy veneer…
Looking back
#1 Explore the old quarter, Al Bastakiya. A fairly small part of the city (a lot of it was demolished in the 80s to make way for new office buildings), here you can get a taste of the pre-oil era as you wander through narrow lanes straggled by buildings over 100 years old. It's home to #2 The Sheikh Mohammed Centre for Cultural Understanding, which operates free guided tours on Saturdays and is well worth a visit to find out about Emirati culture.
#3 Test your haggling skills at the souks. Hop across the creek on a #4 Abra water taxi (okay, strictly speaking a ride across the creek will set you back about 20p, but it's an adventure in itself and a terrific way to see the skyline). Absorb the amazing aromas in the spice souk and ogle at the OTT jewellery on display in the gold souks at Deira.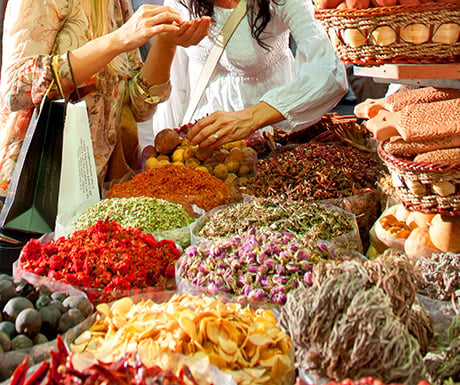 There are various museums, galleries and exhibitions in the vicinity, choose from #5 Heritage House, #6 The Camel Museum, #7 The Majlis Gallery and the 200 year old #8 Al Fahidi Fort, all of which are reasonably close to each other, and free (or almost free) to enter.
Looking forward
A notoriously superlative seeking nation, Dubai is obsessed with collecting as many 'world's highest this' and 'world's first thats' as possible. The city's 'anything is possible' attitude is inspiring, and you can witness the following remarkable feats of human ingenuity for free in Dubai:
#9 Be blown away by the waterworks at Burj Khalifa Lake. Fountain watching might not sound like a must-do activity – but Dubai's impressive aqua display at Burj Khalifa Lake cannot be missed. It's unexpectedly amazing; you'll be mesmerised as you witness the incredible force required to make jets of water erupt 500ft into the air (that's about as high as 35 double-decker buses stacked on top of each other!). Apparently accompanying light show is so bright that it can be seen from space (perhaps Tim Peake can confirm this next time he passes over the emirate?)
#10 Cool down in the fountains at Marina Walk. On a much smaller scale than Burj Khalifa's fountains, but more interactive. The perfect antidote to soaring temperatures, splashing about in these walk-through fountains is especially popular with children.
#11 Stroll through Madinat Jumeirah. A modern recreation of a traditional Arabian village, but really well done, with romantic palm fringed waterways, lots of eateries and a working souk. Unlike the old town souks, this one has air conditioning!
Whilst you're in the Madinat, #12 save a turtle, by visiting the Mina A'Salam hotel's turtle rescue and rehabilitation facility which cares for injured and endangered turtles before being releasing them back into the wild. Cue collective 'ahhh!'
#13 Take a selfie next to the Burj Al Arab, one of the most photographed structures in the world and an icon of Dubai. It's particularly photogenic at sunset.
#14 Sip a hot chocolate overlooking a snowy mountain scene. Bear with us here – the Alpine-themed St Mortiz cafe at the entrance to Ski Dubai (yes, there's 'real' snow, inside what's essentially a giant freezer), comes complete with a faux fireplace, located within an air conditioned shopping mall, in the middle of the desert… well, this is Dubai!
Whilst we're talking malls, don't miss the chance to see the #15 Dubai Aquarium at Dubai Mall. You have to pay to walk through the tunnel, but you can see part of the 10 million litre tank for free from the mall side.
#16 Hit the beach. Although most hotels section off their own private beaches, there are plenty of public beaches in Dubai you can access for free. One of our favourites is Umm Suqeim (Kite Beach), where you can #17 Watch the kite surfers with a fabulous backdrop of the Burj Al Arab. Whilst you're there, #18 stroll, jog, cycle or skate along the new beach track that connects Umm Suqeim to Jumeirah Beach.
Dubai wouldn't be Dubai without a bit of bling, and JBR The Walk is a great place to #19 gawk at the flashy cars. Not too far from Jumeirah Beach, this outdoor promenade is home to an array of boutiques and cafes; ideal for window shopping and people watching.
#20 Spend an evening walking around Dubai Marina admiring the illuminated yachts of the rich and famous. Ladies, head to the area on Tuesdays nights to #21 get a free drink (or three!) at Marina Yacht Club.
To mingle with the locals
Only a handful of the population are true Emiratis; 90% of people living in Dubai are expats. This makes for a vibrant mix of cultures, and lots of interesting stories. Head to these lesser-known spots and bump into real-life Dubai residents to discover the true soul of Dubai.
#22 Take a picnic to Dubai Polo Club. There's a relaxed atmosphere, and most matches are free to watch. You're up close to the action, and it's really exciting to watch the horses and riders thunder past. Children are welcome and especially enjoy the spectacle.
#23 Watch camel racing. A bizarre spectacle, the camels are ridden by robot jockeys with their excitable owners chasing them in their 4x4s. Most of the attendees are locals, but they're very friendly. An unusual, yet memorable day out.
#24 Visit a park. Green spaces are sprouting up all over Dubai. If you're travelling with young children, visit Mushrif Park (there are 13 minature houses that toddlers will love to explore, plus pony rides). Alternatively, try Nad Al Sheba cycle park. Here there's a cycling proficiency track complete with roundabouts, stop signs and speed bumps where little ones can practice their road safety skills and role-play to their hearts content. The views of the Burj Khalifa are a bonus!
#25 Go to the cinema. On Sunday nights, Pyramids Rooftop Gardens at Wafi Mall transforms into an outdoor cinema, complete with comfy beanbags – entry is free and there's no need to book.
What are your favourite Dubai attractions? Share your top picks in the comments below.
Spencer Groves is Commercial Director at letsgo2.
If you would like to be a guest blogger on A Luxury Travel Blog in order to raise your profile, please contact us.