By
Tom Barber
on May 13, 2016 in
Europe
,
Finland
,
Hawaii
,
Iceland
,
North America
,
Norway
,
Regions
,
Sweden
,
USA
,
Western Europe
Sorry for the seemingly negative rider in the title, but we think it's important to note that the Northern Lights – the eerily beautiful display of shimmering colour sometimes visible in the night skies over the Arctic Circle – are a natural phenomenon and so by no means guaranteed. I'm sure that's stating the blindingly obvious to discerning A Luxury Travel Blog readers, but you'd be amazed how often expectations need to be managed on the subject. The key considerations are to choose a destination with a known track record for sightings of the Aurora Borealis (the technical name for the phenomenon); to go at the right time of year (February and March tend to be best as you still have long nights but it's not so cold you don't want to venture outside), and, finally, to go somewhere you can do other things should the Lights decide not to turn on. Because let's face it – if you put all your holiday expectation eggs in the Aurora Borealis basket, you may return home pretty disappointed when you could have had the time of your life with the Northern Lights as the icing on top of a supercool trip.
And so to the all-important question: which destinations tick these particular iceboxes?
Northern Norway
When Victorian scientists decided to study the Aurora Borealis they wanted to set up an observatory somewhere renowned for regular sightings of the lights, and they plumped for Alta, in Northern Norway. The region remains one of Europe's finest viewing spots but there's also a huge amount to do while the lights are off, ranging from Scandinavian staples such as snowmobile safaris to the really left-field stuff such as dry-suit diving to catch huge king crabs (which make delicious eating).
Swedish Lapland
Another prime Northern Lights spotting spot, but with even more extremely fun stuff to do, Swedish Lapland is home to the original (and still best) Ice Hotel where you can sleep in igloo-like accommodation with ice sculptures and reindeer hide bed covers, and enjoy a vodka served in a glass made of – yes, you guessed it – ice. Elsewhere there are equally kooky places to stay, such as the Treehotel with its cabins (one a reflective glass-covered cube and another an alien spaceship), suspended in the tree canopy. Enjoy dog-sledding from the wonderful wilderness Aurora Safari Camp, or hovercraft trips across the ice flows that create bizarre off-shore undulations.
Finnish Lapland
Across the border (which many of the nomadic local Sami people ignore anyway) in Finland, the chief draw is the wide range of Father Christmas-themed activities on offer, making this the perfect place for families hoping to fulfil two bucket list ambition – of seeing both Santa and the Northern Lights – at the same time.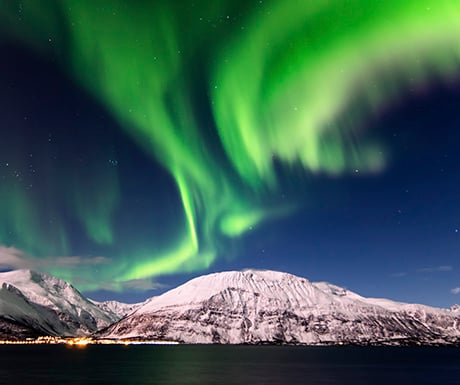 The land of fire and ice and Game of Thrones locations is one of Europe's quirkiest and coolest destinations (in both senses of the word) with an indecently long list of activities from heliskiing and SuperJeep (pimped 4x4s with HUGE wheels) safaris across glaciers, to treks in ice tunnels beneath those self same glaciers and in to (extinct) volcano calderas. You can dive in a lake between the European and American tectonic plates. Original doesn't even come close to covering Iceland, basically.
Hawaii
No, that's not a typo – the Northern Lights are not exclusive to destinations deep inside the Arctic Circle, as anyone lucky enough to have seen them in Scotland or Northern England will testify. In fact, the furthest south the Aurora Borealis has ever been sighted was in Honolulu. Don't expect to see them the next time you're in Hawaii, though; the not so Northern Lights then were spotted in 1859 and the result of a freakish solar storm.
Tom Barber is Co-Founder of Original Travel.
If you would like to be a guest blogger on A Luxury Travel Blog in order to raise your profile, please contact us.