By
Paul Caddy
on May 30, 2016 in
Accommodation
,
Bed & Breakfasts
,
Europe
,
Food and Drink
,
Going Out
,
Regions
,
Restaurants
,
Travel Miscellany
,
United Kingdom
,
Western Europe
Got screen fatigue? Tired of being constantly connected? Fancy a digital detox? If you've answered 'yes', 'yes' and 'oh yes' to these questions, then perhaps it's time to head 'off grid' for a bit?
Here's three out-of-the-way spots where you can taste the remoteness in the air (also known as 'fresh air' to city folk) and where your phone will usually just mumble 'huh?' if you ask it to connect to the internet. Revel in the luxury of being uncontactable and focus on the food and drink instead. That call can wait…
Canna Café, Canna, Scotland
There are few café managers who can boast that they commute to work in a sea kayak or can take bookings via the crackles, whistles and pops of marine radio (VHF channel 8, since you ask).
Don't worry, you don't have to take a course in advanced skippering techniques to drop by this little bistro. As luck would have it, non-sailors can hop on the ferry from the Scottish mainland and a few hours later be dining on a plate of Mallaig hot roasted salmon or tucking into a steaming pot of local rabbit stew.
Afterwards, walk off any excesses by heading to the nearby beach, a 15-minute stroll down the island's only road of note. Alternatively, take the easy option: sit outside and let yourself be intimidated by the towering cliffs on the island of Rum, a handful of miles to the southeast. Or do both. Majestic cliffs, turquoise seas and bleached-white sand: sometimes you can have it all and, this being Canna, you'll probably have it all to yourself. What's not to like?
Bear in mind, however, that unless you have your own boat you may have to overnight on the island (there's just one guest house: Tighard). Scheduled ferries don't run every day. You have been warned!
The Old Forge, Inverie, Knoydart, Scotland
Knoydart is often referred to as the UK's last wilderness. Unlike Canna, it isn't an island—but don't start to slip on your leather driving gloves just yet. To the surprise of many visitors, there are no roads into this wild peninsula; tarmacked, gravel or otherwise. To get there you effectively have two choices: a harsh two-day hike through some of the loneliest and dampest hills in Scotland or, the quicker choice, a boat from Mallaig.
Whatever route you take in, whether it be via the Matterhorn-shaped peak of Sgùrr na Cìche or the narrow sea channel of the Sound of Sleat, your efforts will not go unrewarded. And believe me, it will be an effort. That said, if there's a light at the end of most tunnels, there's a restorative single malt and a warm pub at the end of most Scottish journeys. In this case, it's 'Mainland Britain's remotest pub': The Old Forge. Of course, if whisky isn't your thing, you could try the ale, RemoteNESS, a light, hoppy brew exclusive to the inn.
Staying overnight, the pub offers an on-site cottage: 'the Knoydart Snug'. Alternatively, use one of the pub's 11 guest moorings and let the ebb and flow of Loch Nevis at night lull you to sleep.
Tŷ Coch Inn, Porthdinllaen, Wales
When you arrive at this inn your phone might well perk into life and go on a mini-break of its own. When I last visited, my smartphone announced that I was roaming and duly welcomed me to Ireland. By all accounts, the pub is closer to the Irish capital than the Welsh capital and overlooks an inlet of the Irish Sea, so I suppose I can forgive my mobile for its enthusiasm, albeit misplaced.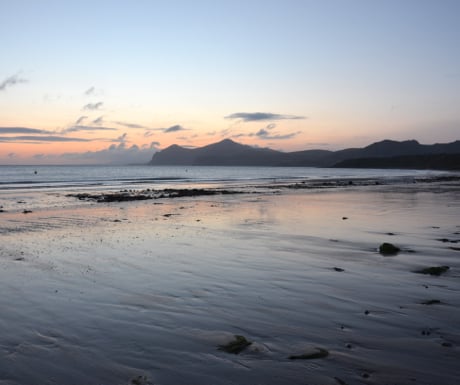 The irony is that this small port, on the Llŷn Peninsula, is the great 'could-have-been' of North Wales. 210 years ago it was close to becoming the port for embarking to Ireland. On countless occasions after this date a railway was proposed. It never happened. Nowadays this forgotten port wins in one respect though: it houses one of the most remarkably situated pubs in the whole of the UK: the Tŷ Coch Inn.
Sit on the wall with a cold beer, drink in the views to the lamb-flecked Welsh hills and it's not difficult to understand why it has been named in the past as one of the best beach bars in the world.
There are no rooms at this inn although there are holiday homes to rent in the village. Alternatively, head down to the peninsula's south coast and stay in the charming seaside resort of Abersoch if you fancy a livelier spot.
Whatever you do, given the remoteness of all of these destinations, you are well advised not to just turn up. If you want food, book in advance.
So do you have a favourite remote pub or restaurant? Do let us know below.