Most people, when travelling, want to step away from the beaten path – to combine world-class highlights with forays into the untouched and unknown regions of the world. Unfortunately, venturing away from the well-trodden tourist hotspots usually means compromising on creature comforts: trading off on quality accommodation and services to enjoy the best, most unspoilt destinations. One of the only ways to get around this compromise is to embark on a luxury cruise.
Cruising has long offered travellers a chance to visit remote and inaccessible regions of Asia – places deep in the jungles and highlands without good road connections or access. And now, as exclusive cruise options continue to improve, you can do it in the utmost of luxury and style.
The Mekong River
The mighty Mekong River charts a course down from chilly heights of the Tibetan Plateau through China, Burma, Laos, Thailand and Cambodia, before fragmenting into a vast network of tributaries at its lush and fertile delta in southern Vietnam.
There are numerous excellent cruise options available on this 4,350 kilometre stretch of water, but our favourite luxurious options are two "brother" boats owned by the Heritage Line: the Jayavarman and the Jahan. Both of these elegant vessels evoke the romance of the colonial period, with touches of traditional South Asian heritage.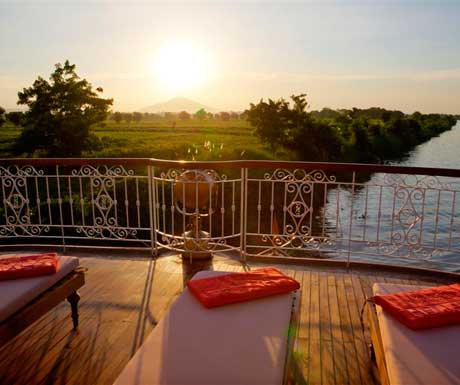 The Jayavarman is named after one of Cambodia's greatest kings and contains rooms named after important French colonial figures – including Henry Mouhot, who discovered the temples of Angkor. It has 27 cabins and is decorated with touches of traditional Khmer heritage – including locally made Cambodian artworks and craftsmanship. The Jahan, meanwhile, has 26 cabins and has an Indian theme: it's named after a Mughal emperor, Shah Jahan, and contains a lounge modelled on the old East India Club.
Both boats offer one of the most luxurious experiences possible on the water, including numerous beautifully decorated lounges and restaurants, a fully equipped spa with a range of treatments, a sun deck complete with Jacuzzi, and a gym and steam bath for those who want to keep up their fitness regime. Routes include journeys of three to seven nights, plying the Mekong all the way from the delta to Phnom Penh, via Ho Chi Minh City and Siem Reap.
Halong Bay
As one of the most famous and impressive cruising destinations in Indochina, Halong Bay has its fair share of boating options – ranging all the way from budget basics to the lap of luxury. In terms of the latter, we've got a few favourites:
Au Co
The Au Co is a 56-metre, 32-cabin, modern-style vessel decked out with beautiful dark wood interiors with oriental design touches. All but two of their suites have private balconies with floor-to-ceiling French doors, giving you the perfect space to relax and enjoy the views in privacy – no fighting for sun loungers here! There is also a large restaurant serving the very best cuisine, a spa and open-air Jacuzzi, and an elegant top-deck bar where you can enjoy a cocktail as the sun goes down over the bay.
Indochina Princess
If you're looking for a truly exclusive experience of Halong Bay, a private boat is the best possible option. The Indochina Princess was the first deluxe one-cabin vessel on Halong Bay, and is modelled after a traditional Chinese sailing junk – with dark red sails and an opulent, teak-and-oak finished interior. Your crew will welcome you on board on arrival but stay out of your way for most of the cruise, on hand if you need anything but otherwise leaving you to enjoy the scenery in seclusion.
Legend Halong
Another excellent private option on the bay is the Legend Halong, a range of one- to four-cabin private vessels belonging to the large and well-respected Bhaya Group. There a various different cruise itineraries to pick from, each designed with a different type of passenger in mind – whether you're in search of adventure, relaxation, romance, or a bit of everything. Each boat is designed with a fusion of traditional Asian and modern Western style, with a sun deck, dining room, and luxurious bedroom suites with panoramic views of the stunning Halong scenery.
Red River
The Red River flows from southwestern China through northern Vietnam to end at the Gulf of Tonkin: the home of Halong Bay and Bai Tu Long Bay. Our favourite luxury cruise option in this region is the Pandaw, which operates an amazing ten-night route taking you all the way from the majesty of Halong Bay, through the bustling industrial centre of Hanoi, and deep into the hilly highlands and tribal villages of northern Vietnam. For much of this adventurous route, you'll be the only tourist vessel on the water, enjoying the contrasts of rural and urban; coast and mountains.
The RV Angkor Pandaw plies this route and has 16 cabins, a dining room, library, observation deck, open-air and closed lounges, and a 24-hour bar.
Alastair Donnelly is Director at InsideAsia Tours.
If you would like to be a guest blogger on A Luxury Travel Blog in order to raise your profile, please contact us.