We all want to pay a little less for our holidays but the question is how without compromising on quality?  The answer is often by booking early and booking through a tour operator or travel agent.  Tour operators get tremendous deals from hotels, rail companies and cruises which they can package and pass on to clients in the form of discounts.
Sonora Resort
Sonora Resort, which lies just off the coast of Vancouver Island accessed by either boat or helicopter, is one of those where you can book the next year's holiday at the previous year's price so long as you book by 31stDecember. The all-inclusive Sonora Resort overlooks one of the most beautiful sections of the Inside Passage. It is an eco-friendly but luxurious collection of lodges and wide ranging amenities offering bear watching, water activities, fishing, exploration, tennis, heli-tours and even golf, either within the resort itself or only a short boat ride away. Also within the resort is a wellness centre, home cinema, games room, superb dining room with well-stocked cellar, and a number of sitting areas and bars.
Fairmont Hotel & Resorts
Fairmont own or manage some of the most iconic properties across both the US and Canada. Over the years they have absorbed luxury hotels ranging from the Plaza in New York to the Fairmont Lake Louise in the Canadian Rockies. Booking early, for instance in Whistler for the ski season, can give savings of up to 50% as well as room upgrades.
Vegas and other US cities
Las Vegas As you might expect from a gambling town, there are some fantastic bargains to be had.  As I write, there are 25% discounts on such properties as the Bellagio and the Aria. This will change but others will follow in its wake as sure as night follows day and with much more certainty than the roulette table. Not only hotels, but discounts are available for the shows in Las Vegas we well as New York and other major cities across the US.
Rocky Mountaineer
It is not just hotels that can be bought for less.  The famous and luxurious Rocky Mountaineer train which travels through the Canadian Rocky Mountains between Banff or Jasper to Vancouver, Whistler or Seattle often has early season offers.  You can choose to add on free hotels or excursions as well as discounted fares.  You will not have to miss any of the amazing and varied scenery as you journey from the mountains to the coast as the Rocky Mountaineer is a daylight only train.  It is a two day journey and you will spend the night in a comfortable hotel enroute. This picture is taken in the Kicking Horse Canyon, Alberta.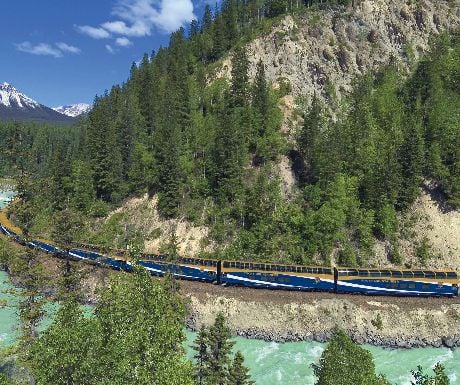 As you can see, there is plenty of variety and this is only a small sample of how to pay less for your holiday.
Sandra Potter is Founder of Frontier Travel.
If you would like to be a guest blogger on A Luxury Travel Blog in order to raise your profile, please contact us.