By
Greg Grant
on Jun 14, 2016 in
Accommodation
,
Adventure Travel
,
Argentina
,
Attractions
,
Chile
,
Food and Drink
,
Going Out
,
Hotels
,
Regions
,
South America
,
Travel Miscellany
Patagonia is a land of unrivaled nature. A place where to find comfort in the tranquility of the great outdoors and a place to experience incomparable adventure. Its mix of glaciers, mountains, deserts, fjords, lakes, rivers, waterfalls, channels and oceans provide the opportunity to truly escape into a diverse selection of remoteness.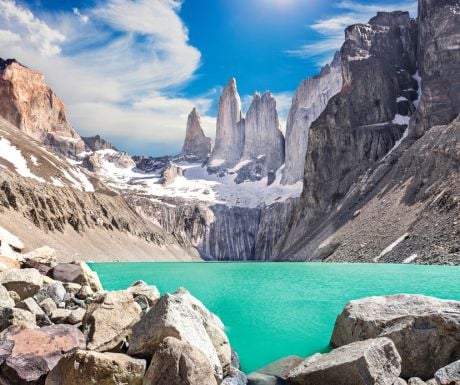 It is a region that has been trodden by explorers like Ferdinand Magellan looking for a new way to circumnavigate the world, and Robert FitzRoy, captain of Charles Darwin's vessel, HMS Beagle. Patagonia is also the perfect spot for the luxury traveler. Here is a list of my favourite unique epicurean ways to experience the region's nature, wildlife, cuisine and culture.
Trekking in El Chalten and Aguas Arriba Lodge
In what many consider the world trekking capital, Aguas Arriba Lodge is El Chalten's best kept secret. Recently built by a young couple on the edge of Lago del Desierto (Desert Lake) mirroring a rare view of the north face of Mount Fitz Roy, the Aguas Arribas Lodge provides a true home away from home. The owners of the lodge trekked the immense forest on foot looking for the perfect private plot of land to create a heap of comfort in the great outdoors. The lodge is reached either by a picturesque hike through the remote wilderness with ancient Nothofagus trees and South Andean deer, or by a private yacht charter arranged by the owners.
Our studly young skipper gave us a boat tour of the area showing us waterfalls and glaciers before arriving to what would be our luxurious nest of hand crafted wood for the next few days. There is a rare symbiosis between the nature and the lodge, with grand glass windows providing innumerable angles to view a complex conjunction of natural phenomena. While there are treks and activities to do around the lodge, it is the perfect place to rest your feet and absorb the area's majesty after hitting the renowned trails of El Chalten in Los Glaciers National Park.
March with penguins
There is nothing more luxurious than being in a place where no permanent human settlement exists. A visit to the isolated continent of Antarctica provides the opportunity to witness a majestic sea of white made of ice sheets, icebergs and sub-glacial lakes. Perhaps the most entertaining attraction in Antarctica is the combination of the absence of familiar organisms, and the presence of Empire penguins. Cruises to Antarctica depart from the city of Ushuaia in Argentina's province of Tierra del Fuego, regarded as the southernmost city in the world. From Punta Arenas, Chile, there are also several excursion options to witness penguins, among them being a boat outing day trip to Magdalena Island to see hundreds of Magellanic penguins. While Antarctica is the only place on earth to see the tallest and heaviest of the penguin species, the Empire penguin, endemic to the region, another and relatively new excursion from Punta Arenas offers an opportunity to see a small "lost" colony of King penguins that arrived in Tierra del Fuego only a decade ago called Penguino Rey. A trip to South America isn't complete without the bragging rights of seeing rare and adorable flightless birds!
Experience timelessness at the Cave of Hands
Located in a remote desert area of the Patagonia steppe, a tour of the Cave of Hands offers a rare glimpse of a timeless human presence. The Cave of Hands showcases thousands of hand prints dating as far back as an estimated 13,000 years. The artwork was stenciled into the volcanic rock over a period of 4 millennium using bone-made pipes for spraying the paint and mineral pigments for the melange of bright colors. The excursion to the artistic cave site drives through the Pinturas River Canyon with colorful rock formations and isolated salt flats, completely void of anything or anyone….the only evidence of a human presence being the ancient hand prints.
Indulge in savoury meat
It has been estimated that Argentinians eat roughly 60 kg of beef steak per year per capita. The quantities are not surprising after you taste the incredible variety of cuts and slow grilling method. One of the best steakhouses in Patagonia can be found in Argentina's glamourous lakes region in San Martin de los Andes called Bamboo Brasas. There we tried an all-you-can-eat parrilla (grill) sampling of various types of steak, pork and deer meat. Lamb is also a big tradition in southern Patagonia. In a warm atmosphere at El Arriero in Punta Arenas, Chile we savoured a mouth-watering slow roasted lamb covered in a chestnut crème accompanied by fresh avocado and tomato salad. Good hearty food is a must in a region such as Patagonia which is flooded with challenging landscapes and climate.
Greg Grant is Owner of Hosted Villas.
If you would like to be a guest blogger on A Luxury Travel Blog in order to raise your profile, please contact us.