They say that the best things in life come in small packages, and certainly when it comes to the tiny coastal village of Tamariu this is definitely true. Smell the wafting aroma of the pines overhead as you lie on the beautiful horseshoe shaped beach, and listen to the lapping Mediterranean waves. You don't need to stress yourself out to move very far, as this Costa Brava beach is embraced with a choice of bars and restaurants.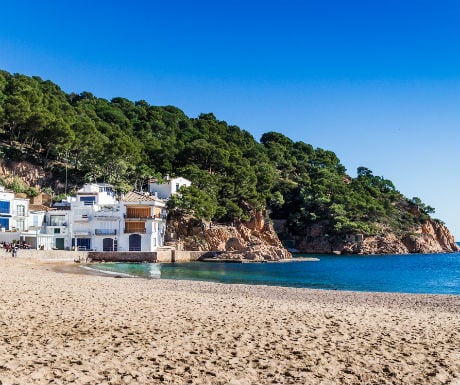 The Telegraph newspaper consider Tamariu to be one of the best beaches on the Costa Brava
The British Telegraph newspaper consider Tamariu beach to be one of the best beaches on the Costa Brava, where there are plenty of gorgeous beaches. Surrounded by lush pine-covered headlands, the crystal clear waters contrast perfectly with the golden sand and whitewashed buildings that lie behind.
Whether you're on a romantic holiday or a family trip Tamariu beach is idyllic – it doesn't get much prettier or more relaxing. For families, the horseshoe shape means that the blue-flag beach is well protected and sheltered. Parents can easily enjoy a lovely cold beer (cerveza) at a beach bar while being able to keep a watchful eye on the little ones as the play in the sand. The good thing about the sand is that it is a little gritty, so it isn't the type that seems to get stuck everywhere!
Explore the spectacular coastline
On a beach like this it's easy to decide to go nowhere, except for the bars and restaurants which are so close by. However the coastline in this area is truly spectacular, and it does deserve to be explored, either on foot or by boat.
Take a picnic to Cala Pedrosa
On a boat or kayak you can access the wonderful smugglers' cove – Cala Pedrosa. A remote beauty spot for a tranquil, romantic day on the beach. It's located around a mile or so south from Tamariu. Make sure to pack plenty of cold drinks and a picnic, as this cove is tiny and part of its charm is its lack of establishments. If you are a little more adventurous you could always prepare yourself to camp out for a very special romantic night in this cute cove, and be there to see the wonderful sunrise in the morning.
A diving wonderland
This tiny place that still looks like a fishermen's village, is considered to be one of the best diving sites around the area. There are nine diving sites and a diving centre. Divers can explore a number of caves, as well as the Llosa de Cala Nova submerged mountain.
Try to take in the wonderful Habaneras singing
Lots of coastal towns and villages of the Costa Brava have deep cultural links with Cuba. This is because many people left from around 1830 on, to try to make their fortune in Cuba. Those who succeeded came back taking with them some of the culture, as well as their newly acquired fortunes.
This cultural link is evident in various locations in the colonial homes that were built during that era. It can also be enjoyed in the Habaneras singing which is celebrated in various spots. If you can tie in your trip to Tamariu for the first Saturday in September, you can enjoy Habaneras singing on the beach.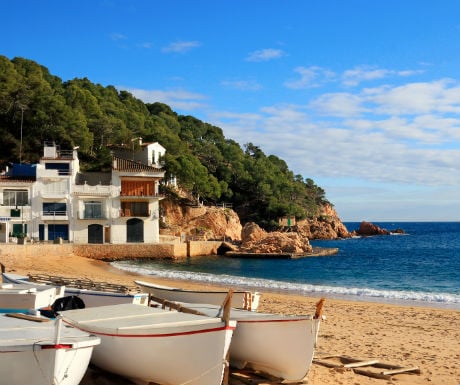 Location, location, location
Tamariu can be found in an idyllic location on the Costa Brava, which is in Catalonia, that has very much its own identity, as no doubt you're aware. In terms of getting there, you can fly into Girona Airport, which is around an hour's drive, or even Barcelona, which is about 1 hour and 40 minutes drive. Tamariu is part of the Palafrugell municipality, so you can also visit Calella de Palafrugell really close by.
Where to stay
Why not stay right on the beach itself in the Hotel Tamariu? This is a family affair, with the hotel being run by the same family ever since 1930. The hotel actually started off as a tavern to serve the fishermen, founded by the family's great grandmother, Leonor. The hotel is simple yet charming, bright and airy, with an unbeatable location and it's great value for money.
Breakfast overlooking the beach is the perfect start to the day with views as below, while Catalan specialities and fresh fish just in from the sea, are some of the foodie options for later in the day and evening. Other interesting offerings are the duck in teriyaki sauce, marinated lamb on skewers, or a fillet of pork in a wholegrain mustard crust.
With wonderful hospitality, romantic views and delicious food in this little piece of paradise, I have no doubt that by the end of your first 24 hours that you'll agree that Tamariu is a tiny, precious jewel on the Costa Brava.
Jackie de Burca is Co-owner of Catalonia Valencia.
If you would like to be a guest blogger on A Luxury Travel Blog in order to raise your profile, please contact us.