A city is many things: its landscapes, its people, and their daily lives… But for many, a city is above all its flavors. A traveler knows that a culinary experience of a place can make the difference between a good memory and one that they'd rather forget.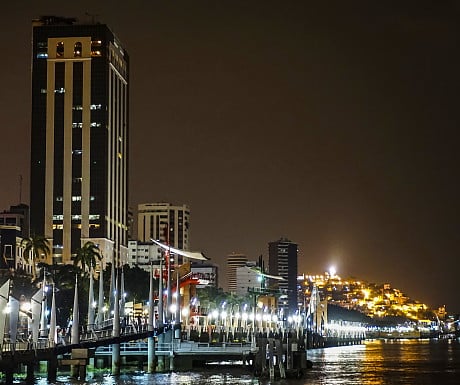 Guayaquil – the second largest city in Ecuador and the jump-off city for visiting its Galapagos Islands – is rich in fine cuisine. It is well known for its "huecos" (small "holes in the wall" where actually some of the best traditional food is served). However, being a cosmopolitan and modern city, Guayaquil also boasts amazing international cuisine. Food from many places around the world, fusion cuisine and a stylized version of national plates are some of the culinary offerings of this port city of great touristic and commercial potential.
If you want to discover Guayaquil through its best restaurants, here is our short list of the "Top 5." Visit them and turn the "Pearl of the Pacific" (as many people call this city) into a place that you'll want to return to for many reasons …but above all for its amazing food.
1. Restaurant Le Gourmet
Specialty: signature cuisine
Hotel Oro Verde's Le Gourmet Restaurant is recognized as one of the best in the country. Its concept is clear: signature meals in a classic and elegant atmosphere. Dishes with personal touches, resulting from the blend of experience and creativity of the chef, are the trademark of this restaurant, which is ideal for romantic or business dinners.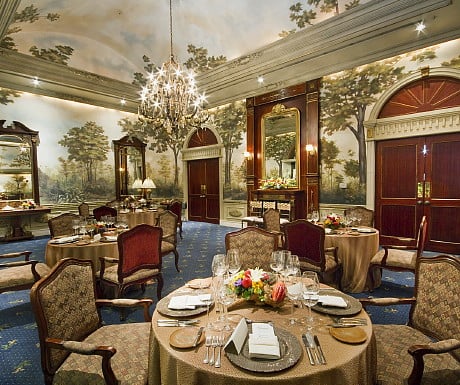 "Art in the kitchen" is what you could call what is prepared here. Imagine an entree of Pangora chocolates, or bluefin tuna ceviche with coconut milk, or naranjilla, or chochos and lemon. Think of a main course of roast duck magret with mashed quinoa, pickled beans and pears sautéed in gastrique naranjilla. Or a dessert of organic honey curd, crujiente de sésamos and tangerine ice cream. This is just a fraction of the restaurant's extensive and varied menu, which combines local ingredients with the most sophisticated techniques. And in addition to excellent food, restaurant's service are of the highest quality, making every lunch or dinner an excellent experience for customers.
The Le Gourmet restaurant is also the scene of dining experiences throughout the year, as occurred recently when it focused on French food. The film Ratotouille, which is about a French restaurant, inspired several dishes named after its leading characters: "Remy Soup," "Gusteau's Delight" and "Luingüini's Inspiration." And, of course, the "Ratatouille" specialty excelled on the tables that night.
And ince Le Gourmet is one of the best restaurants in the country, you'll find all the amenities offered at any five-star hotel. In addition to being awarded the Certificate of Excellence from TripAdvisor, this restaurant is also conveniently located close to the airport and several of the major tourist spots of the city, including Centennial Park, the Civic Center, City Hall, the Municipal Library and Iguana Park.
2. Marrecife
Specialty: seafood
It all started as a small family business, but with big ambitions. The dream of a mother and her children was to turn that diner into the best local seafood restaurant in Guayaquil, which was a vision that was realized, as Marrecife is now the restaurant of choice for those people looking for the very best in seafood.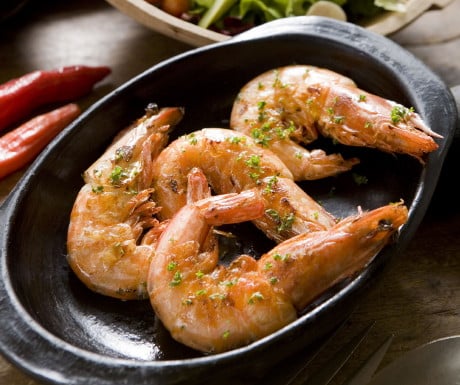 "Seafood in Every Way Imaginable": This could be the slogan of Marrecife. Traditional dishes influenced by international cuisine predominate on the menu. Here you can find a piqueo, a risotto, seafood crepes, various types casseroles, grilled or steamed seafood, seafood omelets, salads, ceviches, soups and rice dishes …In short, it's a paradise for those who like sea food – always with fresh ingredients, which is one of the Marrecife's secrets.
This restaurant, located in the commercial area of the city, is known for the freshness of its ingredients and the thorough attention of its staff. Its popularity ensures that it almost always is full, so we recommend that you make a reservation ahead of time. Otherwise, Marrecife is an excellent choice for those who don't want to leave Guayaquil without trying the best of its seafood.
3. La Canoa
Specialty: Food typical of Ecuador's Pacific coast
If your goal is to savor authentic traditional guayaquileña food, the best choice is definitely the La Canoa restaurant. It is said that this is the perfect place for locals and visitors who want to a delicious local meal at any time of the day or night, as it's open 24 hours a day, 365 days a year. However, this schedule has an explanation.
In the 1960s, people liked to dine outside facing the river. In the early morning hours, you could find travelers enjoying dishes while exchanging the most interesting travel tales and tips. Nonetheless, when the city built the new Malecon 2000 boardwalk, this custom was banned. This was when the idea emerged of providing a place for riverfront dining so that this tradition would not be lost. Thus was born the restaurant La Canoa, which over time has become one of the favorite restaurants for typical food on the docks of Guayaquil.
Traditional recipes, with a modern twist in technique and presentation, are served on the tables of La Canoa. The star of the menu is a dish called "Ecuadorian Flag," which combines several specialties, including ceviche, seco de chivo (goat stew), casserole, fried banana, avocado and La Fritada (fried chunks of pork served with several accompaniments).
From breakfast to dinner plates, there are several options you can try at any time of day. So, if you're traveling in Guayaquil and don't want to miss this dining experience, prepare your day's itinerary near this restaurant, including visits to Iguana Park, the Malecon 2000, and the Municipal and the Nahim Isaiah museums. So, when lunch time comes, go to the Hotel Continental and make yourself comfortable at a table at the La Canoa Restaurant.
4. Pier 41
Specialty: Peruvian gourmet food
In the early 2000s, through the hands of some of the most renowned chefs, Peruvian cuisine staged a revolution intended to seduce the palates of the world. The city of Guayaquil was no exception, as the Pier 41 restaurant was very well received and is now one of the dining spots most appreciated by locals and visitors who enjoy good food.
In this restaurant, traditional Peruvian cuisine is fused with modern techniques to achieve fantastic dishes, mostly based on fish and other seafood, as can be seen in its exquisite menu.
Here you will find a relaxed atmosphere, good value for the money, and a chance to sample the best of Peruvian cuisine, which evidences pre-Inca, Inca and Spanish heritages, combined with the flavors brought here by Asian and Italian immigrants.
In addition, the restaurant is located near the most important sights of the city, so you can plan a one-day visit and have a delicious stop at Embarcadero 41.
5. Café de Tere
Specialty: Traditional guayaquilena food
Tigrillos, bolones (with several accompaniments), empanadas, piqueos. If you're from outside of Ecuador, these names might not mean much to you. But if you're Ecuadorian, these names will probably remind you of the best coastal food.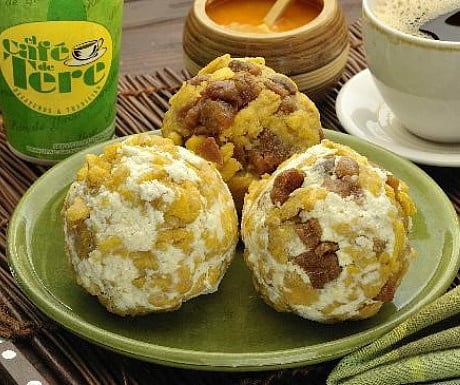 In either case, don't miss out on a chance to visit "El Café de Tere," a cozy family restaurant located just two minutes from the city of Guayaquil's international airport.
A more classic version of traditional Ecuadorian cuisine, with the recipes and ingredients of a lifetime, is what is served at this restaurant.
The history of this place, which is already part of the history of the city, came from the hands of a woman who started a small business that she saw grow thanks to her passionate work and dedication to customer service. Today, this famous restaurant that she continues to run is a thriving business that is especially appreciated by locals and others who want to sample its delicacies.
The specialty of Café de Tere is its breakfasts – bolón mixto, with café pasado, soft-boiled eggs and orange juice, for example. Why not try a hearty breakfast of a Guayaquil resident? It can be an excellent source of energy for a day-tour of this coastal city that offers so many attractions.
Alfonso Tandazo is President and CEO at Surtrek Tour Operator.
If you would like to be a guest blogger on A Luxury Travel Blog in order to raise your profile, please contact us.