The culinary scene in Malaga has been on the ascendancy for years already, with more and more Michelin stars each season and increasing international attention. With some of the busiest fishing ports in all of the Mediterranean, Andalusia's Malaga province, on the southern most Spanish coast, has a long established culinary tradition of super fresh and varied seafood. That's why it should come as no surprise that Japanese cuisine has gradually grown in popularity amongst locals and visitors to the area alike.
It's a natural match. The Japanese penchant for raw or barely cooked fish and seafood sits well in this region where the fish markets are always crowded and a fresh haul appears every day apart from Sundays and Mondays thanks to the weekly day of rest for the fishermen. And the quality of the fish from this region is undeniable; drop into any top Japanese restaurant in New York, London, or even Tokyo, and you're likely to see such things as mackerel and tuna straight from Malaga's Mediterranean coast. The best tuna from the area, which the industry says is ethically and sustainably fished, goes directly to Japan for a small fortune.
There now is no shortage of fine Japanese restaurants all across the Malaga coastline and especially in the city of Malaga. You'll be spoiled for choice and it's hard to go wrong, but a little guidance never hurt! The influences stretch far beyond traditional Japanese food with innovative twists and touches from South America and elsewhere to incorporate such things as Peruvian ceviche and unique flavour combinations not common to the Japanese mainland.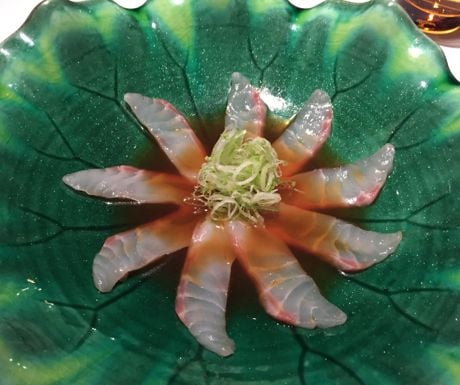 Widely accepted as the best Japanese restaurant in Malaga province, Kabuki Raw at Finca Cortesin near Estepona, earned a Michelin star just this year. Here the food is solidly rooted in the millenia old traditions of Japanese cuisine with unmistakably Mediterranean influences, taken to lofty heights and created with only the finest and freshest of ingredients, all organic and/or from sustainable local fisheries. You will find rarities such as an oyster and seaweed tempura, or pickled tuna belly that will linger in your mind and on your taste buds considerably.
In the city of Malaga, Oléo restaurant, located at the Contemporary Art Museum in the trendy SoHo district, offers a much less formal affair, but the ingredients are of an equal quality to Kabuki Raw and you may notice no difference in the sashimi or nigiri sushi, for example. The spicy tuna tartar tastes as meaty and rich as a beef tartar, but if you don't believe it you can order the tuna and Japanese style beef tartar side by side. You can't go wrong with the moriwase of sashimi, which is essentially the chef's selection of what's freshest and best that day. Oléo has a sister restaurant called Misuto right at the beach in East Malaga, serving the same great quality and many of the same dishes as Oléo, but with a few more local and Mediterranean influences such as a mini-hamburger made from oxtail, and spring rolls made with suckling lamb. These may sound out of place on a Japanese menu, but it works without a doubt.
Club Japones, on the outskirts of Malaga city, claims to seerve "the best sushi of Malaga." It's a self appointed title so probably best to decide for yourself, but Argentinian born Chef Hernán Alberto Soria Monge has accrued no less than 23 years of experience as a sushi chef and brings a unique combination of Mediterranean, South American and French cuisine under the guise of the Japanese kitchen. Having studied and worked in Japanese sushi and teppanyaki restaurants throughout the world, his skills and knowledge are unquestionable and the extensive menu holds something exciting for everyone.
With these kinds of modern, fusion approaches to Japanese cuisine, the barriers have fallen and it's almost as though a new category of gastronomy is emerging. Other excellent chefs in Malaga province do not claim to run Japanese kitchens, but the influences are undeniable. Take Brazilian born Chef Diego Gallegos of Sollo Restaurante in Fuengirola, for example. Known as the "caviar chef" for his extensive and creative use of local, organic and sustainable sturgeon caviar, Gallegos also earned his first Michelin star this year. You wont find any traditional sushi or sashimi on the menu, but the simplicity and purity of many of the dishes seem heavily influenced by Japanese fundamentals. There's the vegetarian oyster served in shell, and a raft of raw materials used in innovative ways.
Similarly, Chef Abraham Garrote of La Solana Restaurant, also in Fuengirola, is known simply as "the seafood chef" for his passionate focus on all things fresh from the sea. You'll find very little meat on the menu and much of the seafood arrives barely cooked, simply marinated or raw; the tasting menu changes almost daily, depending on what is fresh at the market that morning. The flavour combinations will make you question as the beautifully presented dishes reach the table, but somehow mango does go with oyster, strawberry blends nicely with shellfish, and the cocktail of sea snails bursts with a surprising depth and meatiness. Unbound by regional classifications, a Japanese influence seems obvious but it's best to approach these dishes for what they are and let them speak their own language.
Alan Hazel is Owner and Director of Cortijo El Carligto.
If you would like to be a guest blogger on A Luxury Travel Blog in order to raise your profile, please contact us.