There are many sides to a country, some well-travelled and others left untouched. This is no truer of any country than it is of Turkey, a land steeped in rich history, a vibrant culture, and a bevy of magical destinations to fulfil your each and every desire. From the bustling streets of one of the world's great cities to the other worldly landscapes found in the heart of the country, Turkey has many sides to discover. Here are the top 3 most tantalising Turkish destinations…
1. The city buzz
Istanbul isn't just a city, it's one of the cities. It's easy to see why this bustling metropolis has attracted people for thousands of years, with its spectacular harbour, vibrant markets and unique way of living. The smell of succulent meats sizzling lingers in the air as you walk through the city's streets, with locals catching up with friends and family as they sit along the waterfront or atop one of the city's many beautiful buildings. Stylish rooftop bars are a way of life here, with each offering its own unique view of the never-ending skyline that zigzags around the harbour. Everything is bigger and better in Istanbul, including luxury.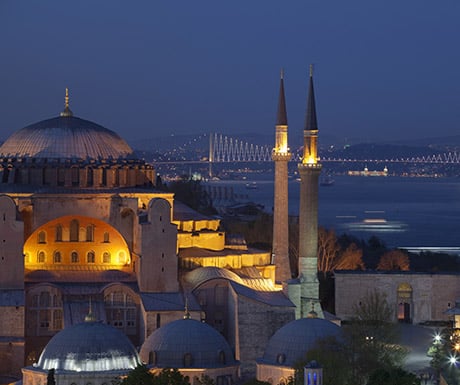 The city is home to a thriving dining scene, one that represents the face of Istanbul by offering a defined local flavour with a vibrant cosmopolitan twist. Head to the Kasa Lokanta & Bar for an authentic taste of Turkey with Executive Chef Volkan Cengel's delectable dishes inspired by traditional Turkish cuisine. Cengel has been working in local kitchens throughout Turkey since he was 13, adding current culinary trends to his repertoire of traditional Turkish delicacies like stuffed mussels and mezze platters. A signature dish is uskumru, which is smoked mackerel with pomegranate and beets. For some international spice, head to the revered Mikla Restaurant. Set 20 storeys above street level, the sweeping sea vistas take a back seat to the tantalising treats of chef Mehmet Gürs. An extensive wine list complements a menu that reflects his Turkish-Swedish roots, with dazzling dishes including Cherrywood-smoked loin of lamb, pistachio-crusted lamb chops and crispy sardines. You won't believe the view, and you won't believe your taste buds!
2. Ultimate beach bliss
A playground for the Turkish elite, Bodrum has managed to retain much of its spectacular Ancient City while developing into an international beach resort where luxury is right at home. Sunshine graces the beaches of Bodrum year-round, resulting in a picture-perfect beach break that resembles the refined style of the French Riviera with the addition of an exotic mix of bazaars, hammams and ancient Mosques.
While exploring the pristine beaches and local culture of Bodrum is bound to keep you busy, it's also useful to note the town's proximity to numerous Greek islands. Direct boat services offer day trips (or even an impromptu overnight!) to Kalymnos, Kos, Simi and Rhodes, allowing you to discover the magic of another country with minimal travel time. If you want to escape the opulent nightlife and stylish wining and dining of Bodrum, head along the coast to the quaint tranquillity of the historic Turkish seaside. The most majestic among these seaside towns is the fishing village of Gumusluk, which has managed to keep its original seafront architecture due to strictly-enforced building regulations. Dine on the crystal-clear waters of the Aegean Sea and soak up the relaxed atmosphere, made even more magnificent by the vivid colours of bougainvillea in bloom, the sparkling white sand beaches and the lush greenery that surrounds.
3. A quirky quest
Most destinations can be summed up exquisitely using emotive language that creates a clear visual in the reader's head, sparked from memories and past experiences. This feat isn't so easy when describing the unique authenticity of Cappadocia and its cities, which can only be likened to venturing into an otherworldly landscape created in the mind of a sci-fi enthusiast. Underground cities lie below the moon-like terrain while churches are elegantly carved into rock formations. Look up and you'll see the sky alight with hot-air balloons, full of zealous travellers eager to make sense of this indescribable region from above. There's a reason why Cappadocia is famed for its flock of hot air balloons – it's an unforgettable experience.
Add a luxurious twist to your exhilarating ride by opting for an exclusive private balloon ride, with all the frills available (including breakfast and champagne!) as you marvel at the spectacular scenery that lies below. Head to the surreal town of Uçhisar to discover the beautifully quirky luxury accommodation, which includes cave resorts with panoramic views of the surrounding landscape.
Filip Boyen is Chief Executive Officer of Small Luxury Hotels of the World.
If you would like to be a guest blogger on A Luxury Travel Blog in order to raise your profile, please contact us.