It sounds too good to be true, doesn't it? A piece of luggage that will actually easily travel up stairs. But that's exactly what the new TraxPack case does.
Launched on Kickstarter by good friends Naisha Joseph and Richard Braddock, TraxPack is set to revolutionise the luggage industry. No more struggling with awkward, heavy cases – difficulty navigating stairs with your luggage is set to become a thing of the past. Thanks to the case's Track system, which has been likened by some to the treads you'd find on a tank, and a handle that can be both vertical and tilted, going up stairs is effortless.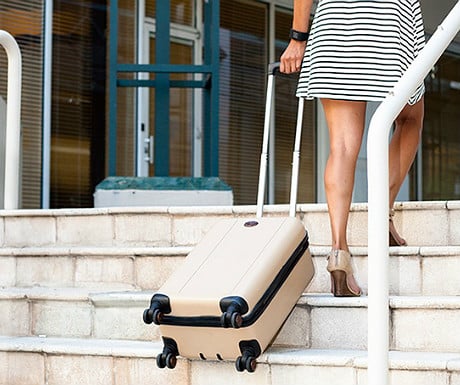 And it doesn't just stop there – going down stairs is just as easy too! So instead of this…
…you can be doing this!
Even navigating on the flat is simple thanks to the TraxPack's handle and 180-degree wheels.
And the many features of the TraxPack don't stop there. Here are just some of the other features to note for this luggage that is available in black and cream:
In-built scales
Getting to the check-in desk and finding you have to pay for excess baggage, or that you need to move some items from one bag to another, can be a real pain. Sure, you can lift your case onto your bathroom scales, or dig around your drawers for that luggage scale you once bought, but it's so much easier if it's all built in, and with the TraxPack it is.
Dual battery charger
When you're travelling, you invariably don't have sockets as easily at your disposal as you would at home or work, so having a dual battery charger integrated into your luggage is another bonus offered to you by the TraxPack.
Tablet stand
We've already mentioned the tilting handle and how this helps with the case's maneuverability, but did you know it also doubles up as a stand for your portable device? A great dual purpose if ever there was one!
Proximity sensor and BPS
Finally, heaven forbid that you should ever lose or temporarily misplace your luggage, but the case comes with its own GPS, or rather BPS – Baggage Positioning System – that allows  you to track its precise whereabouts, wherever in the world that may be. That can also be useful when you're waiting at the luggage carousel at your arrival airport – you don't need to crowd around like everyone else, as you'll know when your bag is about to emerge.
All these features are best demonstrated by a video so head for the Kickstarter page to see the case in action.
Image #2: Shutterstock
Disclosure: This post is sponsored by TraxPack.