There's something special about the mountains in the Summer months, it's a world away from the Winter wonderland of the ski season. The Winter months are dominated by the white of the snow that coats everything it falls on, like icing on a cake. The snow melts and reveals the lush greens of the Alpine meadows and the forests that hug the foothills of the mountains. Spring flowers show them selves in a riot of glorious colour. A whole new world is revealed, a truly beautiful spectacle, the mountains suddenly become accessible to hikers, mountain bikers, cyclists, nature lovers and photographers. It's a great time to be in the mountains.
Ski in-ski out is considered to be a valuable bonus in the Winter months but in the Summer, the 'Splash in-climb out' of a private pool is an equally  important feature in your choice of accommodation. It can get very hot in the Alps in Summer and a pool is a very welcome feature to have at your disposal.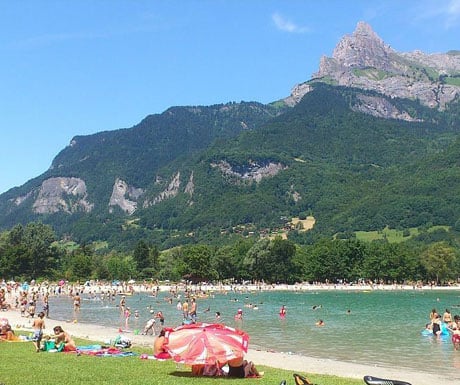 Chamonix is a wonderful place to be at any time of the year, dominated as it is by Mont Blanc, Europe's highest peak. The mountain has been host to many daring attempts at its summit and hikers swarm all over its flanks just to be near its breathtaking grandeur. Its allure is world renown and as a result Chamonix is a happening place, with never a dull moment. It's a thriving resort the year round. An important factor in making Chamonix so popular is its relative short transfer times from Geneva airport. Long haul travelers from the world over can be in resort in just 75 minutes and that's an attractive proposition when you've been cramped in a jet for over 15 hours.
As with Zermatt who's calling card is the Matterhorn so it is with Chamonix and the awe inspiring Mont Blanc. It draws adventurers and climbers from around the world making Chamonix a cosmopolitan resort with an international vibe. This is reflected in the bars, restaurants and shops. The apres ski and nightlife is very lively to say the least. Chamonix doesn't rest on its laurels either, with many events and concerts organised throughout the year.
Here are three picks that you should consider, should you decide to spend time here. Chalet Amazon Creek really is a very special luxury property indeed. Nestled in a stunning woodland setting in a tranquil and inspiring location next to a mountain stream, you would be forgiven for feeling that you are a thousand miles away from civilization. You have the world to yourself here and to top it off the wonderful outdoor pool affords you magnificent views of the surrounding forests and peaks. When the temperature goes North, the sploosh and the happy shouts of the kids emanating from the pool area tell you that it was a great idea to book a chalet with a pool.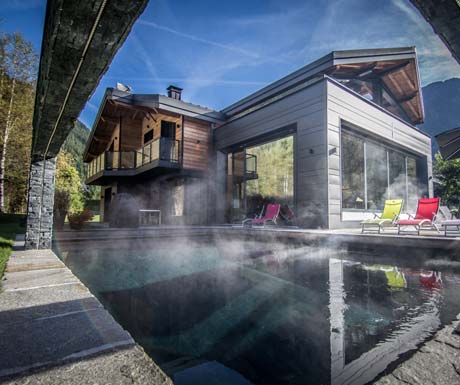 Chalet Dalmore is a contemporary build, more New York Loft than Heidi chocolate box style and with a beautiful outdoor pool to match. Lazing around the pool with fabulous views of Mont Blanc is a truly relaxing experience. It's certainly not conducive to wandering around Chamonix's many attractions but there's no better way to recharge your batteries and fill your self to the brim with the feel good factor.
Chalet des Drus's pool is indoors but with huge sliding doors opening out on to a large garden it's as good as outdoors. The garden is perfect for a picnic or sunbathing and with great views to keep you occupied Des Drus is a great choice. It's one of life's pleasures jumping into the cool water when you can feel the heat building. Nip into the kitchen, mix your self a drink, maybe with ice cubes. Who needs the Med and a sticky beach, this is the life. As an added attraction there are clear lakes within driving distance of Chamonix where nature provides a much bigger pool than man could ever fashion. Annecy is not that far away and a day at the lake may not be private but it's a wonderful experience. Lac Annecy should be on everyones bucket list and is well worth a visit.
Rebecca Taylor is Director at SkiBoutique.
If you would like to be a guest blogger on A Luxury Travel Blog in order to raise your profile, please contact us.