By
Judy Johnson
on Jul 18, 2016 in
Accommodation
,
Europe
,
Featured
,
Going Out
,
Hotels
,
Leisure Travel
,
Regions
,
Restaurants
,
Speciality Travel
,
United Kingdom
,
Western Europe
The estate of Stoke Park has a long history dating back over 900 years but it was John Penn – 1760 to 1834 – who was responsible for most of what you can see today. In the latter part of the 18th century James Wyatt, architect to King George III,  worked on the development of the Mansion and Humphrey Repton was commissioned to upgrade the Lancelot "Capabillity" Brown landscaping of the grounds.
In 1908 Nick "Pa" Lane Jackson purchased Stoke Park and its estate and it is here that he created the first Country Club in the UK.  This club was a fully inclusive club from the day of its opening as it allowed ladies full membership of every facility – something that was most unusual at that time. He also commissioned the famous amateur golfer and course architect, to design the golf course.
Many people will recognise the distinctive appearance of the Mansion especially as it has featured from such diverse films as Bridget Jones' Diary, Wimbledon, Pride and Prejudice, Layer Cake, Goldfinger, Tomorrow never Dies, RockNRolla, W.E. and The Counselor.
As you glide through the gates of the estate you are immediately aware of the beauty of the grounds.
There are so many fine examples of beautiful, majestic trees and manicured lawns as well planters of magnificent bedding plants at every conceivable position. It is no wonder that there are 29 ground staff employed and also no wonder that the tanks of water are pulled by golf buggies early every morning to ensure that the plants do not fail. I understand that the first of the staff start work at 5am at this time of year.
The hotel has a total of 49 bedrooms and suites to date but more are planned for the future – all expansion is carefully designed in order to complement this beautiful Grade 1 listed building.
Currently there are 21 in the Mansion – furnished and decorated in a more traditional style – and 28 in The Pavilion which also houses the Spa, Gym and swimming pool with both the indoor and outdoor tennis courts nearby.  These rooms have an edgy, modern appearance and feel.  Co-incidentally it is interesting to note that there is no specialist team at work here only the brilliant eye for design of its current owner.
Every luxury hotel has its amenities but Stoke Park has every single one that you could imagine. You expect beautifully appointed, highly serviced rooms and bathrooms with luxurious toiletries as standard at this level along with complimentary newspaper, box of chocolates, Laurent Perrier Champagne, mineral water, fruit, iPod docking, WiFi, USB port, HDTV with all channels and tea making facilities, but the little touches of a fire that can be lit or underfloor heating that can be turned on for cold days and air conditioning and adjustable mood lighting – in the Pavilion rooms – can really make a difference and make you really feel that you have arrived at your own "country retreat". It is no surprise then that Stoke Park has won numerous national and international awards and accolades for all it provides. These are all well-deserved but too numerous to mention here.
I stayed in a room in the Mansion named after the founder of the Club which had a balcony with sweeping views over the first tee, the beautifully manicured grounds and the driveway of the park. The bed was extremely comfortable and lent itself to a refreshing night's sleep but it also had a welcoming sofa.
Sir Matthew Pinsent is the current President of the Club which currently has 5,000 members.  Some are members of everything from the Spa with all its many and varied treatments, tennis and golf with its 27 holes and some choose to join for just one or two of the options.  There is a lively Presidential bar where members and their guests as well as hotel residents can relax with a drink from the wide drinks menu of both alcoholic and non-alcoholic beverages. Even the chapel has become a place of rest and relaxation with comfortable furnishings and original wood panelling adorning the walls. It has an interesting modern touch however – which some might consider blasphemous – with a recent painting high up on the wall imitating the Last Supper with portraits of Dame Judi Dench and other famous faces from the world of film.
I was staying at Stoke Park to sample two of my passions – fine food and golf – and I certainly wasn't disappointed with either. Chris Wheeler, the Executive Chef has an eye for detail and presentation but not to the detriment of flavour. Herbs, fruit and vegetables from the estate's own gardens along with locally sourced seasonal products and skilled cooking combine to make delights for the diner. It is no wonder that he is to returning to our TV screens this autumn in BBC Two's Great British Menu as he has won many awards and accolades himself and become very popular star after his previous TV appearances.
There are three restaurants at Stoke Park – the Orangery for light meals, afternoon tea and dinner, San Marco for relaxed Italian food and a fine dining restaurant, Humphry's which offers modern British cuisine.
My friend and I ate at the Orangery and Humphry's, sampling the starter dishes of a duck supreme on a rosti potato with caramelised apples and truffle jus, and a plum tomato, red onion and mozzarella tart, both of which were beautifully presented. We both chose pan fried sea bass fillet with a herb mash, samphire, ragout of queen scallops and crayfish tails all with a lobster. Our clean plates were indicators that we had both found it to be delicious. Neither of us could find room for a dessert so we retired to the lounge with a coffee and were regaled by a corporate visitor at the grand piano.
The next night we dined at Humphrey's. Whilst we had a drink in the Presidential Bar – a vodka (one of many on offer) and tonic for my friend and a non-alcoholic "Shirley Temple" – a ginger ale, lemonade, grenadine and lime concoction for myself we were brought some delicious canapes of duck, crayfish and humus and the menus where there were some difficult choices to be made as everything seemed wonderful. Eventually we made up our minds and gave our order.
On arriving at our table we were served an amuse bouche which was certainly amusing – a modern take on fish and chips complete with peas although they were far from mushy which we Northerners expect! Last time I saw such humour and delight in producing fine food was when I lunched at El Celler de Can Roca, in Girona near Barcelona.
For my starter I had the scallops – pan fried with a cauliflower puree, sticky chicken winglet and port gel – whilst my friend chose the crab tian – Dorset crab, avocado, cucumber jelly, quail's egg with a pink grapefruit salsa. Both were delicious and beautifully presented but the latter in particular was sensational in its appearance and execution. The detail was superb – and yes, the quail's egg did have a runny yolk! It is no wonder that Chris took this particular dish to Sardinia (he had just returned the week before our stay) where he had been showcasing at their famous Celebrity Chef Nights. His visit in 2015 had proved to be so successful that he had been invited to return.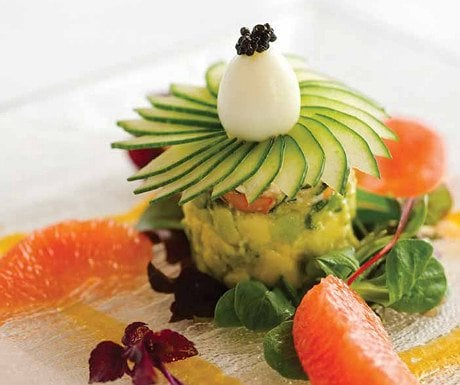 Again for our main course we chose the same dish – fillet of beef, onion marmalade, kale, braised shin, potato ring and red wine jus – and yet again this did not disappoint. The slowly braised shin beef brought out the sweetness of the meat and helped to highlight the flavour of the fillet – a cut that so often can be lacking in flavour.
Yet again we were spoilt for choice amongst the desserts. Eventually we decided to have the brulee – coffee cream brulee, rum gel, white chocolate ice cream and coffee crumb – and the soufflé – passion fruit soufflé, raspberry and lime sorbet and passion fruit sauce but before they arrived we were treated to a pre-dessert of tiramisu with chocolate caramel cream – what a treat! Our chosen desserts also proved to be a delight – so much so that, as you can see, I broke into my soufflé before I had time to photograph it but in my defence I had been told to make a hole in it in which to pour the delicious sauce!
At the end of the meal Chris came out to chat about his food and kitchens at Stoke Park. He has been there since 2003 having previously been right hand man to Jean Christophe Novelli and has 36 people in his Kitchen Brigade working in 6 kitchens and 7 function rooms as well as the restaurants already mentioned. He is obviously passionate about his food, and his cooking but above all the importance of the diner's experience.
To work up an appetite for all this glorious food it was obviously imperative to take some exercise and where better that on Stoke Park's glorious but very challenging golf course. This is a 27 hole course and caters for members, guests at the hotel and corporate groups. During the winter months staff worked hard on the bunkers of the first nine holes and they now pose a greater challenge for golfers of all abilities that requires good course management if you are to avoid needing a bucket and spade! The next 9 holes are due to have the same treatment in the autumn with remaining 9 during the winter months. The 7th hole is considered to be the highlight being the source of inspiration for the par 3, 16th hole at the Augusta National. I can certainly vouch for the fact that it is a feature hole and although I tried to play it carefully, I still manage to forfeit a ball! During the 2 days we stayed at Stoke Park we completed the first 9, the third 9 twice but unfortunately only managed 4 holes of the middle 9 as we did not want to interfere with a corporate group.
The hotel provided us with a set of clubs each as we had travelled by train and a buggy. I was very impressed with my TaylorMade set and the Ping set proved popular as well. I think I may now be trying to source the 4 rescue club that I managed to use to great effect. The staff on both the course and in the very well stocked pro shop were very helpful – so much so that I parted with my money and treated myself to a fantastic pair of FootJoy shoes.
We had a wonderful stay at Stoke Park in a fabulous hotel with amazing facilities. A hotel of such an impeccable standing relies entirely on its staff and the way they work as a team to help each other as well as doing their own job, thus ensuring the happiness and wellbeing of their guests. This was evident during our stay. There were two members of staff however that we believe deserve special mention – Joanna – ever present at any time anywhere from the lawns, the restaurants, the bar and the breakfast buffet table, apparently it seemed at any time of day. The other person was Gordon at the golf course. Nothing was too much trouble for him to look after us – he even toured the last 9 holes early in the morning looking for us to ensure that we had everything we needed. Not only did he have to contend with us but he was happy and smiling, looking after a corporate group of 140 teeing off in groups of 4, but also making sure that other visitors were not inconvenienced. We would like to give our heartfelt thanks to you both and to all the staff at Stoke Park. We can't wait to return.
Disclosure: Our stay was courtesy of Stoke Park.