This scrumptious fruit pudding is very simple to make and can be a refreshing dessert after lunch or dinner, or a healthy breakfast just by itself. The secret is in the blended cashew cream, which provides a perfect custardy backdrop to the caviar-like pop of the chia seeds. Use any combination of seasonal fruit you like. Note: this pudding is 100% rawfood, but the use of honey may not be suitable for vegans.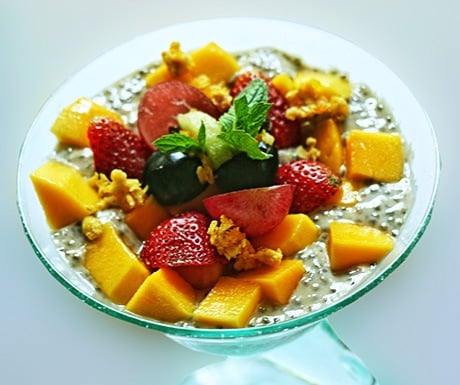 Ingredients
1 cup soaked cashews (soak for two hours, discard water)
2 tbsp maple syrup (or honey)
1/2 stalk vanilla bean
1/4 cup soaked chia seeds (soak for 20 minutes in water or almond milk)
Sea salt to taste
Seasonal fruits for garnish
Directions
Blend soaked cashews until smooth, the add maple syrup and soaked chia seeds. Pulse until the mixture combines well but doesn't crush the chia seeds. Place mixture into a small bowl and top with fresh fruits. Ready to serve!
Thank you to Arif Springs, Raw Food Chef at Fresh @ Taksu, Ubud, Bali, for the recipe.
If you have a recipe you would like to share with  A Luxury Travel Blog's readers, please contact us.