By
Jackie de Burca
on Aug 15, 2016 in
Attractions
,
Celebrities
,
Croatia
,
Eastern Europe
,
Europe
,
France
,
Going Out
,
Greece
,
Ireland
,
Italy
,
Regions
,
Spain
,
Switzerland
,
Travel Miscellany
,
Western Europe
Dramatic shorelines, Mediterranean elegance, iconic walled cities and a quaint Irish town with a friendly dolphin are some of the many attractions that draw celebrities to these classy European holiday destinations. Follow in your favourite celebrity's footsteps to one of these wonderful European locations, in search of beauty and chic, and live it up like a star.
1. Amalfi Coast, Italy
There's no wonder that Italy's Amalfi Coast is such a draw for celebrity holidays and honeymoons. Its pure Mediterranean elegance and vibrant colours makes it one of the world's most picturesque corners. The Amalfi Coast has a jagged, dramatic shoreline which is embellished by pastel coloured buildings and fishing villages. Along the coast you can find some remarkably beautiful luxury hotels.
Pop yourself into a private boat and watch out for the paparazzi! Make sure to visit Capri Island, which has been celebrated as a romantic, beautiful coastal resort since the times of the Roman Republic.
Some of the celebrities spotted:
Reese Witherspoon, Beyoncé and Jay Z, Sting, Rod Stewart, Rupert Murdoch, Lauren Conrad, Anna Paquin, Stephen Moyer, Kim Kardashian and Kris Humphries
2. Dingle, Ireland
One of Ireland's most charming spots, Dingle was the location where the film Ryan's Daughter was shot in 1969. Perched on the Atlantic Coast, Dingle is quaint, yet creative and cosmopolitan. Ireland's biggest Gaeltacht town is super friendly and you can enjoy a singsong in one of the pubs, many of which are shops as well. The town's most famous pub is Dick Mack's, which is also a leather shop.
You can't visit Dingle without taking a boat trip out to spot Fungi, the famous dolphin. I took one decades ago and Fungi swam right up alongside our boat. The owner had told us that the dolphin especially liked him and his boat.
Some of the celebrities spotted:
Dolly Parton, Sean Connery, Keanu Reeves, Julia Roberts and Bob Mitchum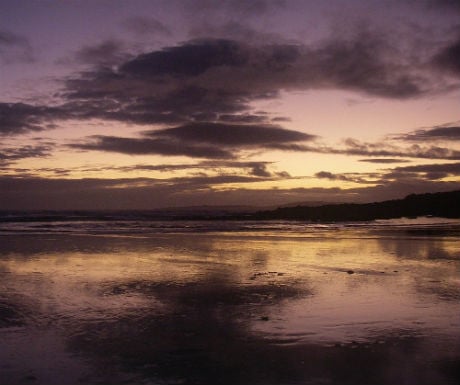 3. Dubrovnik, Croatia
There's no doubt that Dubrovnik is the jewel of the Adriatic Sea. The city became an UNESCO World Heritage site in 1979 because of its iconic old town – a walled medieval city. "Those who seek paradise on Earth should come to Dubrovnik" was the statement made by George Bernard Shaw, who was clearly enchanted by what he called the Pearl of the Adriatic.
A bewitching holiday destination with beautiful ocean views, Dubrovnik is truly inspirational. If you are travelling at the height of the season, try to come around mid August, when the Dubrovnik Summer Festival is on.
Some of the celebrities spotted:
Richard Gere, Sean Connery, John Malkovich, Catherine Zeta Jones, Pierce Brosnan and Tom Cruise.
4. French Riviera
The French Riviera has been a firm favourite with the rich and famous for a very long time. What's not to like? Stunning beaches, glamorous hotels, fine dining and incredible shopping.
For the ultimate in luxury, be sure to head to St Tropez, the world famous millionaire's playground. There are plenty of luxurious yachts available in its port and you may even spot Simon Cowell hanging out in his super-yacht.
Some of the celebrities spotted:
Brigitte Bardot, Elizabeth Taylor, Colin Firth, Simon Cowell, Johnny Depp, Cate Blanchett, Jennifer Lopez, Kate Moss, Ashton Kutcher and Mila Kunis.
5. Ibiza, Spain
Although the beautiful Balearic island of Ibiza is often associated with ravers, it has much more to it and is a favourite celebrity holiday destination and playground. Ibiza is listed as a UNESCO site not only for some of its historical heritage, but also because it is an excellent example of interaction between the coastal and marine ecosystems.
Apart from the more famous party vibe of the island and its beaches, Ibiza is also home to quaint villages, a pine-clad landscape and a surprisingly peaceful side – just waiting to embrace those who seek tranquility.
Some of the celebrities spotted:
Jon Bon Jovi, Kylie Minogue, P Diddy, Jean-Claude Van Damme and Naomi Campbell.
6. Lake Como, Italy
Located not far from Milan in the north of Italy, Lake Como is very deep and slender, meandering on for around 50 km. At the south it forks into what appear to be two long legs, where you'll find the beautiful town of Bellagio sitting on the promontory between these "legs."
Its blue waters, wooded lakeside slopes and luxurious villas have attracted discerning holidaymakers since the time of the Roman Empire. Lake Como is undoubtedly one of the most iconic lakeside resorts in Europe. However George Clooney buying a villa there has certainly ramped up its exposure with the rich and famous.
Some of the celebrities spotted:
George Clooney, Alfred Hitchcock, Mick Jagger, Kylie Minogue, Robert De Niro, Madonna, Avril Lavigne and Sir Richard Branson.
7. Mallorca, Spain
The island of Mallorca has a striking harbour in its capital Palma, wonderful architecture, quaint towns and beautiful beaches. The nature of the island is quite delightful, with some stunning scenic inland regions.
Mallorca has plenty of attractions, both on land and out at sea, quality fine-dining, great nightlife and some of Spain's best hotels. It is really an island that has something for everyone.
Some of the celebrities spotted:
Pierce Brosnan, Tom Cruise, Michael Douglas and Catherine Zeta-Jones
8. Marbella, Spain
Of course it's not possible to omit Marbella from this list. It's long been a hit with the rich and famous, particularly around its port area – Puerto Banus. If you haven't been before, be sure to go at dusk, which is a pleasant time to see some of the most amazing cars being shown off by the super-yacht lined port. There are boats that are bigger than some peoples' houses.
Marbella has plenty of luxury beach clubs and remarkable villas, as well as Villa Tiberio – its legendary restaurant. Once you're finished celebrity spotting, the prettiest part of Marbella in my opinion is Orange Square – Plaza de los Naranjos and the rest of the surrounding old town. Beautiful quaint streets are filled with cafés, restaurants and chic boutiques.
Some of the celebrities spotted:
Antonio Banderas, Melanie Griffith, Rod Stewart and Sting and Rod Stewart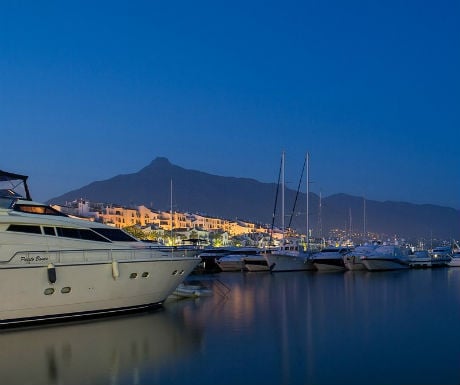 9. Mykonos, Greece
Mykonos is one of the many beautiful Greek islands, which is almost as frequently photographed as Santorini. Best known to many as the most gay friendly island, Mykonos blends beauty and chic together seamlessly. Hello Magazine posed the question – "Is Mykonos the new Ibiza?"
Located in the heart of the Cyclades, Mykonos is a whitewashed and azure blue paradise – a place where glamour meets simplicity. Be sure not to miss Alefkántra, which is the island's Little Venice. Mykonos also has a hectic nightlife and the island is incredibly busy during the height of the season.
Some of the celebrities spotted:
Grace Kelly, Jackie Onassis, Tom Hanks, Tom Cruise, Cristiano Ronaldo, the Kardashians, Nicole Scherzinger,
10. Portofino, Italy
Located on the Italian Riviera, Portofino has a long history of receiving celebrity and artistic visitors. One of the most picture-perfect photogenic fishing villages on the Mediterranean, Portofino boasts a stunning harbour dotted with pastel-coloured waterfront buildings.
Enjoy your favourite tipple by the harbour and watch as the yachting set arrives to anchor. Cafes, restaurants, boutiques and art galleries line the pretty, tiny streets.
Some of the celebrities spotted:
Elizabeth Taylor, Rex Harrison, Steven Spielberg, Elton John, Beyoncé and Rod Stewart.
11. Swiss Alps, Switzerland
The Swiss Alps have been a firm favourite with the rich and famous for a long time. A wonderful place in perfect nature, on the snow-capped Swiss Alps, where visitors can live in the lap of luxury in exclusive mountain resorts.
The truly impressive Swiss scenery of this area includes cool lakes, sheer valleys and high peaks. The Swiss Alps are super for summer hiking, just as they are perfect for world-class winter sports
Some of the celebrities spotted:
George Clooney, Prince Williams and Catherine, Duchess of Cambridge, Angelina Jolie and Brad Pitt, Rihanna and Madonna.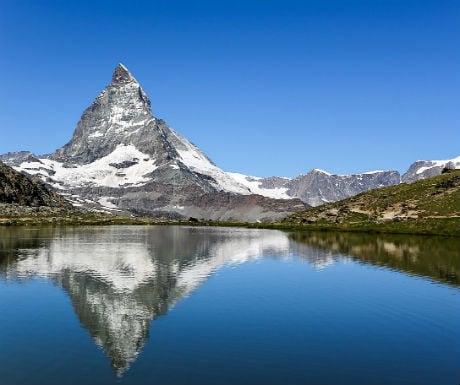 12. Tuscany, Italy
Tuscany has enchanting countryside, where soulful landscapes exist close to urban styte, making it a magical region for nature-lovers. It is also home to an incredible amount of extraordinary art, from architectural masterpieces to frescoes, sculptures and paintings. Typically visitors will head to Florence, Siena and Pisa to take in the artistic and city heritage of Tuscany.
The Tuscany Coast has plenty of great beaches to choose from, including the high end Versilia, which is famous for its night life in the summertime. Of course regardless of where you head, wonderful wine and cuisne play a central role in the Tuscan lifestyle.
Some of the celebrities spotted:
Terry Wogan, Sting, Frances Mayes, Andrea Bocelli and Giorgio Armani
Jackie de Burca is Co-owner of Catalonia Valencia.
If you would like to be a guest blogger on A Luxury Travel Blog in order to raise your profile, please contact us.