St. Petersburg, Russia may not come to mind when you're thinking of foodie destinations, but this "Venice of the North" has come into its own recently, with gastropubs serving new Russian cuisine popping up, in addition to a number of stalwarts serving excellent classics, not to mention restaurants serving the justly popular dishes of the former Soviet republics, from Georgian khachapuri and kharcho to Uzbek manti dumplings and Central Asian lagman.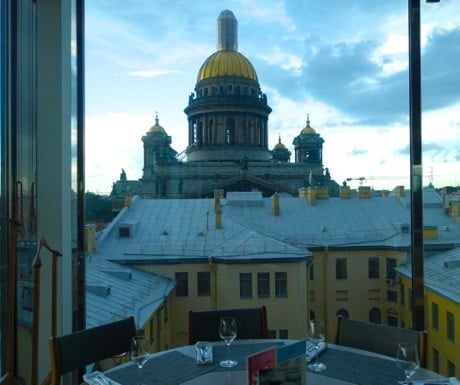 Here are three restaurants that stood out for me on my most recent visit:
1. Vkus Est
Vkus Est (Taste to Eat in Russian) is located at 82, Fontanki River Embankment, about a 10-15 minute walk from Nevsky Prospect or from Vladimirskaya / Dostevskaya metro station. There are classics that have been reinvented with modern cooking techniques such as the incredible Chicken Kiev prepared sous vide with perfectly moist meat and uniformly crispy skin over smoked mashed potatoes, but likewise there are wholly new creations such as the savory Tblisi cheesecake, an appetizer made with Georgian cheese and topped with caramelized onions.
Other dishes not to miss are the Northern scallops with celeriac cream and the lamb stewed in kvass orzo with sulguni. And for those who like to finish with a dramatic flourish, share the homemade pineforest flavored meringue "cooked" in liquid nitrogen tableside.
Prices are very reasonable for most visitors; expect to pay about USD 15-25 / GBP 12-18 per person, excluding drinks and gratuities. There's even a 20% discount for lunches from 1-4pm on weekdays.
2. DUO Gastrobar
DUO Gastrobar is a bit more off the beaten track, located at Kirochnaya Street, 8A, about a 6 minute walk from the closest metro station, Chernyshevskaya, but is worth seeking out. Just don't forget to make an advance reservation and to arrive promptly, since the restaurant only has a few tables and is hugely popular with locals and a few visitors in the know. The chefs behind it, Renat Malikov and Dmitry Blinov opened DUO Gastrobar in early 2014 as the kind of place their friends would like to gather in, having worked for other top restaurants in St. Petersburg.
I recommend starting with the Crab Bruschetta and sharing several dishes family-style: Carrots with Passion fruit and Ricotta; Duck Breast with Sweet Potato; Wheat with Chanterelles; Orzo with Lamb. Desserts are simple but satisfying: Prunes with Cream and Salted Caramel, or Chocolate Ganache with Blackcurrant.
3. Mansarda
Mansarda is nearly the opposite of DUO Gastrobar, as one of many Ginza Project restaurants in Moscow, St. Petersburg and NYC, and encompasses a large space with a prime view of St. Isaac's Cathedral. I highly recommend requesting a table with a view of the cathedral when making your reservation. Be aware that the restaurant is located on the top floor of the Gazprom office building at Pochtamtskaya St., 3. Go through the archway into the office building and take an immediate left in order to take the elevator to the restaurant.
Mansarda is a good choice if your family or group of diners have varied tastes, due to the extensive menu on offer. Everything from sushi to pasta and risotto to Russian cuisine to grilled items are offered, and judging by our eclectic meal, most are executed very well. We particularly enjoyed our Smoked Salmon with Vegetable Risotto; Beet Salad with Goat Cheese; and Spiced Rabbit with Pumpkin.
Have you dined at any of these restaurants in St. Petersburg?
Hilary Stockton is the CEO at TravelSort.
If you would like to be a guest blogger on A Luxury Travel Blog in order to raise your profile, please contact us.