Our first stay on our trip to Cantabria in Northern Spain was at a self-catering apartment in the Spanish resort of Isla Playa, just a 45 minute drive to the east of Santander, organised through HomeAway UK. This is a largely Spanish resort with two distinct areas of beach and a number of restaurants, cafés and bars to choose from.
The welcome
Our booking instructions directed us to an office on the way into Isla Playa (which was easy to find because it was next to a prominent pharmacy) in order to pick up the keys. With the formalities completed, I was shown the property – which is not far from the office – on a laptop using Google Maps, as well as Google StreetView, so finding it was not a problem.
Admittedly, the property isn't so attractive from the outside but it is close to the beach and comes with its own dedicated parking space. The parking can be found at ground level among the structures that support the building, but is difficult to negotiate if, like us, you have quite a large car.
The apartment
Staying in an apartment allowed us to 'spread out' a little more than would be possible in most hotel rooms, and meant we had a separate living area with a small dining table in one corner. It was fully equipped with all the crockery we needed should we wish to cater for ourselves, but with a pinchos bar just a stone's throw away, as well as a choice of restaurants, it seemed a shame to eat in.
The apartment has four bedrooms – one double, two twins and a small single, so can sleep a total of 7 people but I think would be a squeeze at full occupancy. As a family of four though, it gave us ample room.
The bathroom
There is a bathroom with bath and a shower over it, basin and lavatory, as well a separate lavatory and basin in another, much smaller room.
The facilities
Also useful was the fact that we had our own kitchen. Even if we didn't choose to cook for ourselves, it was handy to have that option and useful to have a washing machine available also.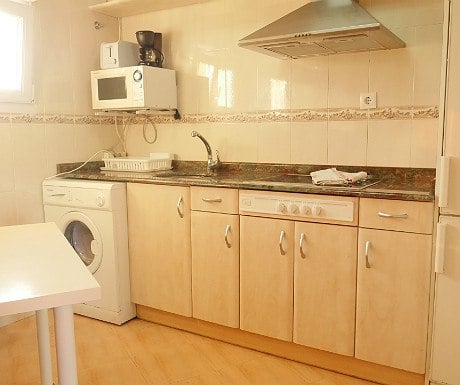 Other nice touches
Finally, the apartment has its own balcony. We were a little too busy to be able to enjoy it to the full as we were in the area for a sailing event, but this is a great area to sit out with a glass of wine or perhaps have an al fresco lunch.
Although one street back from the beach, you can see the beach and sea from this balcony which is a lovely bonus.
Cost
The average cost per night for the property is a very reasonable £135. During the season, a minimum stay of 7 nights is required.
The best bit
For us, the best bit was the location. Isla Playa is a really picturesque resort that feels very family friendly (kids are still up until well into the night as is the Spanish way!) and has a wonderful, relaxed atmosphere.
The final verdict
This is a well-located property equipped with everything you need; to be fair, it is not especially luxurious, but it's ideal for families who want a bit more space and are looking for something that is more affordable than the options offered by hotels of a similar quality.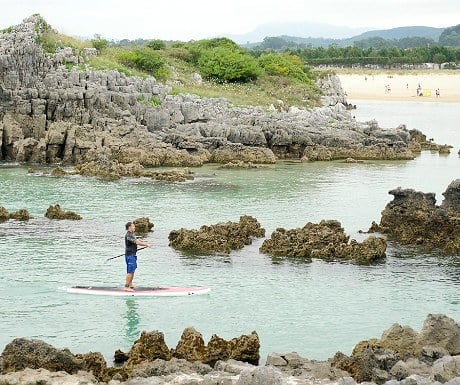 Disclosure: Our stay was courtesy of HomeAway UK and formed part of a trip sponsored by Brittany Ferries.