By
Paul Eyers
on Aug 19, 2016 in
Accommodation
,
China
,
Food and Drink
,
Going Out
,
Hong Kong
,
Hotels
,
Regions
,
Resorts
,
Restaurants
,
Singapore
,
Taiwan
,
Thailand
,
Travel Miscellany
,
Vietnam
Asia is hands down our favourite place for luxury travel and we can't get enough of the different cultures, the natural beauty, the history and the food (the vegan food that is). Contrary to popular belief, our vegan lifestyle isn't restrictive and so we've made it our mission to find the very best in vegan luxury as we've travelled around Asia for the last 3 years. Here are 5 of the best destinations for vegan luxury in Asia, you'll find everything from exclusive luxury beach resorts to the world's best vegan cake shop.
1. Thailand
Thailand has been firmly on the world map as a top travel destination for decades on account of the culture, history and famously delicious cuisine. It's now a hugely popular destination for vegans too due to the growing vegan scene in major cities like Bangkok and Chiang Mai and an annual religious 'Vegetarian Festival' where people eat vegan versions of local Thai food for an entire 10 days.
Vegan food can be found nearly everywhere but there are some more exclusive, award winning locations you'll want to visit where vegan luxury is firmly on the menu. Head to 'Benz's' at the super luxurious Soneva Kiri on Koh Kood for traditional Thai food served in a beautiful waterside restaurant where peaceful nature meets traditional Thai flavours, accompanied by the most hospitable service from acclaimed Chef Khun Benz and her team. The restaurant is reserved exclusively for guests of the resort so to eat here you'll also have plan to spend the night in one of the world class private villas at Soneva Kiri.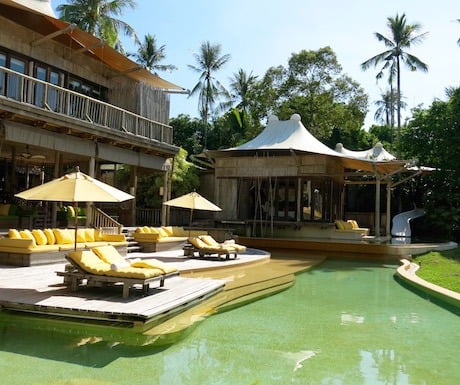 2. Singapore
Singaporeans are already well known for their love of food and a short stay in the city will leave you in no doubt that every one of your vegan foodie dreams can be satisfied. Head straight to the Four Seasons Singapore for your vegan luxury fix; they'll spoil you from start to finish with delicious vegan food topped off with a cocktail at the sophisticated One-Ninety Bar and Terrazzo by the legendary Javier de las Muelas.
For a different kind of luxury (well not strictly luxury but we LOVE vegan burgers), drop by the cool and funky VeganBurg restaurant. This all vegan healthy fast food burger restaurant has a great vibe, amazing vegan burgers and even a number of celebrity patrons including Sir Paul McCartney. Eat from the regular menu or try one of their specials but leave room for vegan ice creams for dessert; and for those of you based in California you'll be pleased to know they've just opened a location in San Fransisco!
3. Vietnam
In Vietnam the traditional cuisine is well suited to those wishing to exclude animal products from their diet as the local Buddhist population eat a vegan diet for at least 2-4 days each month. There are a surprising number of luxury resorts in country and it's entirely possible to travel from North to South staying in any one of a number of spectacular properties. For those wishing to get off the beaten track a little, but still relax in luxury, head to the tiny island of Con Dao where Six Senses Con Dao is waiting to treat you to a particularly vegan friendly kind of luxury.
Local flavours and ingredients are fused with cuisines from around the globe to offer guests a variety of menus to select from but it's the creativity and flexibility of highly acclaimed Chef Chris Long and his team that make Six Senses Con Dao a particularly good choice for vegan travellers. Discuss your requirements personally with the Chef, sit back and prepared to be amazed by the food that arrives. For extra vegan luxury make a reservation at the Chef's Table where a private dining room with an exclusive view into the kitchen provides the venue for your bespoke, multi course menu which is sure to surprise, delight and indulge.
4) Hong Kong
If there is one place to go in search of vegan luxury in Asia, it's Hong Kong. The number of vegan friendly hotels and restaurants crammed into a relatively tiny space is impressive and this is definitely the place to go to experience eating some of the world's best vegan Cantonese food. It's entirely possible to spend your entire time in Hong Kong eating vegan food in Michelin Starred Cantonese restaurants, absorbing the high end luxury ambience and tasting your way through gold leafed dim sum platters whilst sipping on premium grade Chinese teas.
With so many options it's extremely hard to pick a favourite but Lung King Heen at the exquisite Four Seasons Hong Kong is right up there; just imagine, 3 Michelin starred fine dining in a hotel that has luxury in abundance.
Hong Kong may be better known as a haven for meat eaters but there is certainly room for the vegan traveller in this busting and vibrant luxury destination.
5) Taipei
Last, but certainly not least of our 5 best destiantions for vegan luxury in Asia is Taipei in Taiwan. Stay at the seriously sophisticated Mandarin Oriental Taipei where the naturally vegan breakfast dumplings are to die for and the vegan set menu at Ya Ge is quite simply delightful; spend your time between dining, at the luxurious pool where you will quickly forget your central location due to the peace and tranquility that surrounds you.
But whatever you do whilst in Taipei you must visit the aptly named Vegan Heaven at least once!
This little boutique cake shop is located in the shadows of the iconic Taipei 101 building and serves the most exquisite vegan pastries, cakes and tarts which will satisfy every sweet craving you might have ever had. Salted caramel and chocolate tarts sit in the chiller next to raspberry mousse cakes and rainbow coloured vegan macarons. Indulge yourself with mouthful after mouthful of pure decadent pleasure.
We love being on a full time vegan luxury travel adventure 'finding, eating and writing about the best vegan food in the world' and the above locations are some of our favourites for sure; we hope you enjoy reading about (and hopefully getting to visit) 5 of the best destinations for vegan luxury in Asia!
Paul Eyers is Founder of Vegan Food Quest.
If you would like to be a guest blogger on A Luxury Travel Blog in order to raise your profile, please contact us.