About this time of year the shout goes out that it's 'wildebeest migration time' and the 'crossings are happening'. Those who love safaris will know what's meant, but to say it's 'migration time' isn't quite true as the migration is a year-round phenomenon.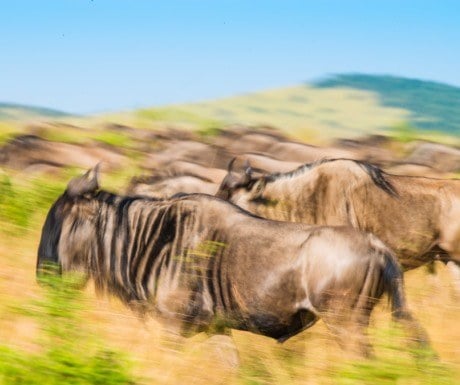 Roughly one and a half million wildebeest and hundreds of thousands of zebra live within the Serengeti ecosystem. This area traverses the Tanzania-Kenya border and includes Tanzania's Serengeti National Park and Kenya's Masai Mara National Reserve. The herds migrate across the plains throughout the year following the best grazing, moving roughly clockwise, although no pattern can really be relied upon with wildebeest.
As they head into the northern reaches of the Serengeti National Park, generally between July and September, the Mara River provides a barrier to their progress. Its high banks make access difficult while strong currents ensure a treacherous crossing. Crocodiles lurking in the muddy waters simply add to the dangers. Even when animals make it to the other side there's a chance they might be crushed by the weight of numbers trying to climb up narrow channels.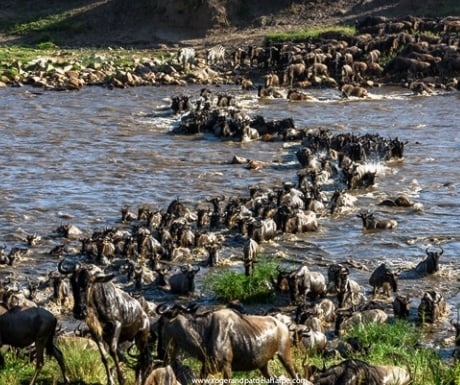 These river crossings provide an added drama to a day on safari already filled with wildlife such as: prides of lions, dazzles of zebra, or towers of giraffe.
Those wishing to experience the wildebeest migration have a couple of accommodation options. The first is to stay in one of the permanent camps and this perhaps offers greater luxury – you'll find dining and lounge areas, pools and bigger rooms. You might have to travel further but your bed will probably be bigger and there'll be a greater variety of wines and spirits on offer!
The second option is to stay in a mobile safari camp. These are necessarily simpler than a fixed camp, since they move throughout the year to follow the herds across the plains. However simple in a safari context doesn't mean boy scout simple; you might not have a pool or a library, but choose correctly and you'll have a tent you can stand up in, a bed, somewhere to keep clothes, and your own private bathroom with loo and shower. You're also likely to be right in the thick of the action.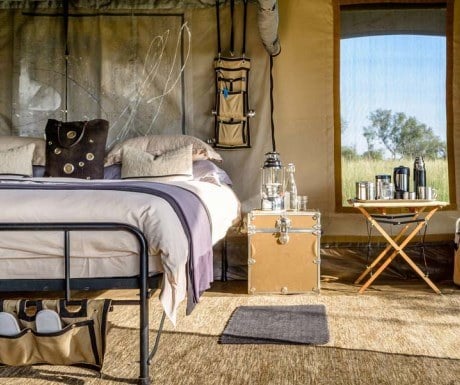 However you choose to stay and whatever time of year you visit, the wildebeest migration is one of the greatest sights in the natural world and makes a good safari experience great.
Richard Smith is Operations Director at Aardvark Safaris.
If you would like to be a guest blogger on A Luxury Travel Blog in order to raise your profile, please contact us.