Due in no small part to its rich heritage, grand architecture, picturesque scenery and enviable climate, Italy is a must see destination for tourists and travellers the world over. Whether you have a modest smart phone or top of the range DSLR camera you will want to keep it fully charged as there is sure to be something that will catch your eye. However, with so many stunning locations to choose from it can be an overwhelming experience trying to decide where to go. That is why we have done the legwork for you and compiled a list of our favourite 5 most photogenic spots to visit in Italy.
1. Dolomites & South Tyrol
Rugged and utterly wild, the Dolomites and South Tyrol are dominated by the natural skyscrapers that are the jagged peaks and snow-capped mountain tops of the Southern Limestone Alps. Here, the landscape is more akin to the alpine wildernesses of Austria or Germany rather than what wouldwe typically associate with Italy.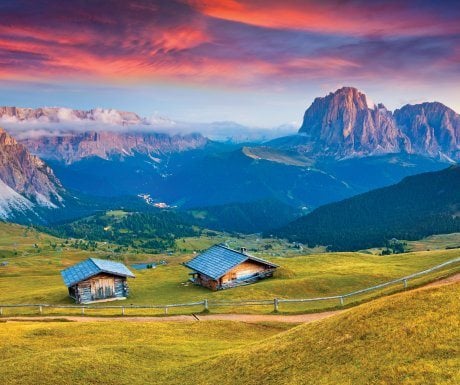 It is essential that you keep your camera close to hand as there will be plenty to take pictures of; whether it's the rural chocolate-box cabins and abandoned castle forts that dot the countryside or just trying to capture the majesty of the mountains.
2. Amalfi Coast
A decidedly classy and elegant destination, the Amalfi Coast sparkles with not just the glistening of the Tyrrhenian Sea, but with the stars of the silver screen also. A playground for the rich and famous, the Amalfi Coast enjoys a celebrity status in its own right has been the backdrop for a number of Hollywood movies including the Talented Mr Ripley and Under the Tuscan Sun.
All along the 'Amalfi Drive' are hidden gems just waiting to be discovered, whether it's timeless fishing villages of Sorrento or pavement cafes andr pastel-coloured villas of Positano that sweep down from the steep cliff faces to the sea. Guaranteed to take your breath away, the Amalfi Coast boasts picture-perfect coastal scenes and dramatic cliffs, the only problem you will have of course, is trying to fit all this into one single photograph.
3. Venice
Step back in time and explore the hundred or so tiny lagoon islands that comprise the floating city of Venice. Walk amongst the history that this gothic city conceals in its labyrinth of narrow alleyways, secret passageways and gondola travelled canals that all make for a perfect holiday snap. Of course, if travelling as part of a pair, no romantic getaway is complete without getting that customary photograph posing on board a gondola.
4. Rome
No Italian holiday is complete without first sampling the ancient delights this beguiling city has to offer – and of course, the obligatory photograph posing in front of Travel Guide favourites' The Coliseum or Saint Peter's Basilica.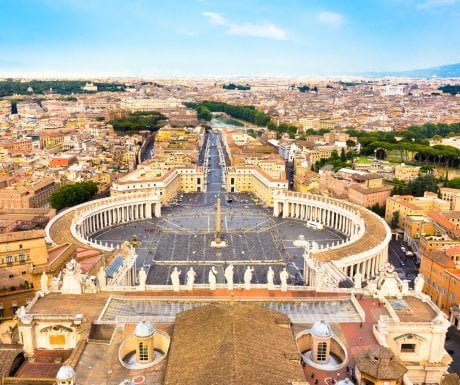 Just as you would expect from an ancient 3,000 year-old city, Rome is awash with historic landmarks and artistic treasures. Since its creation all those years ago, the city has undergone several transformations since being the beating heart of a colossal Roman Empire. In the city you see today, Roman ruins give way to Byzantine churches, Renaissance towers and Medieval piazzas where one can sit and people watch as the city moves around them.
5. Florence
Last on our list is one of the countries' best loved cities and haven for art aficionados, Florence is the jewel in the crown of Renaissance-era Italy. Set along the banks of the Arno river, Florence moves effortlessly with the seasons and is equally as enticing when dusted white with winter snow, tinted green in the spring or with the reddish hues of a long Tuscan summer.
Visible from the observation deck of the Douomo Cathedral is a backdrop any photographer would hope to encounter, boasting impressive feats of Renaissance architecture, landmark bridges and a terracotta coloured cityscape.
Nick Munday is Managing Director at Classic Collection Holidays.
If you would like to be a guest blogger on A Luxury Travel Blog in order to raise your profile, please contact us.