Greece is a destination primarily associated with summer, and while the Mediterranean is undoubtedly an excellent choice for soaking in the sun in summer, Greece should not be discounted as a winter destination too. In fact, winter is a great time to visit Greece, the weather – while not reaching the same heat as summer – can still see highs of up to 19°C in November and December.
Plus, as Greece is at its most popular in summer, winter is arguably the best time for taking in the country's ancient sites and attractions without the queues of tourists who flock to the Greece in summer. You're also likely to come across a lot more locals in the winter who tend to vacate the country during the summer months, meaning you can enjoy an even more authentic and atmospheric experience when dining, drinking and island hopping (yes you can still visit the islands in winter!)
If you're planning a winter break in Greece and wondering what will be available to do off-season, have a look at our pick of the top Greece attractions and activities to enjoy in the winter.
1. Island hopping
People often worry that the Greek islands close for the winter, but remember locals live on the islands so they are open and lively 24/7. While some of the bars and restaurants may be closed for winter you will find that those that remain open are indeed some of the best on the island, as these are the ones frequented by the locals year-round. Neighbouring islands such as the Saronics, are as easy to island hop between in winter as they are in summer, but there may be fewer connections between islands that aren't on the same ferry line – such as Crete and Santorini. If you're planning on visiting these islands it may be best to leave booking your ferry until you arrive in Greece – another advantage of the winter season in Greece is that the ferries are quieter meaning it is easier to book a last minute seat.
2. Walking trails
While winter in Greece may not be the best time for soaking in the sun on your beach lounger, it is the best time for hiking on the country's many walking trails. One of the best islands in Greece for walking trails is the island of Kea which has many ancient walking trails, connecting the ancient cities to the island. Winter is also a great time for enjoying many other outdoor activities in Greece including horse-riding, biking, and white-water rafting.
3. Shopping
Athens offers a shopping experience to rival New York and Paris, which is best enjoyed in the winter. Not only does the cooler temperatures make for a more comfortable shopping environment, but you can also enjoy the city's January and February sales. As well as picking up a bargain, you'll also find some unique buys that you wouldn't be able to get back home.
4. The Peloponnese
The Peloponnese was voted the number one place to visit in 2016 by Lonely Planet. The region has until now often been overlooked in favour of other parts of Greece, but the area has plenty to offer including the ancient sights of Olympia, Mycenae and Mystra. Renowned for its beautiful rocky enclaves, sea views and unique settlements, it's clear to see why the striking Peloponnese topped the Lonely Planet list.
5. Skiing
Greece may not be your first thought when it comes to a ski holiday, but the country offers many beautiful ski resorts – which shouldn't be too surprising given that Greece is a country primarily formed of mountains. The country's top ski destinations include the Peloponnese, Kalavrita, Delphi and Macedonia, with ski centres, mountain refuges and ski lifts which could easily be a luxury resort in the Swiss Alps.
6. Ancient Athens
One of the main draws to Greece, whether summer or winter, is of course the ancient sights of Athens. All of the ancient city's famous sight, including the iconic Acropolis are open to visit throughout the winter – and as it is the quieter season you'll unlikely be faced with any queues or large crowds, allowing for a more authentic atmosphere in which to take in the majestic architecture.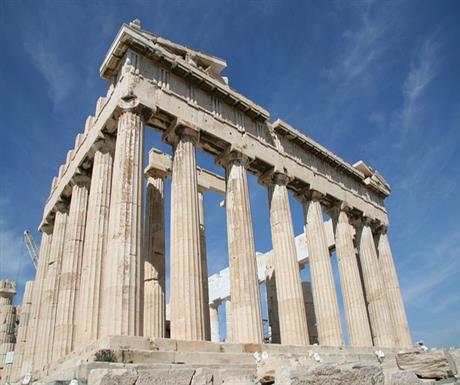 7. Christmas celebrations
Christmas is a wonderful time to visit Greece as the country comes alive with Christmas celebrations. In Athens you can soak up a truly festive feeling with the streets full of Christmas shoppers, twinkling lights adorning the city and a giant Christmas tree taking centre stage in Syntagma Square, where you'll also find entertainment including musicians, mimes, jugglers and of course, Santa. For something a little bit different head to the roof of the Ledra Marriott Hotel where you can ice-skate with a view of the Acropolis.
With so much going on in Greece year-round, there really isn't a bad time to visit, but if you prefer sightseeing over sunbathing you may find that you prefer Greece in the winter months to the summer season.
Christos Hajipapas is Head of Business Development & Strategy at Cyplon Holidays.
If you would like to be a guest blogger on A Luxury Travel Blog in order to raise your profile, please contact us.