When many people think of an African safari, the first words that come to their mind are often: Serengeti, Masai Mara and Kruger. There's a reason for this, of course: these parks have a large number and variety of wildlife. All three are home to the big five (cape buffalo, elephant, leopard, lion and rhinoceros) and all offer a wide range of lodging options. These parks are particularly good choices for first-time safari goers as they have a good infrastructure in place for transporting tourists to and from the animals.  The downside to this is that these parks also see the lion's share (pun intended) of tourists. Luckily, Africa is a large continent that offers many great opportunities for wildlife viewing. In my opinion, Kidepo Valley in Uganda and The Kafue in Zambia are two great choices for those wishing for a more authentic safari experience.
Kidepo Valley National Park, Uganda
Kidepo sees far less visitors than Murchison Falls, Queen Elizabeth and Bwindi. This is largely due to its remote location and its limited lodging options.
Located in northern Uganda, on the border with South Sudan, Kidepo requires a full day of driving, some of it on very unpleasant road. It is also about an hour flight from Entebbe, which will nudge the price of your safari up. As of now, the main lodging option is the all-inclusive Apoka Lodge, which will strongly bump your safari price up. But, once you arrive at the lodge, the first thing you'll notice is all the wildlife non-chalantly grazing outside your chalet. Each chalet features an enclosed porch where you can sit and watch the resident wildlife do their thing. I had a family of six warthogs enjoy an entire afternoon just outside my chalet. The babies would keep going under the structure and I could hear them rolling gleefully in a puddle.
Waterbucks would saunter right up to my window, too, sometimes in large herds.
Game drives in Kidepo
Because there are only a few lodges in this area, and Apoka Lodge has several vehicles on hand, you will get the impression that you are on a game drive in your own private park. At the very most, I had three other people in my vehicle with me. I had an entire row to myself and was easily able to take photos from any angle.
Kidepo features all of the big five except rhinos and its scenery is truly stunning.
The Kafue, Zambia
The Kafue is Zambia's oldest and largest national park, yet South Luangwa and Lower Zambezi are where most people go on safari. The center of Kafue is about a five-hour drive west of Lusaka. Unlike Kidepo, the drive is primarily on tarmacked roads. There are also charter flights that go to Kafue that will add on to the price of your safari. I opted to drive to Kafue and, although the drive is long, it was not uncomfortable.
The Kafue has more lodging options than Kidepo but the number is still small relative to the size of the park. I stayed at Musekese Bush Camp, which only has four chalets. I loved the intimate atmosphere at Musekese.
I was often able to watch antelope, baboons, egrets and more whilst brushing my teeth in the morning.
Game drives in Kafue
During my time here, I did not see another safari vehicle, which is a first for me. At times, I almost felt as though I was the first person to explore this part of the park. It is also possible to do boat rides on the Kafue River. We would often get within 20 meters of some wildlife and then the guide would cut the engine. The animals were quite calm once the motor was off and being in the boat allowed for some different angles for my photos.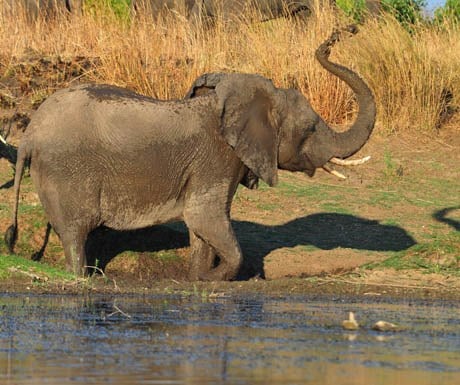 The Kidepo is now home to four of the big five, as rhinos have been poached to extinction here.
In both parks, I had to work harder to spot the wildlife. In Kafue, this is because of the sheer size of the park—roughly twice the size of Yellowstone NP. In both parks, this is partly because the animals aren't as accustomed to vehicles getting close to them. But, I often prefer this type of setting as it has a much more natural and 'untamed' feel to it. I don't believe I've ever been able to sit and watch a lion in the Serengeti without another vehicle in site. This was the case in Kidepo and Kafue. If you don't mind working a bit harder for your game viewing or getting there, then I strongly encourage you to add Kafue and Kidepo to your list of safari destinations.
Javier Luque is a Co-Founder and Director of Your African Safari.
If you would like to be a guest blogger on A Luxury Travel Blog in order to raise your profile, please contact us.