The time left in 2016 is quickly running out, and to many this chapter will not be closed with any disappointment or sadness. Rather, it will be quite the opposite with this New Year's Eve being a particularly celebrated evening. This year we want to celebrate in style, enjoying new experiences, delicious food and fantastic environments. One of the most attractive countries to visit this coming year will be Canada. With 2017 being the 150th year of Canada's Confederation, and the top place to visit as voted by Lonely Planet earlier this year, we see this as a fantastic place to start the year.
Toronto
Toronto will always have a range of options that are extremely attractive to those seeking the finer things in life. We recommend starting the evening at the Roy Thomson Hall, where for the past 9 years on New Year's Eve, the hall has hosted 'Bravissimo!'. This is the Opera Canada Symphony and Opera Canada Chorus presenting an early evening concert of Opera's Greatest Hits. When the concert is over, take the 7-minute walk down the road to the TD Tower, head up to the 54th floor and sit back and enjoy a delicious meal at one of Canada's best restaurants, the Canoe Restaurant ($155 pp). As well as indulging in some of the best food in the country, you will be able to have one of the best views of Nathan Philips Square, looking down at its firework display without suffering the inevitable crowds.
Edmonton
If you are opting to spend your winter break in Edmonton, then there are equally as many luxurious options available in this northern city. If you are after a quieter evening then we recommend The Hardware Grill, a perfect place to start the year of Canada's celebration, with its progressive Canadian Cuisine. Step just outside of the restaurant to get a fantastic view of the fireworks which is hosted just five minutes down the road. If you are after something more celebratory and novel, then be sure to buy a ticket to the Charity Edmonton International New Year's Eve Gala at the Beverly Hills Ballroom. With drinks, dinner, Cirque du Soleil performers and a silent auction, and being one of the Top 10 New Year's Eve events in Canada, you simply will not be disappointed.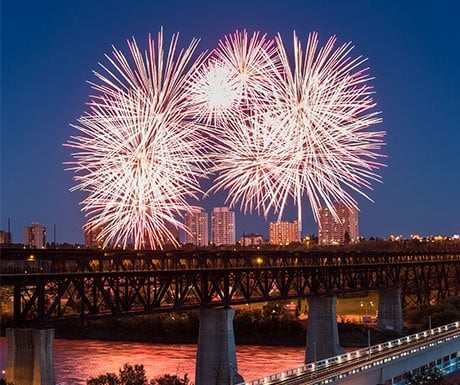 Ottawa
As the capital of Canada, Ottawa will host some of the most outstanding New Year's Eve celebrations. A particular favourite, The Shore Club, will be hosting their infamous New Year's Eve dinner. Once inside the club, the vibrant atmosphere and cocktail bar will ensure that party celebrations continue all night. Make sure that you have booked a room at the hotel, so that when you are done celebrating, you can skip the journey and slip upstairs to bed. Before heading over here for the evening, we recommend watching the Parliament Hill fireworks at 20:17. Guaranteed to be a memorable way to ring in a year of celebrations for the country! Alternatively, Ottawa also hosts a gala at the Ottawa Event Centre. You will be served a four course meal before the live music starts and you are given $100 in 'Charity Bucks' to use at the Casino. As the capital of Canada, you can be sure that Ottawa will make sure that the start of such an important year will be truly spectacular.
Vancouver
If you want to leave every option open for New Year's Eve, then head to buzzing Vancouver. Here you'll find balls, parties, restaurants, bars – and all with the youthful and vibrant atmosphere of this city. The selection made here is just a small sample of a much bigger picture of what is going on. One of Canada's most famous and luxurious hotels, the Fairmont Waterfront is hosting their yearly New Year's Eve Gala, which this year is in partnership with Grey Goose Vodka. With canapés, Champagne and live DJs, this event sells out every year so do try and get tickets as soon as possible. If you want a slightly quieter evening, head to the Top of Vancouver Revolving Restaurant which serves continental food, with unparalleled views of the snow-capped mountains, ocean and the glistening city below. Your view will not be limited by your seat, as a full rotation happens every hour.  Both of these options provide a perfect viewing platform of the Coal Harbour fireworks at midnight, allowing you to double up your celebrations!
Welcoming in 2017 is a serious matter – as is said, always start the year as you wish it to continue. The sheer size of Canada allows it to host the sort of luxurious events that we simply do not have back in the UK. Not only that, the days around New Year's Eve can be spent enjoying the great outdoors, and working off any Christmas indulgences!
Kathryn Munro is Managing Director at Canadian Affair.
If you would like to be a guest blogger on A Luxury Travel Blog in order to raise your profile, please contact us.