By
Paul Eyers
on Dec 23, 2016 in
Accommodation
,
Asia
,
Food and Drink
,
Going Out
,
Hotels
,
Regions
,
Resorts
,
Restaurants
,
Thailand
,
Travel Miscellany
Phuket is Thailand's largest island and one of the most popular travel destinations in the country; it's also the place to find some of the country's premier luxury resorts and hotels. You can easily find yourself relaxing under the tropical sun, looking out to the Andaman sea and enjoying the luxury whilst making the most of some famous Thai hospitality.
But there are travelers (like us) that prefer to do all of this whilst maintaining a vegan lifestyle.
Vegan luxury travel involves all the usual things you might expect, but without the use of animal products, the consumption of any foods or drinks containing animals or their by products and also without taking part in any activities that exploit animals. Expect to see vegan luxury travellers visiting wildlife sanctuaries followed by sipping vegan Champagne and eating food made from plants as opposed to going on elephant rides and having a dinner of steak or seafood.
We've made it our mission to seek out places that cater well for those, like us, who love luxury but also have a vegan lifestyle; here's our 2 resorts in Phuket that offer vegan luxury, tried, tested and fully able to offer cruelty free, planet friendly luxury to those who visit.
The super luxurious Kata Rocks, which sits high above the popular tourist destination of Kata Beach, is not only one of the best luxury boutique resorts on the island but they also have some excellent offerings for their vegan guests. Natural beauty from the dramatic coastline blends seamlessly with the minimalist, modern design of the resort. Clever features like huge white, bow shaped canopies stretching out over buildings introduce visions of a luxury super yacht throughout the design. Inside the villas you'll find high tech fixtures and fittings, light and space as well as outdoor spaces that contain generously sized private infinity pools and able room to lounge poolside.
Vegan guests will relish in the opportunity to take a luxury in-villa private cookery class where one of the resort chefs will teach you to cook a vegan Thai banquet that would impress even the harshest of food critics. Using a futuristic top-of-the-range kitchen, vegan guests learn to prepare classic Thai dishes like pomelo salad, green curry and mango sticky rice for dessert.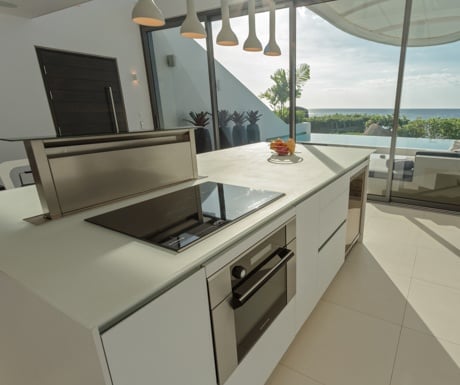 Luxury loving vegans should also visit the Infinite Luxury Spa whilst at Kata Rocks; the high-tech, futuristic theme continues here with a colour changing Iso-Benessere water massage bed and Metronap rest pod room to tackle that jet lag.
But even better than all this is that the spa offers treatments using top end luxury, 100% vegan spa brand ila.
In between all these vegan friendly activities we enjoyed breakfast and dinner in the resort's poolside restaurant overlooking the ocean. Lazy long breakfasts filled with freshly brewed coffee, juice bottles and fresh fruit added to either western or Thai inspired breakfast dishes were on offer; whilst at dinner time we enjoyed a feast of vegan Thai food with spring rolls, salads, traditional soups and curries filling our table.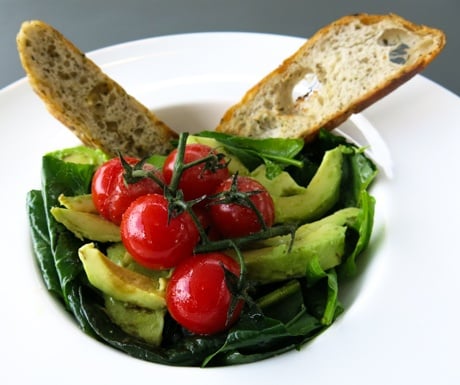 On the north east coast of Phuket Paresa Resort occupies an enviable spot on the prestigious 'Millionaire's Mile' in Kamala. One of the most exclusive addresses on the island, the resort is built on a cliffside and has stunning views across the bay and out to sea. Paresa means 'Heaven of Heavens' and the whole experience of staying certainly gives this impression. Arrive at the calming reception hall where the sounds of chanting monks fills the air, then walk through to the giant gong where a few strikes announce your arrival to heaven. Open the door and your view is taken over by a beautiful gold tiled patio that stretches out to the ocean beyond; breathtaking picture postcard views at their best.
Paresa Resort have their own state of the art cooking school called Recipe and vegan guests should definitely take the opportunity to take a cooking class here. Expert tuition, fresh ingredients and fully vegan take-home recipe cards helped us create some of the best tasting vegan Thai food that we've ever made. We learned the tricks of the trade when preparing and cooking, then cooked and ate our amazing vegan creations at the in-kitchen dining table enjoying more of the stunning views that present themselves at every turn of this 5 star luxury resort.
There are many features at Paresa that will remind you of heaven, like the starlight infinity pool, lit by fibre optics but definitely giving the impression of magic. And if one stunning pool wasn't enough then there is also a small energy flotation pool which is charged with 'positive energy' from a giant rose quartz crystal which hangs from a branch in a nearby tree.
As vegan guests our favourite place was definitely Diavlo, Paresa Resort's Mediterranean restaurant where we ate sumptuous vegan breakfasts and lavish vegan dinners whilst admiring the view. 'Angels' delivered separate vegan menus to our table with an impressive range of breakfast dishes including rarely seen vegan muffins, waffles and pancakes; these were every bit as good as we had hoped. There was also fruit, juice, salad and breads to choose from and Thai dishes like were also available; we tried the 'Pad See Ew' wide rice noodle stir fry and were not disappointed.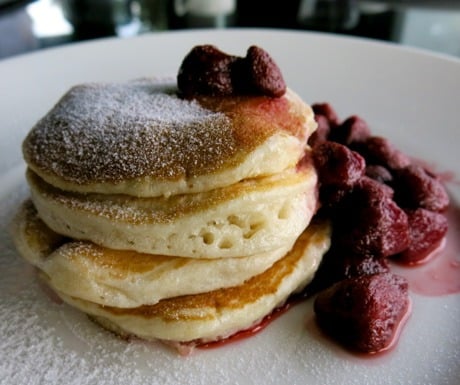 At dinner we were spoilt for choice with both Thai and Mediterranean menus to select from. We got to sit outdoors underneath the setting sun, we ordered a few glasses of fine wine and were treated to a stream of delicious food; a perfect way to enjoy this exclusive spot in Phuket.
The 'Cous Cous' salad was teeming with different ingredients, textures and flavours; crunchy sweet carrot, marinated tomatoes, jewels of sweet pomegranate , raisins, basil, walnuts, olive oil and lemon juice. The walnut topped babaganoush was creamy, smoky and smooth, served with a light flatbread speckled with black sesame; the hummus was served with playful radish lollipops. Followed by a bowl of spicy, sour 'Tom Yum' soup and a creamy, rich red curry, we were in vegan food heaven.
We loved that we were able to experience these 2 resorts in Phuket that offer vegan luxury; not only did we get to sample the first rate service in two of the best 5 star resorts in the region, but we got to do it in a healthier, more environmentally friendly and more compassionate way.
For us, this is luxury travel at its best.
Paul Eyers is Founder of Vegan Food Quest.
If you would like to be a guest blogger on A Luxury Travel Blog in order to raise your profile, please contact us.