Edinburgh's distinct combination of wild green space within its heart, sweeping views to the Firth of Forth and architecture straight out of a fairy tale makes it the perfect place to get married. With a seeming unending choice with regard to style, content and location of your ceremony, the city – like its castle – stands above anywhere else in the UK and many places overseas. From incredible backdrops, mouth-watering food and celebratory Scottish traditions, here are our five top reasons why stunning Edinburgh is the only place for your nuptials.
Location, location, location
There are not many other cities that can provide the perfect setting whether it's a laidback event in the arms of nature or high gloss luxury in one of Edinburgh's unique 5-star venues. Finding that perfect backdrop for your wedding pictures could not be easier either with stunning architecture, medieval cobbled lanes, elegant, sweeping terraces and charming parks which create the kind of stunning photography that seal the happiness of a wedding day.
Food
Seafood, the finest beef and lamb, fruits and berries and the finest dairy products, Scotland's larder is a rich one and Edinburgh's chefs are a talented and versatile group. With more restaurants per head of population than any other city in the UK, Edinburgh will offer you the most delicious food on your wedding day whether it is gourmet street food or a fine dining experience. Michelin-starred restaurants to sharing tables and everything in between can be found in Edinburgh and there is guaranteed to be something that will make your taste buds say "I do".
Scottish symbols
From celtic knots to clan tartans, Scottish emblems enhance a wedding. Since the marriage of the 'thistle and the rose' between James IV and Margaret Tudor in 1503, Scotland's national flower has had its place in romance. These days, the kilt has become the perfect wedding outfit, being both fashionable and a great way of declaring family heritage, not to mention the opportunity to really add colour to a wedding party.
Traditions
Scotland's wedding traditions are joyful, often noisy, and set to make all your guests feel part of a truly memorable occasion. Whether it's a piper walking the bride to her ceremony, a foot stomping ceilidh, traditional Grand March, jumping the broom or a handfasting, incorporating Scottish wedding traditions will make your day unforgettable.
Honeymoon
Once the ceremony is complete and the ceilidh is winding down (if it does!) the stage is set for the honeymoon. A city that regularly tops the 'most romantic' lists, Edinburgh knows how to keep the magic happening. From indulgent comfort within sight of the castle, or the delights of fresh air and high viewpoints it is very easy to extend your wedding day into the most wonderful holiday; and if you want to go adventuring then connections from Edinburgh are varied and plentiful.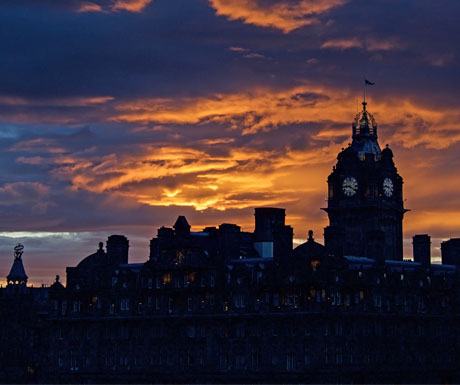 No matter what you decide, you won't regret tying the knot in Auld Reekie.
Douglas Walker is Chair of Unique Venues of Edinburgh.
If you would like to be a guest blogger on A Luxury Travel Blog in order to raise your profile, please contact us.