Every January 25, people across the globe commemorate the birth of beloved poet, Robert Burns, with an evening event like no other. Friends and family come together to enjoy a traditional meal, share a selection of Burns's finest poetry and a dram or two then dance the night away. Burns Night is now often considered the epitome of Scottishness and where better to celebrate it than in Scotland's capital city – Edinburgh. Venues throughout Edinburgh, from the Parliament to community halls, dedicate an evening to our national poet and merriment is guaranteed. Here is what to expect.
Selkirk grace
Upon arrival, guests are led to their seats to the sound of bagpipes. Once everyone is settled, the night begins with a short prayer giving thanks for the meal which is about to be received. The prayer, the Selkirk Grace written by Burns, is read aloud in unison.
"Some hae meat and canna eat,
And some wad eat that want it,
But we hae meat and we can eat,
Sae let the Lord be thankit."
Address and toast to the haggis
Vital to any Burns Night is the evening's main attraction – the Haggis. The haggis is so well respected and adored that it too is piped in, and set with great ceremony in a central position, where it is addressed by the host, who performs Burns's ode 'To a Haggis'. The address comes to a close when the host pierces the haggis with his dirk or sgian dubh (a small ceremonial dagger), and the guests erupt in celebration. Before the meal is served, everyone raises their glass and toasts to the magnificent Haggis.
"Fair fa' your honest, sonsie face,
Great chieftain o the puddin'-race."
Traditional meal
Haggis is a Scottish delicacy and is always served as the main meal alongside Neeps (mashed turnip) and Tatties (mashed potatoes). The starter and dessert can vary but is usually traditional Cock-a-leekie (chicken and Leek) soup to start and Clootie Dumpling (a fruit pudding prepared in cloth) or Cranachan (oats, raspberries and cream) for dessert. After the meal the host performs 'The Immortal Memory', a tribute and thanks to Robert Burns, which is often the perfect time to warm the soul with a sip of Whisky.
Ceilidh and Auld Lang Syne
The final fling of any good Burns Night is a traditional Scottish ceilidh. Guests abandon their tables and join together for traditional Scottish dances to a live folk band. There is no need to worry about not knowing the dances as there is always a caller to guide you through. The night comes to a close with everyone crossing arms and holding hands as they sing along to Auld Lang Syne – a song of friendship and unity.
"We'll take a cup of kindness yet
For Auld Lang Syne."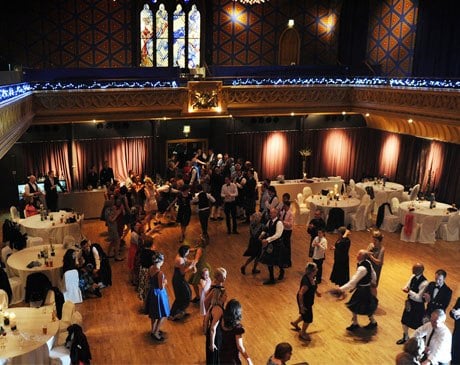 So if you like the idea of a truly Scottish experience, Burns Night is the one occasion guaranteed to deliver bagpipes, tartan, whisky, haggis and music in a truly distinctive mix and Edinburgh will certainly not let you down. Just make sure you bring comfortable shoes and a lot of energy!
Douglas Walker is Chair of Unique Venues of Edinburgh.
If you would like to be a guest blogger on A Luxury Travel Blog in order to raise your profile, please contact us.