Being an Atlanta native, I don't have to travel far to indulge in an unimaginably large variety of foods that range from "down home" Southern cooking to upscale delicacies. The city has strange but versatile dishes that are vital to try when vacationing in the latest film hub of the United States.
Fox Bros. barbecue brisket
Fox Brothers started as a humble, Texan-style joint, but has boomed into the hottest place in Atlanta to chow down on perfectly tender, slow smoked meats. While you'll find yourself overwhelmed with deciding which quirky side or drink to try, one item is dominantly a customer favorite, the smoked brisket, coated with simple spices, no sauce. This soft, melt in your mouth meat is so perfectly flavorful, adding sauce would be pure blasphemy.
The Varsity chili cheese dog
The Varsity claims to be the largest drive thru in the world, but in the 20 years I've been going there, we've always eaten inside, on the top level with a view of the Olympic torch from the 1996 Olympics. The Varsity simply isn't typical fast food. Trucks stop by several times a day to deliver fresh, high quality ingredients. The chili dog is wrapped in a toasty warm bun and topped with a pleasantly dry, seasoned chili. A slice of cheese is melted into the side of the bun. The fresh cut French fries are comparable to none.
Yeah Burger bison burger
The ingredients here are locally sourced and/or organic, making the taste unparalleled to your basic burger. You can go with basic beef or even a veggie patty, but the Bison has a uniquely soft texture and a bolder taste. A number of locally sourced cheeses, bread, veggies and toppings can be added, but I've discovered the perfect combination is an organic wheat bun, Bison meat, goat cheese and "Hot Bama" relish. Truffle fries or crispy brussel sprouts compliment the meal fantastically. The soda fountain features Maine Root, an all-natural soft drink line with flavors like root beer, Mexican cola and lemon lime.
Hajime ramen
If there is one food I long for from Japan, it would be authentic ramen. Luckily, Atlanta is the holy grail of U.S. cities for great Asian cuisine, which can also be a curse because there are literally hundreds to choose from. Hajime is that jewel among all the average oriental foods in the area. The ultra spicy ramen sounds slightly intimidating, but is my favorite dish at Hajime. Depending on the chef, it can be really spicy, or barely. So ask your waiter before hand to know which level to order. The bowl is filled with a smooth pork broth, house made spicy noodles, seaweed, onion, sprouts and a soft boiled egg. The atmosphere resembles Japan and the food is the closest to their authentic cuisine I've tasted here in the States.
Anticos lasagna pizza
Anticos is true Italian pizza right here in the South. Ingredients are imported and traditionally prepared, giving each slice the taste of real Italy. The Lasagna pizza is a soft crust painted with marinara, topped with ricotta cheese and spicy ground meat. Anticos is pretty strict about altering their pizzas, so avoid asking for an additional toppings. But by the taste, I'd say they know exactly what they are doing, so I don't question it.
Meehan's grilled feta sandwich
This pub has a few locations around Atlanta. Meehan's at Atlantic Station is the only one I've been to, and it's decorated with dark, carved wood, stained glass fixtures and warm lighting; like you'd expect to find in an Ireland pub. The cheese in the feta sandwich is made from local milk at Atlanta Creamery, Calyroad. Grilled tomato, lemon, spinach, and pesto aioli are layered with the cheese on multigrain bread.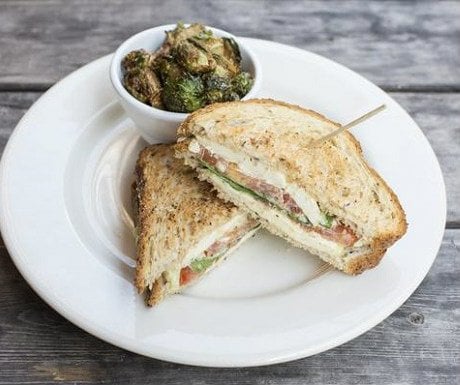 The Smith House fried chicken
This Dahlonega based, Southern charm establishment has been in operation since the early 1900s. The country cooking inspired menu and recipes haven't changed, although ownership has. Fried chicken is done right here; the famous Southern American dish is served with traditional sides like green beans, okra and their famous squash relish.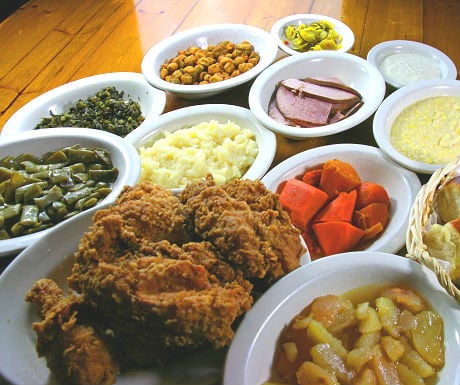 Old Hickory House barbecue
Barbecue isn't scarce in Atlanta; there's quite a few amazing places to eat smoked pork, Old Hickory House is one of them. Famously featured in Burt Reynold's Smoky and the Bandit, this humble establishment has been kicking for decades. Before you get into the building, you can smell the meat smoking. Brunswick stew, a soup filled with tender meats, corn and tomatoes, along with the smoked pork sandwich, are classic selections.